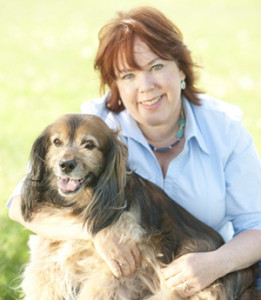 Peggy Frezon is contributing editor of All Creatures magazine. She is an award-winning writer of articles and books about our bond with animals, including Faithfully Yours (Paraclete Press, 2015).  You can also find Peggy's stories in Guideposts magazines and dozens of Chicken Soup for the Soul ™ books.
Peggy's books have received accolades from Dr. Marty Becker, DVM —America's Veterinarian as seen on The Dr. Oz Show, Julie Klam–NY Times bestselling author of You Had me at Woof, and Susannah Charleson–author of The Possibility Dogs.
. 
Peggy and her husband rescue senior dogs. They share their home with a 14-year-old spaniel mix and a 10-year-old golden retriever, Ike–who loves his work as a certified therapy dog, visiting colleges, libraries and nursing homes.