New year's resolutions–I may be in the minority, but I like them. Every year, it's a reminder to focus on something positive, to make a change that will be useful or healthy. Of course, sometimes it's the same old thing (lose weight), some are work-related (start my new book), some are personal (get organized!) When it comes to pet blogs, my resolution is to expand my horizons and discover new pet blogs to read and enjoy. I know there are many great ones out there I haven't yet discovered.
And that's where the Pet Bloggers Gift Exchange comes in. Hosted by Something Wagging this Way Comes, this is an opportunity to discover new blogs and encourage, compliment and share with other bloggers. I was randomly matched with Pawsitively Pets. So today, I'd like to introduce you to a blog "dedicated to all things animal"–whether it's an old favorite, or maybe a new pet blog to you.
Ann Staub is the blogger extraordinaire behind Pawsitively Pets.
5 Fun Facts about Ann:
1. She lives in Texas.
2. She used to be a vet tech.
3. She has a dog Shiner, and two pet rats, Jack and Gus.
4. She likes Twilight, video games and cooking.
5. She has two lovely daughters.
And here is her adorable furbaby, Shiner–a senior pit bull who loves to nap and eat!
5 Great Content You'll find on Pawsitively Pets:
2. Practical experience and information about keeping small pets– birds, mice, rats, fish, reptiles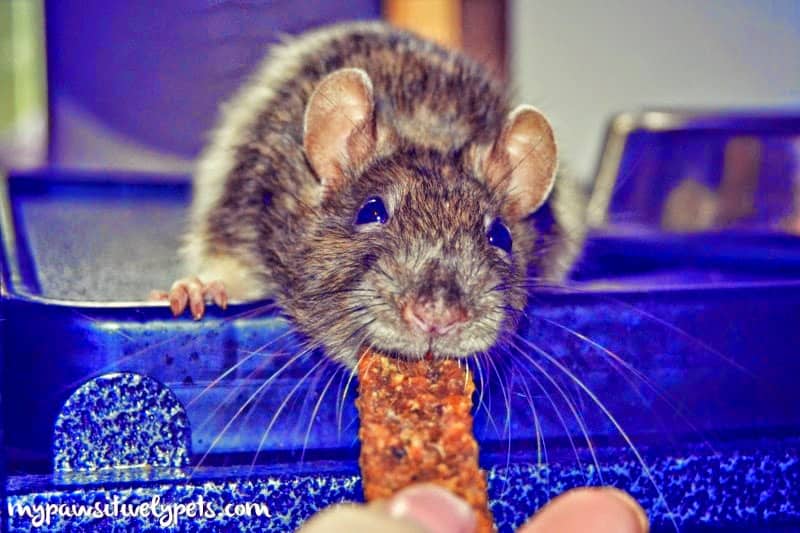 4. DIY tips
5. Support and information about pet adoption
Here is my favorite picture from her blog:
Pawsitively Pets is a great blog because you can learn about pets other than just dogs and cats here. You also will find many, many opportunity to win great prizes such as dog toys, treats and pet care products. I got to know Shiner through her beautiful photos. And the content is full of very helpful tips. I hope you enjoyed getting to know Pawsitively Pets. And I hope you'll visit often!
And finally, here are 5 social media links for Pawsitively Pets:
1. Pawsitively Pets on Facebook
2. twitter
3. Pinterest
4. Instagram
5. You Tube