Celebrities and their posh pups will receive a great package of pet products, and we're invited to take a peek at what they're getting! Each year Distinctive Assets looks for great new, and tried and true, dog products, puts them together in a wonderful gift bag, and delivers them to celebrities who love dogs. This year the HollyWOOF gift bag will be delivered to Tori Spelling, Eric Stonestreet, Selena Gomez, Mika Kelly, Jane Lynch, Hugh Jackman, Will Smith, Kristen Bell, Blake Lively, Jeremy Renner, Mario Lopez and many others.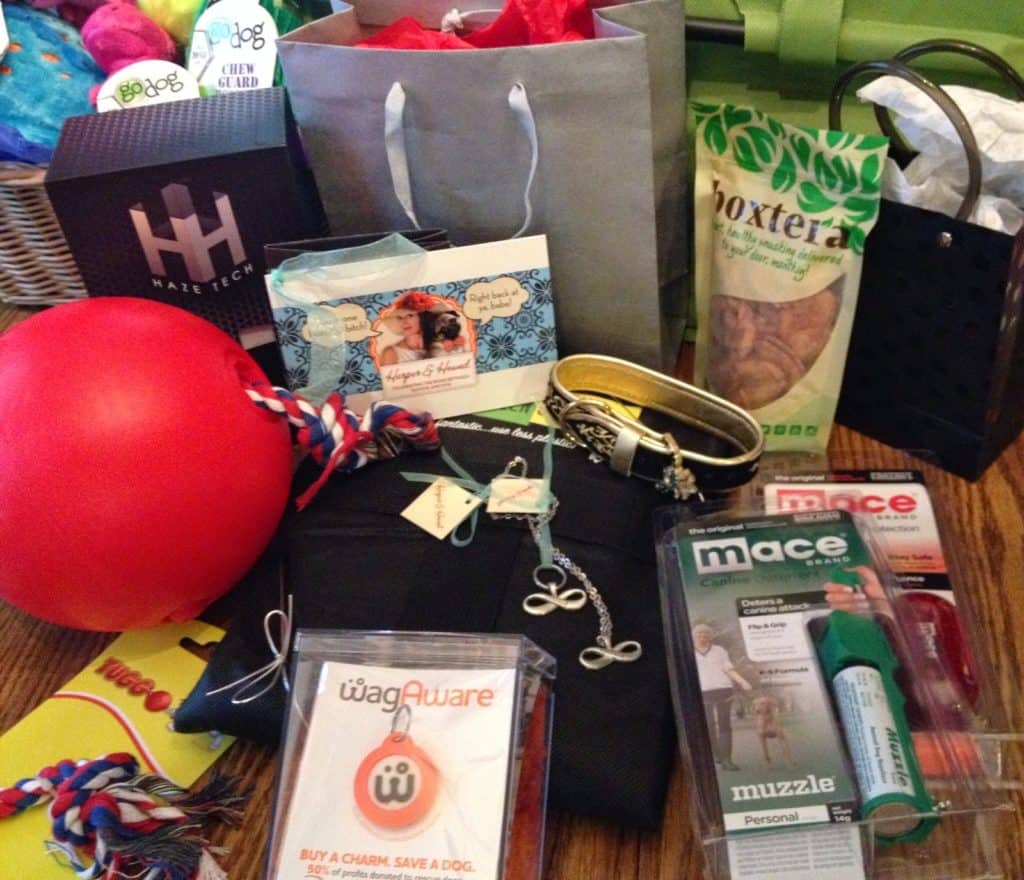 Look at this loot!
Kelly and Ike are not celebrities (although they'd like to think so!) but they got to sample the products nonetheless. We were sent a big box full of these exciting goodies.
1. Tuggo's hard, hollow, plastic ball with a rope going through the middle that can be pulled from either side providing the tug-of-war effect.
The ball serves as a weight to provide tension for dogs to build muscles. Of everything in the box, this is the favorite. Ike and Zeke love playing tug of war, and this ball intrigued them right from the start. You can even add water to the ball to make it heavier and make the tugging more of a challenge. We didn't do that because Ike is an old guy and a bit mismatched with puppy Ike's energy, so we didn't want to make it too challenging for Ike.
2. Charms from WagAware show the world your support of dog rescue and encourage others to adopt their next pet.
The charms can be worn by both pet and pet parent. And 50% of the profits are donated to rescue groups. We think this is a great idea. Maybe the charm will get someone curious at the park, and start a discussion. Anything that can promote dog adoption and save lives is a positive to us!
3. Mace's new kit of Canine Deterrent Spray, Flasher Safety Light and Emergency Whistle, designed for deterring attacks on yourself and your dog.
I live in a city and there are good pet parents around, and then there are those who mistreat their dogs and let them run loose. Many times we've encountered loose dogs on our walks. I've never used any sort of deterrent before, but it would be nice to have in case of an attack. I have a friend whose dogs were attacked by another dog in the street, and sadly the dog didn't survive. Having a way to protect myself and my dog in an extreme situation makes sense.
4. Harper and Hound's matching jewelry for people and the pets they love by celebrating the bond between humans and animals.
Necklace and matching dog charm. While Ike liked the Tuggo the best, this set was my favorite. The necklace is beautiful, and is inscribed with the word "rescued." The matching charm is adorable.
5. NANNINI & LONDON's Crown Jewel Collection of hand-crafted collars featuring Bronze, Swarovski Crystals and Italian Leather.
If you want to glam up your dog, you've come to the right place. This collar is excellent quality, soft and beautiful. What amazed me most was the sparkling crystal enhanced buckle. Note: this collar fits small breeds.
6. Boxtera's natural gourmet collection of snacks, delivered in a monthly membership.
We got BBQ banana Chips. The ingredients are bananas, BBQ spice, sugar, salt and vegetable oil. Kelly and Ike loved these sweet and spicy, crunchy goodies!
7. The Haze Vaporizer by Haze Technologies. The ultimate vaping experience in a compact size. Designed to vape (Before this, I didn't even know that was a thing!) dried herbs, wax or oils.
If you do any vaping, you'll know how cool this gadget is. If you're like me, and can barely boil water, you might not know. But my pal Jodi from Kol's Notes explained it to me. She says vaporizing pet friendly herbs and oils is a great alternative to chemical room sprays. She vapes calming herbs for her dogs, or invigorating herbs when she's feeling sluggish.
8. In addition, we got the Green Garmento's Gargantote and Deluxe Green Garmento, their signature 4-in-1 reusable dry cleaning bag. These bags are so sturdy and useful, I highly recommend them.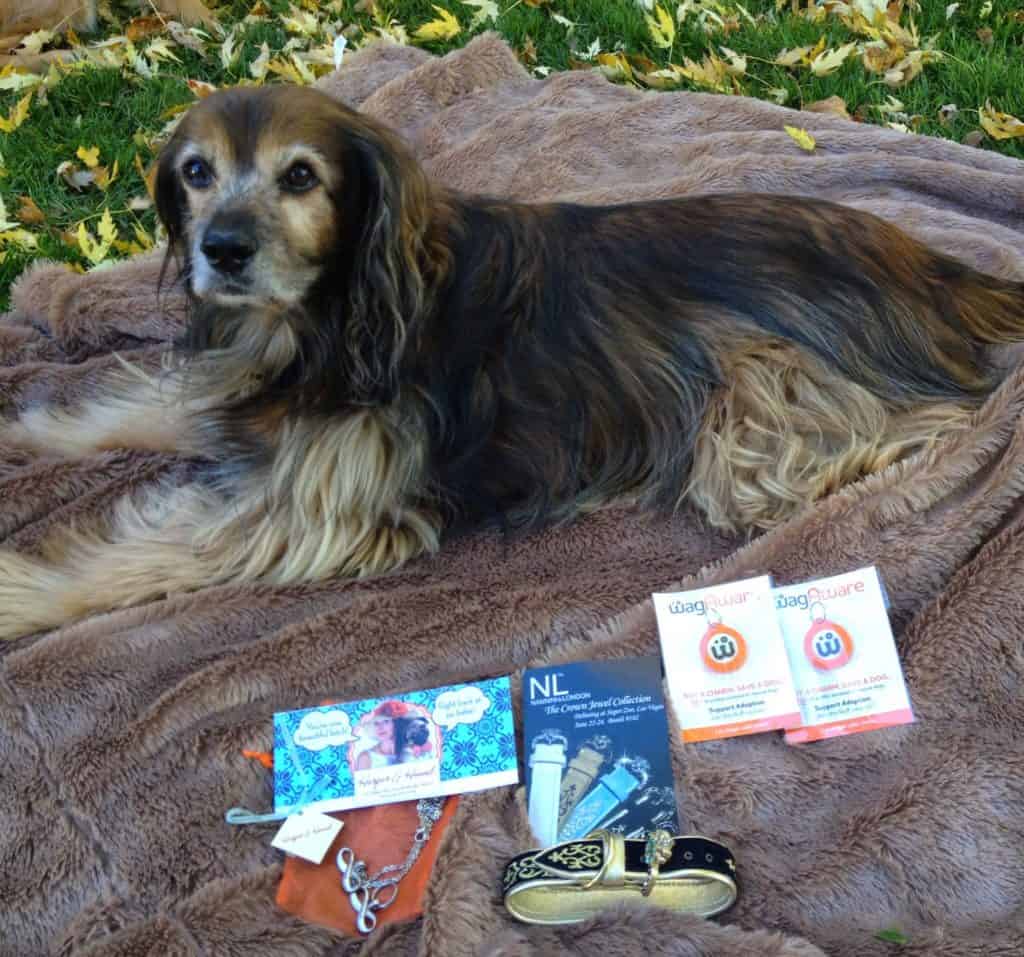 Kelly checks out the bling.
FULL DISCLOSURE: Distinctive Assets sent me one of each of the above products for my review. This in no way influenced my review. Opinions expressed here are 100% my own.