Welcome to FitDog Friday! What goes hand in hand with FitDog Friday better than our annual, exciting, super fun and healthy Koly and Kelly's K9 Kamp! Many of you have participated in the past, and we're gearing up for lots more to join in the fun this year!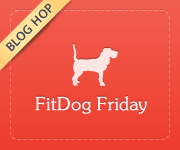 What is K9Kamp? A blogging event to motivate and encourage exercise and bonding with our dogs (and yes, at least one cat has participated in the past too!) There's no packing your bags, no traveling to Kamp–it's all done online and you can do it in your own comfort, in your own time. It's easy–we issue a fitness challenge, and you and your dog participate on your own. Then come back and blog about the results. (Open to non-bloggers too. We'll tell you how.)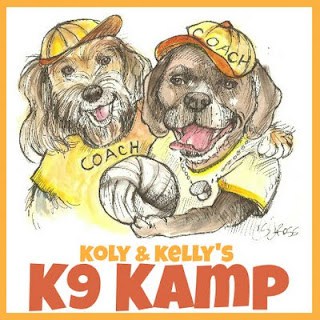 When is K9Kamp? This year we're trying something new. Instead of four intense weeks with a different challenge each week, we're hosting K9Kamp a few times a year, with more time to complete one challenge. Our first K9Kamp is Friday May 31-Tuesday June 25. You'll see us all over Blogville!
What are Featured Bloggers? Everyone can join in the fun, without signing up or any commitment. In addition, each year a dozen or so brave bloggers volunteer to commit to the challenge and share their results on their blogs through our K9Kamp blog hop.
This year, in addition to your hosts Peggy's Pet Place and Kol's Notes we welcome these fantastic Featured Bloggers:
Small Tales- Foley Monster and Pocket
Something Wagging This Way Comes
Snoopys Dog Blog
I Just Want More Puppies
Pet Blogs United
Heart Like a Dog
Woof Woof Mama
Slimdoggy
To Dog with Love
Pooch Smooches
Whirlwind of Surprises
You Did What With Your Wiener
Terrier Torrent
My GBGV Life
We are also beyond thrilled to announce our new Koly and Kelly's K9Kamp Official Trainers:
K9Fit Club!
Are there prizes? You bet! Prizes for blogging and for participating, with an exciting package of leashes, toys and more worth more than $200! Stay tuned to learn more.


Are you joining K9Kamp this year? Our challenge will be announced on FitDog Friday, May 31st. Don't miss it!
Want more, pawsitive pet tips, good news, and special bonuses? Content not already on the blog? Subscribe to my free newsletter. Kelly and I can't wait to see you there!