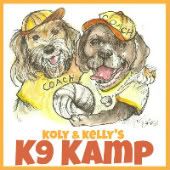 We're cooking up something exciting…we're working out all the details… and if you join, you might lose. Lose weight, that is. Announcing a fun way to get fit and healthy with your dog:


Koly & Kelly's K9 Kamp
What is K9 Kamp?

Fitness challenges, healthy recipes, weight loss tips, prizes, and more!
Koly & Kelly's K9 Kamp runs for 6 weeks, from September 8th to October 13th. During the week, both Kol's Notes and Peggy's Pet Place will blog helpful tips and motivation for losing weight and getting fit with your dog. And, you won't want to miss the main event, the Thursday Fitness Challenge! These challenges:

*are fun
*are easy (and can be adjusted to fit any fitness level)
*take only a short time (no more than 1 hr each week, and you can divide into a few shorter sessions.)
* include games like Fetch It Yourself and Tug With Me
*offer participants opportunities to win great prizes!
In addition, Kol's Notes is offering some great healthy recipes on Tasty Tuesdays. And every Friday I'll bring you an interview with one of our wonderful Featured Bloggers who will be participating right along with us.
All Things Dog Blog

Foley Monster & Pocket's blog

Gracie Owns Me

I Still Want More Puppies

Oh, Corbin

Life with Lulu & Wally too

My Brown Newfies

Pet Blogs United

Rescued Insanity
You'll discover more about their blogs, and why they decided to join Koly & Kelly's K9 Kamp, and how they're doing on the challenges. These bloggers are already excited and waiting for the fun to begin.
You can join Koly & Kelly's K9 Kamp too! Come visit Peggy's Pet Place and Kol's Notes starting September 8th. Then, just jump in when you want, share when you complete a challenge, and you'll be entered for great prizes, like an e-subsciption to FIDO Friendly magazine, collar and leash from Doggie Stylish, toys, treats and an autographed copy of my book Dieting with my Dog!
Don't miss our first K9Kamp blog hop, "I'm Kamping because…" on September 8th!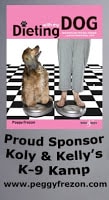 And our first Featured Blogger on September 9th!
So do you want to get fit with us?!
Kolchak & Jodi and Kelly & Peggy
Peggy's Pet Place * The American Veterinary Association estimates that there are 41.2 million pet dogs in the US and a recent study by Phizer suggests that nearly 47% are considered overweight. WHAT THE BARK?! That is a whole lot of pups. Staying active and keeping your pet in shape is the first step to ensuring good health, so join K9 Kamp and get fit and have fun with your dog.