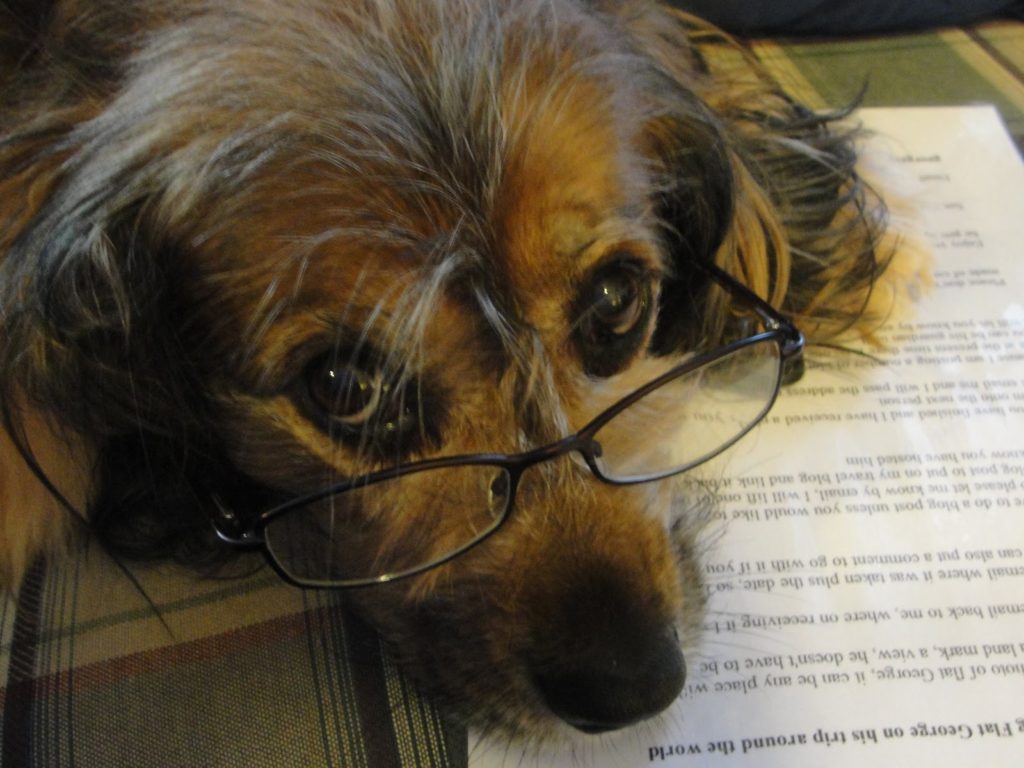 Welcome to my new blogging challenge, Pawing Along from A to Z. If you read yesterday, you learned that A is for Adoption. Today, join us for
B is for Book

I love Books. Reading them. Writing them. Stacking them up in a pile. Underlining beautiful phrases inside them. Alphabetizing them on a shelf. And reviewing them!
Recently I was asked to review two books, published by Hubble & Hattie (those great publishers who brought you Dieting with my Dog!). One of the things I like best about Hubble & Hattie books is that they are useful and helpful–books on subjects such as animal grief, dog massage, dog arthritis, and fun and games for cats. Here are two great books:
Clever Dog: Life Lessons from the world's most successful animal by Ryan O'Meara
ISBN 978-1-845843-45-8 Hubble & Hattie $19.95
The subtitle of this book interested me right away. Most successful animal? Cool! How did dogs accomplish that? What makes them so successful?
Inside this book I found the answers to those questions, and much more. Why people love dogs. How dogs benefit human health. How dogs communicate. How dogs solve problems. It is truly a wealth of information, starting with wolves and the domestication of dogs, to working dogs and the ways dogs help humans. There are even tips for handling puppies, dogs with separation anxiety, and canine conflict. There is so much information, it is almost overwhelming. Ultimately, the book's aim is to examine how the dog achieved the epithet "man's best friend" and how we might emulate his talents in order to enjoy the same fortune and fulfillment in our lives. The only quibble I have with the book is that the type is very small, with no photos, illustrations or charts to break up the text, and a bit taxing to read.
Living with an older dog
by David Alderton and Derek Hall
ISBN: 978-1-845844-07-3 Hubble & Hattie $24.95
I love senior dogs. They seem to have a wisdom and nobility that melts my heart. At nearly 10, Kelly is considered a senior dog, although really the only thing that gives it away is a bit of graying on the muzzle.
If you have a senior dog and are looking for ways to help your dog live comfortably and happily in his golden years, this book is for you. It offers tips such as recognizing physical symptoms, using an adjustable stand to position food and water bowls at the most comfortable height for your dog, and providing games for mind stimulation. The book also discusses physical changes and other common consequences of aging, such as noise phobia, disorientation, and anxiety.
What I like best is that the book is filled with photographs of beautiful, happy, romping, engaged older dogs who are enjoying life.
*Full Disclosure: I was provided these books to review and asked for my honest opinions. All opinions expressed are 100% my own.