A few weeks ago I blogged about a cool touring bus decorated with dog pictures, which I spotted in my local mall parking lot. I've since learned that the bus is traveling across the country, not only promoting an awesome new book, What Color Is Your Dog? but also providing dog training tips from celebrity dog trainer Joel Silverman, host of Animal Planet's Good Dog U. Kelly and I could certainly use some tips!
In honor of National Dog Week, Joel Silverman answers the most frequent dog training and nutrition questions: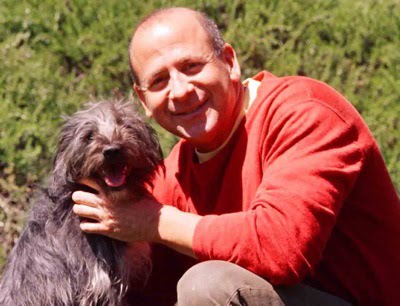 National Dog Week is September 22-28. Bil-Jac and celebrity dog trainer Joel Silverman have teamed up to help pet owners and pet lovers, looking to adopt, celebrate this special week with their furry friends.
On tour for his new book What Color is Your Dog? Silverman has traveled more than 5,000 miles cross country giving free training seminars at humane societies and animal shelters.
Through his travels, he has been asked almost every question imaginable about man's best friend and here, he shares some of the most common and important questions to consider when training your best friend, or thinking of adopting a new addition to the family.
Q: What steps should a family take to pick the right pet for their family, and also to prepare for the arrival of the new pup?
A: Realize that with this decision comes a 15-year commitment to love and care for this pet. Really ask yourself if your family is ready. If you have two children in diapers and both parents are working, now may not be the best time for a new addition. Wait a few years.
The chemistry between the family and the pet is very important. Spend some time interacting with the animal and determine if it is a good fit for your family.
Q: After adopting a new pup, when should the owner begin training him?
A: Build a positive relationship with your dog prior to training. The mistake people make is that they try to build this relationship as they're training their dog. That's one thing that I really disagree with. I think it's important to build a relationship prior, and become the animal's friend.
You should take 4-7 days just to get to know the dog.
Q: How should dog lovers utilize treats and other rewards in their training process?
A: Treats are a great way to train good behavior in your pet. I would train a puppy using both treats and praise, but slowly decrease the treats and add more praise. This way you are going from 75 percent treats and 25 percent praise to eventually 90 percent praise and 10 percent treats. Treats are the greatest tool to use. I use Bil-Jac treats as they offer a variety of sizes and flavors perfect for training purposes. I have used Bil-Jac treats for 20 years and they fully support my mission to decrease the number of animals in animal shelters through adoption.
Q: How long does it take for a dog to develop a level of trust and understanding with their owners?
A: It just takes time. Some dogs may take 2-4 weeks to have a noticeable change. The first step in training any animal is to establish a friendship with them. Find out what they like and don't like. Then, spend the next few weeks really developing a relationship with him and making sure that he understands you are there to help and nurture him. Through this step you will establish trust with the dog. This trust lets him know that you are there to protect and guide him.You do not want to establish a dominate leader role right from the start as this could set you up to fail with any dog. If you have a truly aggressive dog that will bite, then I recommend getting a professional to help you train him.
Q: Can you really teach an old dog new tricks?
A: Of course you can! All dogs have the ability and desire to learn, whether they are a pure bred dog or a mutt.
Q: Dogs have a tendency to beg for people food. How can pet lovers keep their dogs begging at bay?
A: You should never reward your dog for begging. Feeding your dog scraps from the table is rewarding the begging behavior and your dog is more inclined to do it in the future, because he thinks it's alright to beg. As an added precaution, both chocolate and onions are toxic and you should avoid giving your dog anything with one of these two ingredients in it.
Q: What are some of the benefits of kids having pets?
A: It is absolutely essential for a child to grow up with a pet. It gives children the opportunity to care for something. All the responsibility of feeding, walking and loving a pet translates into children being caring with other children. It also teaches them to treat the animal how they want to be treated. Ask your kids to put themselves in the place of their pet. Ask them how they feel when they are loved; how they feel when they are disrespected. Your dog feels all these things
too. This becomes a very real way of teaching children the golden rule.
Q: What is your favorite breed?
A: I think a good family pet is a mutt, I really do. There are lots of wonderful pure bred options as well. There are so many puppies and adult pets looking for a home. I think every person looking to adopt should visit a shelter first.
Joel Silverman is the author of predicted best-seller What Color is Your Dog? and host of Animal Planet's Good Dog U. For over 25 years, Silverman has worked behind the scenes training animals for movies, TV shows and commercials. He has appeared on national programs such as Live with Regis and Kathie Lee, CNN, MSNBC and FOX News, along with hundreds of local morning news programs. Silverman has offered advice on pet care and training based on his lifetime commitment to the welfare of animals and their special place in our lives. Silverman is currently on a 100 city book tour for What Color is Your Dog? For more information about Bil-Jac and tips from Joel Silverman, visit www.bil-jac.com or http://www.companionsforlife.net/. Share stories and pics of you and your best friend at Facebook.com/BilJacDogFood.