Hi! Here we are, almost at the end of the blog tour. Kelly, Ike and I are having a fantastic time visiting everyone, and we hope you've had fun and maybe visited some new blogs too! Today, we're at MY GBGV Life! You'll see how smart Emma looks while she checks out my site on the computer!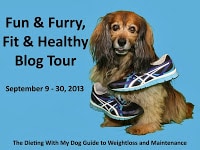 And, speaking of Emma, she has her own book out now! Tales of a French Scent Hound. The cover is just too cute, don't you agree?
So when you're done with the tour and checking out The Dieting with my Dog Guide to Weight Loss and Maintenance, be sure to check out Tales of A French Scent Hound. Buy them together and maybe we'll send Emma and Kelly to your house to give you a kiss and thank you personally!
Want more positive pet tips, good
news, and special offers?
Fetch my free newsletter,
Pawsitively Pets. Kelly and Ike
hope to see you there!