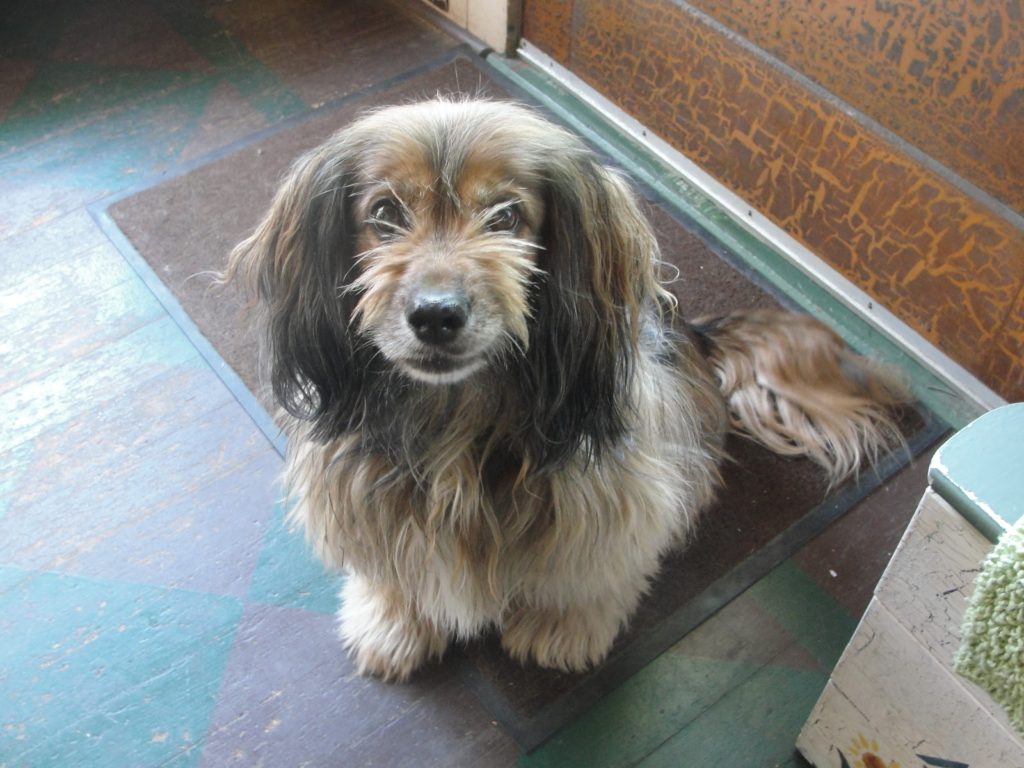 Blogville Back to School Bash
Doggone Dieting 101
Good Morning Class!
I hope everyone is enjoying Blogville School today. I'm your teacher,
Miss Kelly.
The blond at the door is our teacher's aide Mr. Brooks. He's checking out the window to make sure the buses have arrived and everyone is here.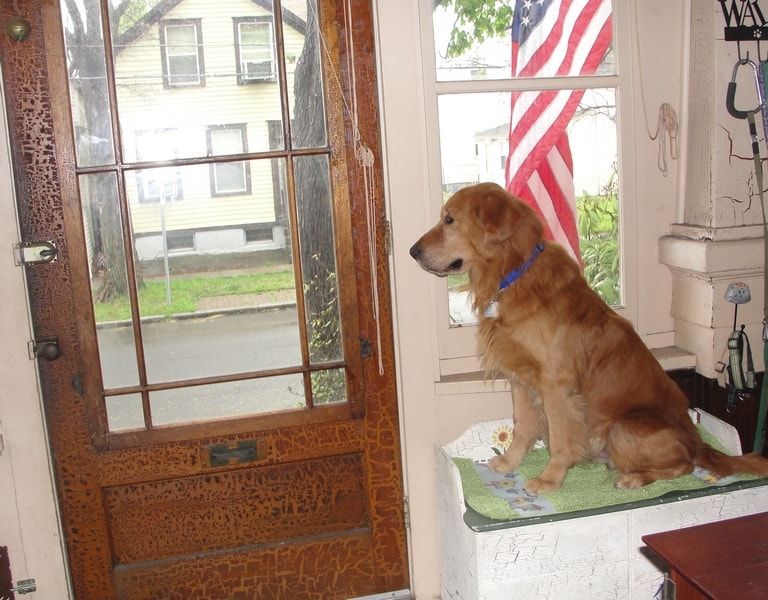 When I call your name, bark "woof!"
I see Frankie and Ernie…very good boys, you brought your notebooks. And Puddles, I did as you asked and put your desk next to Frankie and Ernie. Now don't pass notes in class or I'll have Mona and Aimee put you in line. And Weenie, even though you're skinny and don't need to diet, you can help by chasing us all around the classroom for exercise, okay? And Molly the Wally…I think you are quite the foodie, so you can help us out with recipes and such. Oh my gosh, class is getting full. Okay Paige is here too, and Chip, Tasha and Anna Rose, Ms. Chunky and Coupette and…. Put your thinking caps on now!
Everybody here? Ok, let's begin!
I suppose that most of you signed up because your mom told you that you're a little chubby, or you no longer fit into your favorite doggie couture, or maybe you just want to get buff and toned to attract that special someone. Well here's what you need to know!
Hopefully you're already getting a high quality dog food or nutritious home prepared food. I know we all would like cheese and bacon instead. But if you're overweight, that's probably what got you to that state in the first place. So ask for the good quality, low fat food with lots of healthy lean protein.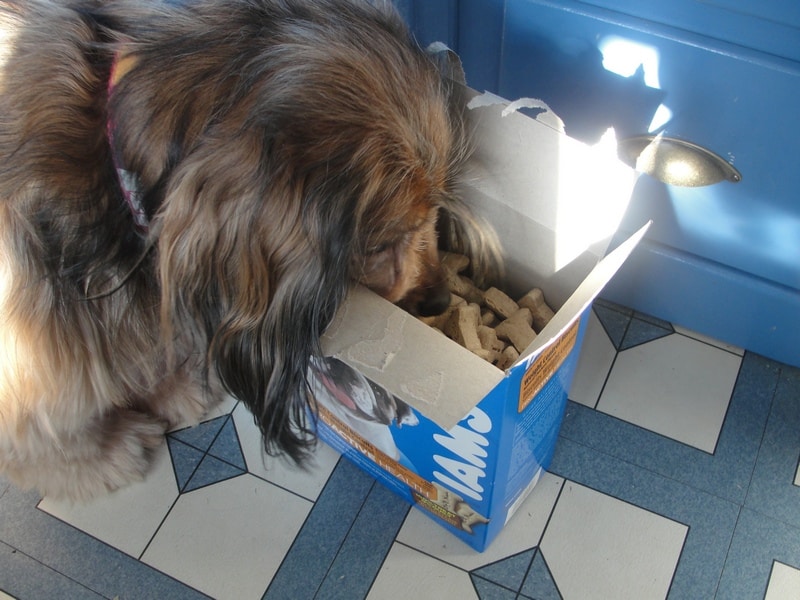 Diet Tip #1: Don't eat out of the container!
Some fruits and veggies are good too. I like baby carrots. Mr. Brooks enjoys bananas.
Try this for a treat: PB apple (Remove the core and fill with peanut butter! Discard core: apple seeds aren't good for dogs.)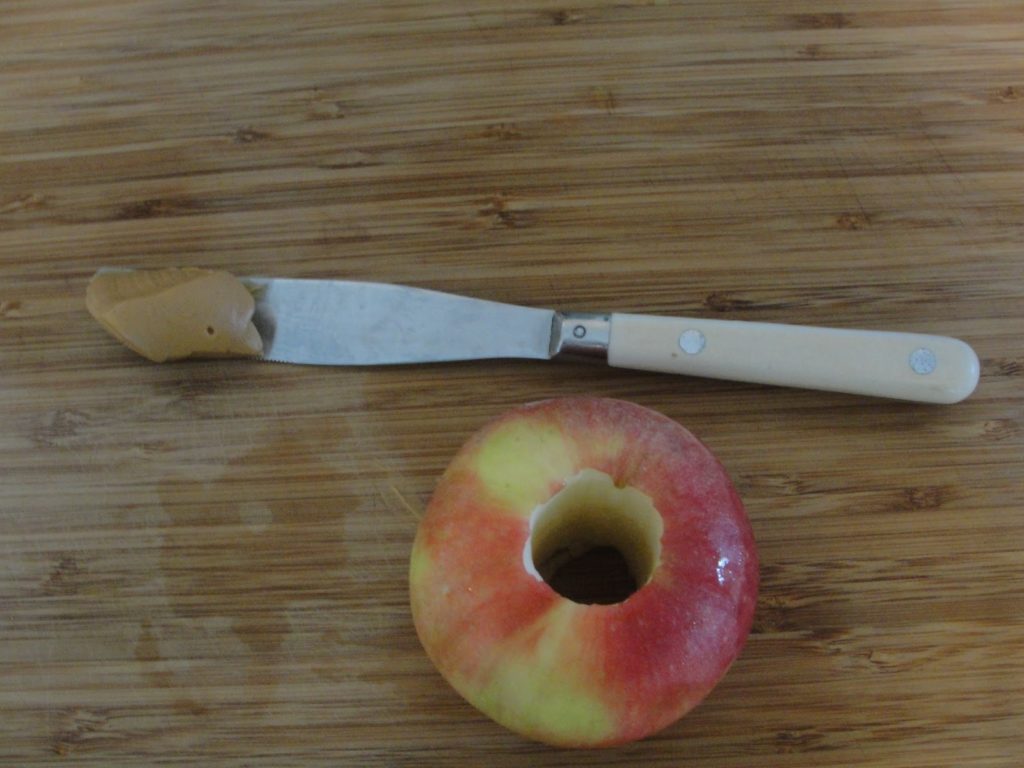 How to make a PB Apple
Lesson 2: What to do when you're hungry: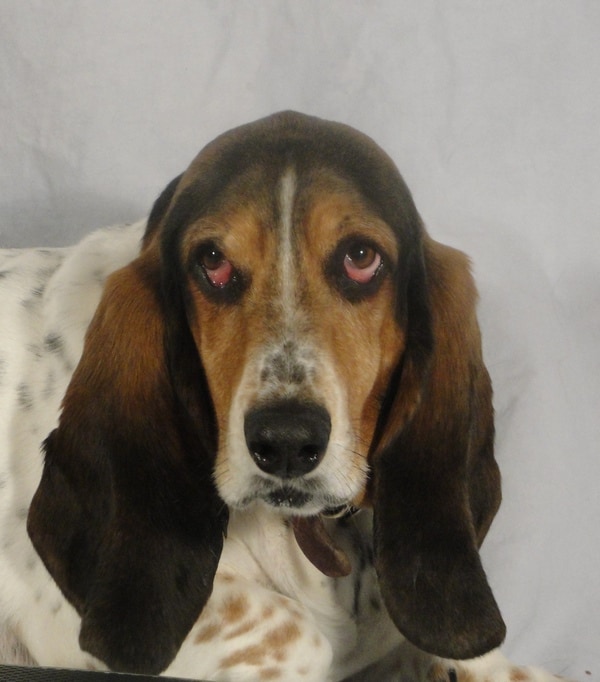 Do This
Lesson 3: How to get more exercise
Take your mom and dad on more walks. It's good for them too.
Diet Tip #2: Pull on the leash like this.
Try a new sport. Are you up for a game, Frankie and Puddles?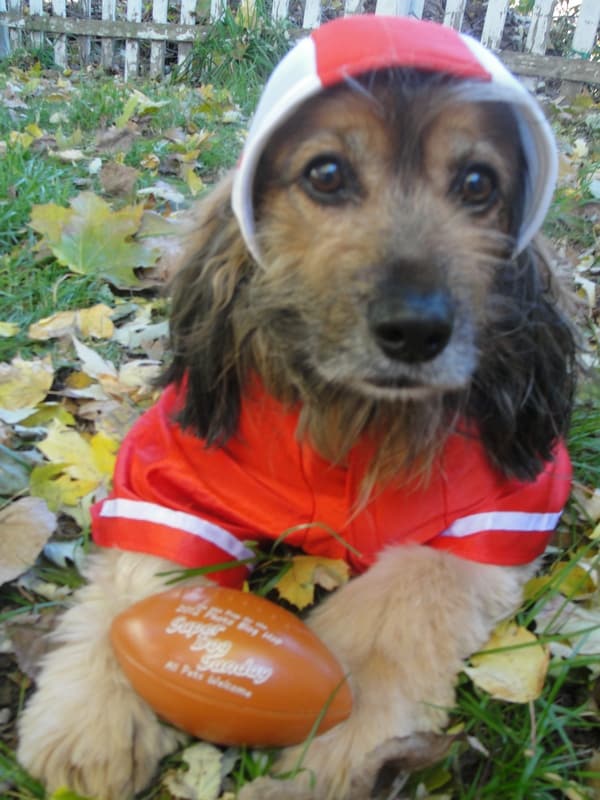 Football, anyone?
Lesson 4: How to help your mom and dad lose weight
Tell them to read my book. It's all about how I helped my mom lose weight. Oh, Mom had a little bit to do with the book, too. Paige and Ms. Chunky, you've already read the book so maybe you can put in a good word!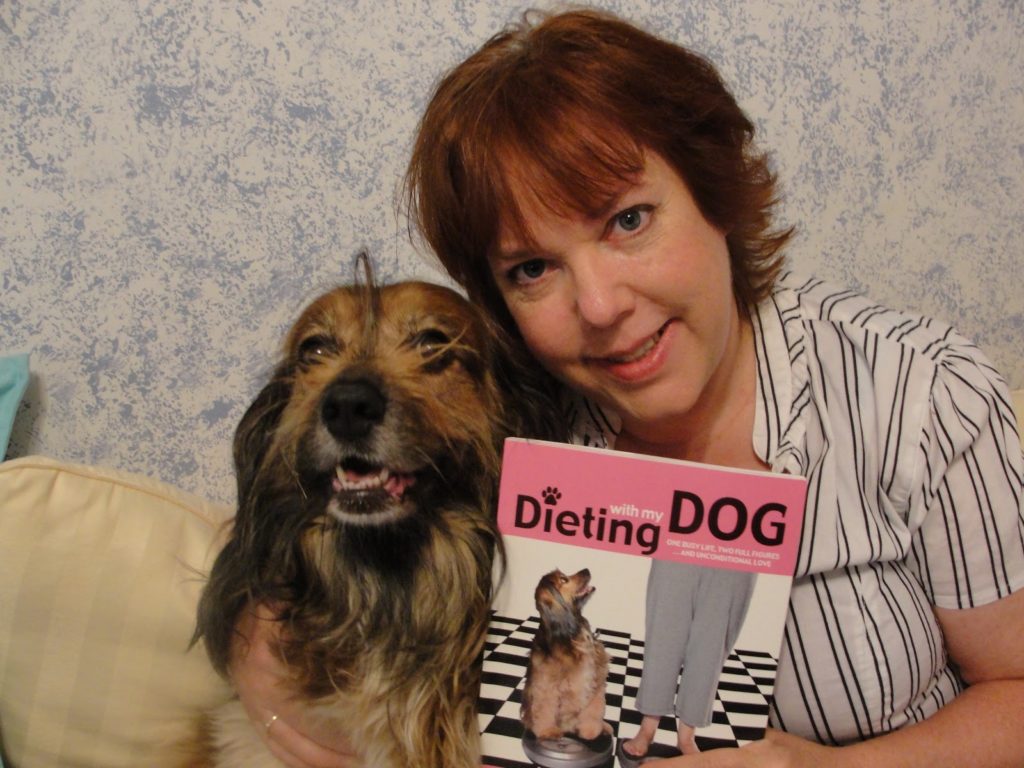 You can find Dieting with my Dog on Amazon or any bookseller. Here it is on the bookstore shelves! Choupette, are you going to help your mum lose weight?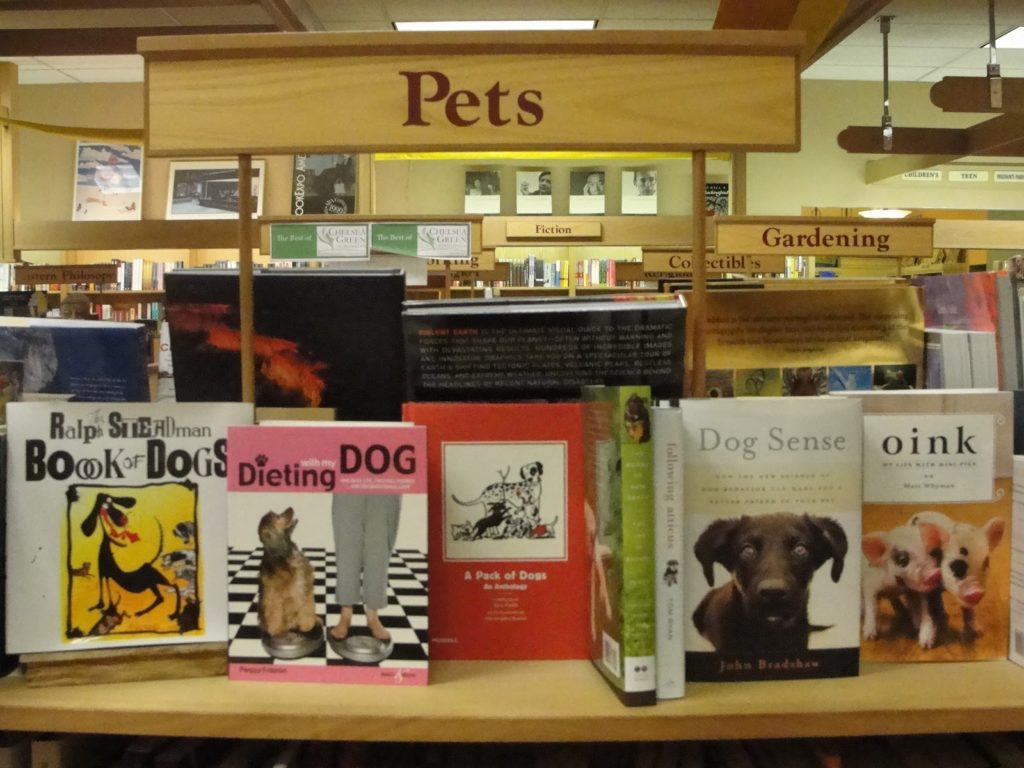 Lesson 5: Help for common dieting problems
Common Diet Problem: You weight to much.
Help: Try standing on the scale like this:
Diet Tip #3: This technique will take off pounds safely and naturally.
Okay, that is all for today in Doggone Dieting. I hope you took good notes. **Puddles, put those tacks away!! Okay now, enjoy the rest of your day. Don't forget to go to the rest of your classes today, too. Oh, and if you're seriously dieting, you might not want to eat too much at Echo's burger food truck or Sasha's AWESOME POSSUM PIZZA food truck.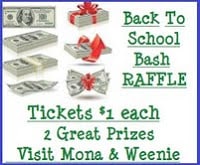 Now, it's not all school work….there's good cause too. Check this out. Weenie is going to be selling RIDES on his Fantastic BUMBLE BEE and Mona is "selling APPLES fur you to give to your FAVORITE Teachers (remember how much I like PB apples??) and there will be 2 Door Prizes you can buy Raffle Tickets for at Pip's and Puddles' places. All proceeds will benefit Miss Sandra and the Houston Pittie Pack. And FrankieFurter's mom will match the donations (up to $500.00!) That's super generous of her.
Bye! Your homework is to enjoy recess, and have a healthy after school snack!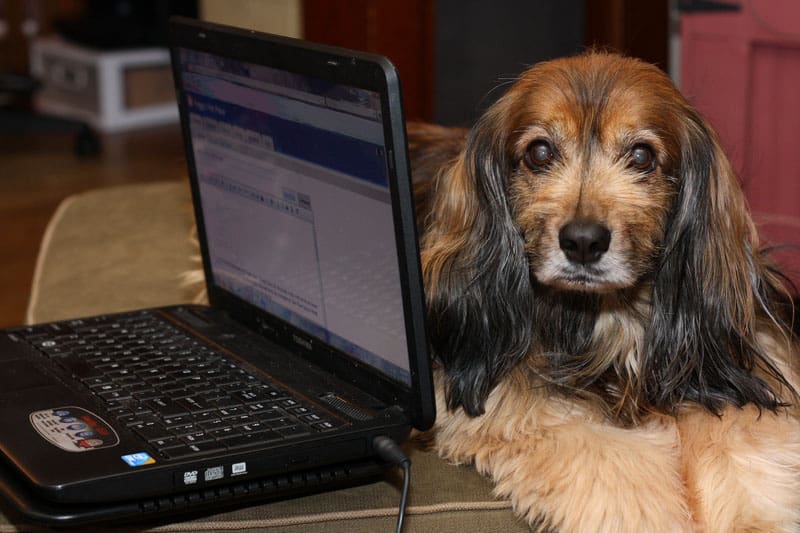 I'm working on the assignments.