What is the best material for your dog's dinner bowl? Plastic? Ceramic? Stainless Steel?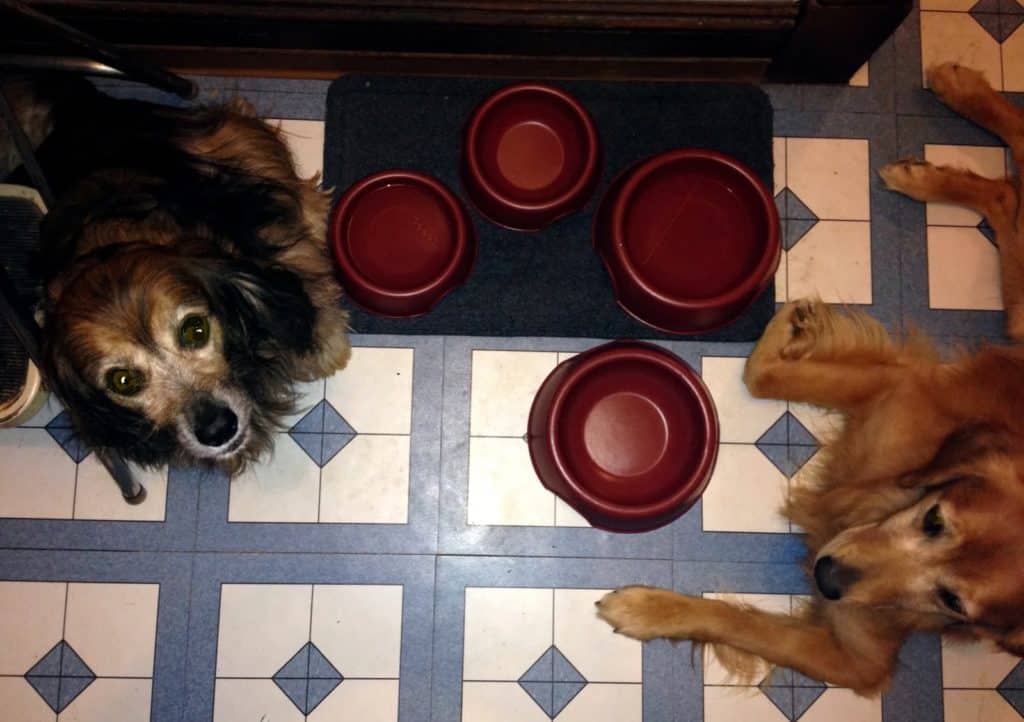 Plastic:
Advantage: Inexpensive, many designs and colors
Disadvantage: Material may become scratched and harbor bacteria, some dogs are allergic to plastic, may leach chemicals into your dog's food and water
Ceramic:
Advantage: heavy weight so they aren't easily pushed or tipped, available in many designs
Disadvantage: May break and chip, also may breed bacteria, some ceramic glazes, or stoneware bowls, may contain amounts of lead
Stainless Steel:
Advantage: Unbreakable, sturdy, rust-free, non-leaching
Disadvantage: If used outside, they become hot to the touch
Here's an even better option—bamboo!
Bamboo is natural, 100% recyclable, and biodegradable.
We were sent two sets of these awesome BambuBowls (TM) by Loving Pets to review– large for Ike and medium for Kelly.
The bowls are durable and dishwasher safe, too!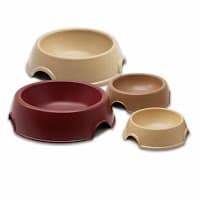 One of the most interesting things I learned about bamboo bowls is that they have natural antibacterial properties.
Review: The bowls are attractive and strong. The cut outs in the sides make them easy to pick up. And they are easy to clean. We are delighted to trade in Kelly and Ike's old bowls for these great, new, earth friendly bamboo bowls. That's 8 paws up!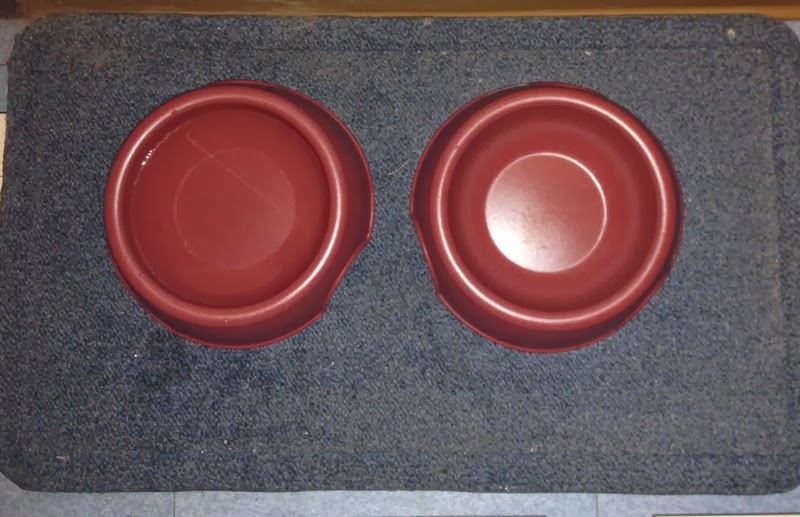 Kelly's new Bambu bowls.
We also received a Gobble Stopper by Loving Pets to review. Ike is a gobbler. He had a metal bowl with a hump in the middle to prevent him from gulping down his food. It did slow him by a few seconds. The Gulp Stopper is a slow feeder device that can be placed inside any bowl. Lucky for us we have new BambuBowls to try it out!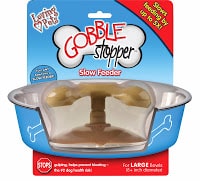 Review:
Pros: The Gobble Stopper design was definitely effective. Ike had to work harder to get the food than he does with his hump-style slow feeder bowl, so it definitely slowed him down even more. I liked that he had to work harder to get at the food. The suction cup stuck well, especially in metal bowls.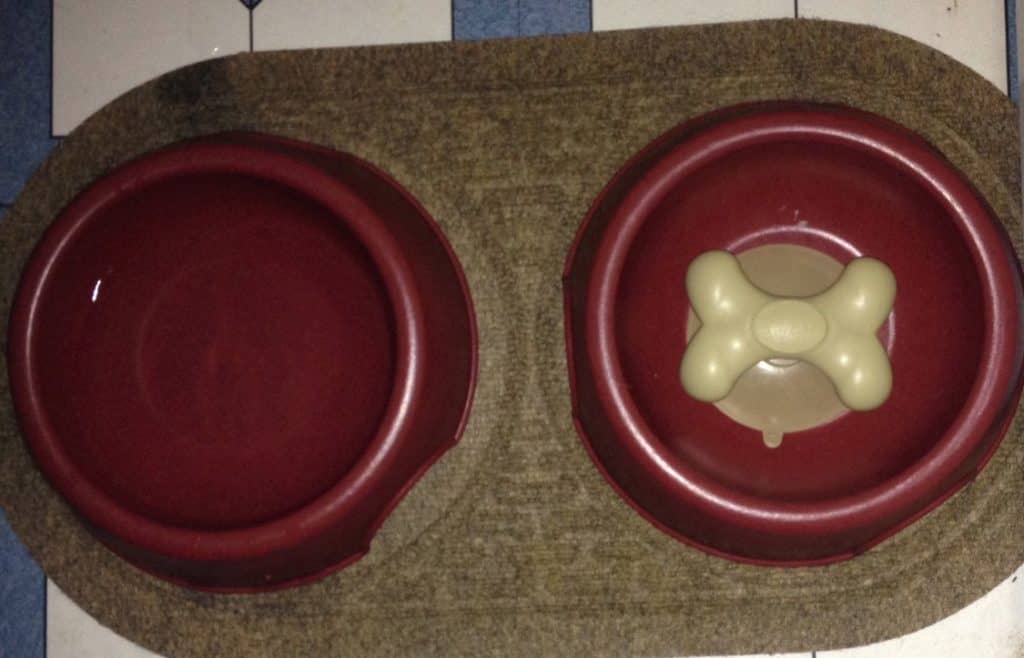 Ike's Bambu bowls with Gobble Stopper.
Cons: Depending on the size of the bowl and the size of your dog's muzzle, it may be difficult for your dog to get all the kibble out from under the bone shaped canopy. Some dogs may become frustrated–Ike wasn't deterred since he's highly food motivated, but he did leave one or two bits of kibble he couldn't find. Also, the Gobble Stopper is made of plastic, which is a negative if you are trying to avoid exposing your dog to plastics.
Overall we are in favor of the Gobble Stopper, as it effectively slows a dog's eating and can help prevent indigestion and bloat.
Full Disclosure: We were provided with two sets of BambuBowls and one Gobble Stopper for our honest review, but this in no way affected our review. The opinions expressed here are 100% my own.
Want
more positive pet tips, good news, and special offers? Fetch
my free newsletter, Pawsitively Pets. Kelly and Ike
hope to see you there!