When I first read The Art of Racing in the Rain, I immediately fell in love with Enzo. I loved his voice. I loved his vulnerability. I loved his heart. I hurt for him when people didn't treat him well. Looking at the book from my author's perspective, I marveled at how author Garth Stein seemed to understand dogs so well, he made me believe in Enzo.
I recently had the opportunity to interview Garth Stein for a forthcoming All Creatures article. The Art of Racing in the Rain was made into a movie, and Twentieth Century Fox Home Entertainment has now released the movie on Digital, Blu-Ray and DVD. I had a brief fifteen minutes to talk to Garth Stein about the book, the movie, and the DVD. I had my questions laid out, but when I loosened up and veered away from my standard questions, the interview was really fun! I even told him a little about Ernest and Pete (above) and he told me about his late dog, Comet.
I read the book when it first came out. We saw the movie in the theater. And we bought our copy of the DVD just this week. In the movie, Enzo is voiced by Kevin Costner. His person, Denny is played by Milo Ventimiglia. I loved the movie, and thought it did a really good job in its adaptation of the book. Garth Stein told me that he was most concerned that the director and producer got the heart of the book right, and he feels they did.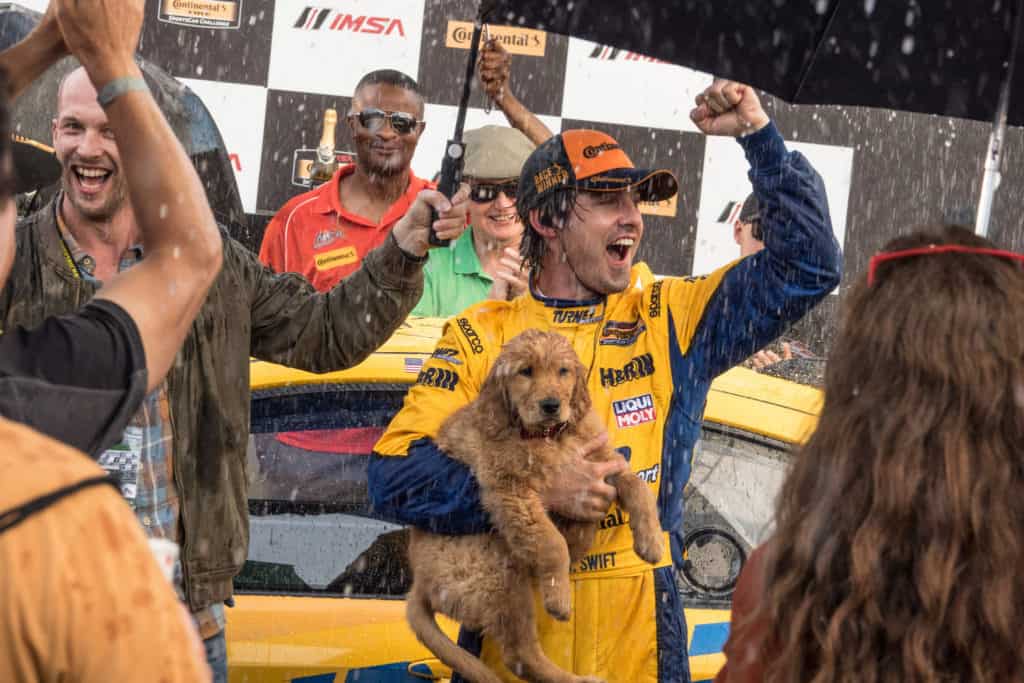 You can read my entire interview with Garth Stein in All Creatures, forthcoming. In the meantime, fetch the DVD and enjoy the movie at home. Grab your tissues too. If you haven't read the book or seen the movie and if you want to know if the dog dies, the answer is yes. This fact is clear from the very start– Enzo is old, hurting, and his person knows it's time to say goodbye. This is the beginning, from Enzo, the narrator:
"In Mongolia, when a dog dies, he is buried high in the hills so people cannot walk on his grave. The dog's master whispers into the dog's ear his wishes that the dog will return as a man in his next life. Then his tail is cut off and put beneath his head, and a piece of meat or fat is placed in his mouth to sustain his soul on its journey; before he is reincarnated, the dog's soul is freed to travel the land, to run across the high desert plains for as long as it would like.

I learned that from a program on the National Geographic channel, so I believe it is true. Not all dogs return as men, they say; only those who are ready.

I am ready."