Voting is open now for Change a Pet's Life contest,
sponsored by PetMeds. The goal is to
change the life of an adoptable dog by providing a needed surgery or
medical treatment.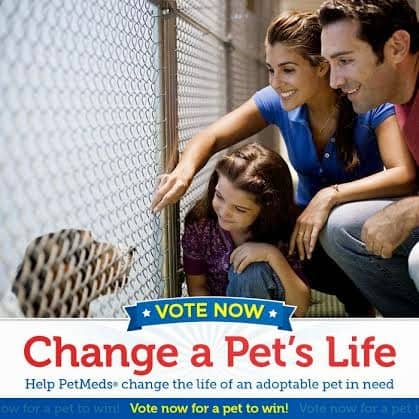 Prizes:
*1st place: PetMeds will
cover the pet's surgery/treatments up to $2,000** and will also take a
video of the rescue group and pet, to be featured on the PetMeds website
and social media sites
*2nd place: PetMeds will cover the adoption costs of 5 pets for the second-place rescue group
*3rd place: PetMeds will donate $250 to go towards the pet's surgery/treatments

Voting:
Anyone can vote for pet in need. Voting runs Friday Jan 16 -Thrusday Jan 22 (12 AM ET). Anyone 18 or older can vote once a
day by visiting the contest link. Voting is open to non-US residents
Jan 23: Winners are announced!
Visit PetMeds Cares Facebook page
*Full Disclosure: PetMeds made a donation to the pet charity of my choice in response to my sharing this information.