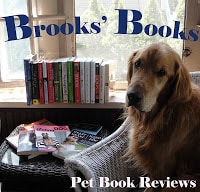 * BROOKS' BOOKS Pet Book Reviews
The Possibility Dogs: What a Handful of "Unadoptables" Taught Me About Service, Hope and Healing
by Susannah Charleson
Houghton Mifflin Harcourt, June 4, 2013
ISBN: 978-0-547-73493-4
pages: 288
Price $27.00
I started reading The Possibility Dogs by Susannah Charleson late one night last week. A blurb on the cover mentioned something about "unadoptables." The white dog with the lopsided ears next to the blurb looked at me, as if to say "You know you want to find out why I was unadoptable, and if I had a happy ending." Past midnight, I was exhausted, but thought I'd take a peek just to get an idea what the book was like before bed. I vowed I'd stop at the end of the second page, but kept turning and turning, riveted by the honesty of the story. (You will be too. I have 3 to giveaway, at the end of this post.)
The author, who works in search-and-rescue, witnessed a horrible, ghastly situation (reading about it had me choking back tears), which resulted in her suffering from PTSD. Soon, her canine search partner, a sweet golden retriever named Puzzle, made the difference in her own healing. Inspired by that experience, Charleson learns to identify abandoned dogs with service potential,often plucking them from shelters at the last minute, and to train them for work beside hurting partners, to whom these second-chance dogs bring intelligence, comfort and hope.
Charleson writes, "As a search K9 handler, I've seen how much good trained therapy dogs can do in a crisis. The affected public turns to them. Emergency responders need them too….There is something special that a gifted dogs can give to humans in distress."
Despite the possibility of rescue dogs with issues–timid, reactive,
unpredictable, aggressive, sick–and the emotional toll of evaluating
dogs tagged for euthanasia and not being able to save them all,
Charleson knows that saving these dogs and matching them with human
partners for emotional support work is the route she's destined to take. And one special dog becomes extra-special to Charleson herself.
The Possibility Dogs is a beautiful, thoughtful, heart-tugging book.
Every action, every thought, follows a clear progression that took me
deeper into the author's emotions while at the same time illuminated a finer understanding of the capabilities and potential of these very special dogs. I was drawn into
the stories of each dog and each human partner and rooting for their
lives together to work out. I fell in love with Charleson's golden retriever,
Puzzle. I think I fell in love with every dog she wrote about: the old
ones, the sick ones, the clever ones, the abandoned ones, the devoted
ones.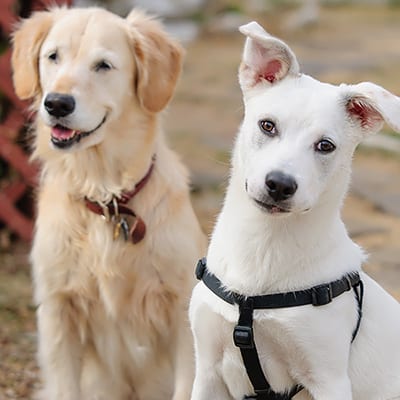 The author's dogs, Puzzle and Jake Piper
I've always admired people who work in dog rescue, in any form. I've written about a man who rescues and trains shelter dogs for work in television and on Broadway. And several women who rescue dogs from shelters to work in their assistance dog programs. Each time I talk to people about this, I'm moved by their desire to help the dogs, as well as the dogs' capacities for helping humans.
I also know a little firsthand about this mutual relationship. My own Kelly is from a rescue group, as was sweet Brooks who, as a senior dog, had been abandoned and left on the streets. (And we
are now searching for our next best friend through Petfinder and several
great rescue groups.) We all have our issues, and I admit I sometimes struggle with stress and worries. My dogs are often a comfort to me when I'm anxious, and I've frequently thought about a dog trained for such situations. It's something I hope to look into more
seriously. Reading this book, about people who are helped by amazing dogs, gives me strong encouragement.
I'm excited about this book for another reason–although the circumstances are different, its theme is a true-life version of a fiction series I'm writing (and can't wait to
tell you about soon!) I'm drawn to the subject, and write about it frequently- the mutual
healing relationship between people and pets. Just as Kelly and I helped
each other lose weight in Dieting with my Dog, and Topper, Chief, and other animals helped Luanne heal in Heart to Heart, Hand in Paw, The Possibility Dogs shares multiple ways dogs minister to the mind and heart.
There's no other way to put this. The Possibility Dogs by Susannah
Charelson a must-read for everyone who loves dogs and understands their
healing powers. I assume that is pretty much everyone who reads this
blog. Now that I'm done reading the book, I want to pick it up and read it all over again. Enter here for your chance to win.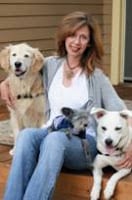 SUSANNAH CHARLESON is author of the NYT bestseller SCENT OF THE MISSING, a flight instructor, service dog trainer, and canine-search-and-rescue team member. She lives with Puzzle, a golden retriever certified for the recovery of missing persons; service dog in training Jake Piper, a German Shepherd-Pit Bull-Poodle mix; and a rabble of rescued Pomeranians and terriers.
Full Disclosure: I was provided with 1 copy of The Possibility Dogs to review, and 3 to give away.This in no way influenced my review. The opinions expressed here are 100% my own.
Want pawsitive pet tips, good news, and special bonuses? Content not already on the blog? Subscribe to my free newsletter. Kelly and I can't wait to see you there!
* Note: Although Brooks is no longer with us, I am continuing to use his name on my book reviews in his honor.