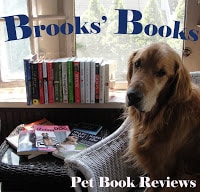 Brooks here. I'm a lucky dog to have read two great books this month, both about LOVE. Today I'm reviewing Love Saves the Day. Gwen Cooper is an awesome author whose previous book is one of mom's favorites. You may have read Homer's Odyssey, a memoir about Gwen and her blind cat.
After so many people told Gwen that their favorite part of Homer's Odyssey was the way she "talked for" Homer, Gwen felt inspired to write a new book, a novel, Love Saves the Day. Whew! We've been reading stories by a lot of very smart animals lately! Well, I have never met a real cat (can you believe it?) so I especially enjoyed this opportunity to glimpse the way they think. Sure are curious critters. I absolutely recommend this book. Okay, here's Mom with the rest of the review.
Peggy: If you're suffering from a lack of inspiring reading material starring felines, then Love Saves the Day to the rescue! Author Gwen Cooper has a profound understanding of cats and a delightful ability to paint a scene.
The story revolves around Prudence, a thoughtful brown tabby with white socks. She lives with Sarah in New York City until one day, Sarah doesn't come home. The author lovingly shares Prudence's world as the cat faithfully waits for her beloved person to return, grieves, and deals with the transition of living with Sarah's daughter and her new husband. The characters are deep and believable. I felt drawn into Prudence's worries, fears and triumphs.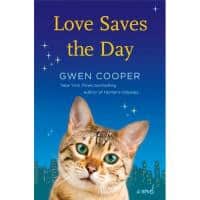 Love Saves the Day is about a daughter healing after the loss of her mother, a new husband and wife learning to adapt to marriage, and how the love of an animal can make us all better humans.
Ultimately, this is a book about LOVE.
Cat parents will relate to Prudence's musings (mewsings?) on The Bad Place (the vet's office) and The Monster (the vacuum). Heartbreaking, heartwarming and heartfelt, Love Saves the Day is a beautiful story that stays with me….maybe even as I contemplate adopting a cat!
I highly recommend Love Saves the Day.
*New York Times Bestselling Author
* The First Novel Narrated by a Cat
* Inspired by a Real Cat, Gwen's cat Scarlett who will be familiar to readers of Homer's Odyssey.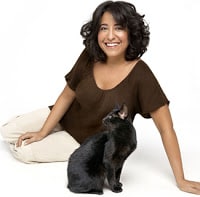 Read this interview with Gwen Cooper from TIME Entertainment.
Amazon
Barnes and Noble
Gwen Cooper's website
Enter Love Saves the Day photo challenge
* I was provided with a copy of this book for my review. The opinions expressed are 100% my own.
Want more great pet news, fun content and special bonuses? Subscribe to my free newsletter. Brooks, Kelly and I hope to see you there!