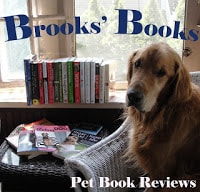 Brooks here. Okay, what's not to like about a cookbook for dogs? I mean…it's a cookbook…for dogs! My Dog Says I'm a Great Cook! is a drool-worthy book from the publishers, readers and fans of DogTipper. These experts certainly know what's cookin'! Here's Mom with the review.
me: We're all want to feed our dogs quality food, and one way to make sure they are getting the wholesome ingredients we want is to make our own food. Whether you like to cook all your dog's meals yourself, or maybe just an occasional treat, you'll find so many yummy recipes to love in My Dog Says I'm a Great Cook!
***Keep reading for a chance to win a copy of this book!***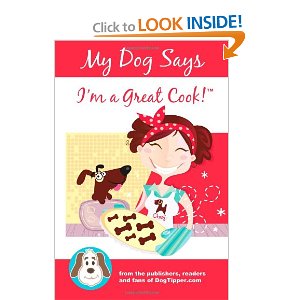 Authors Paris Permenter and John Bigley are editors and publishers of Dog Tipper, authors of Barkonomics: Tips for Frugal Fidos, and numerous other books. They're also pet parents to two rescue dogs, Tiki and Irie. One fun part of this book is the recipes from other pet parents and dog bloggers, as well.
You'll find recipes for Turkey Meatballs, Jerky Treats, Peanut Butter Tasties, Bacon-Flavored Biscuits, Fishy Brownies, Liver Treats, Easy Banana Yogurt, Roastcicles, and more! There are even special holiday recipes. There are more than 100 great recipes.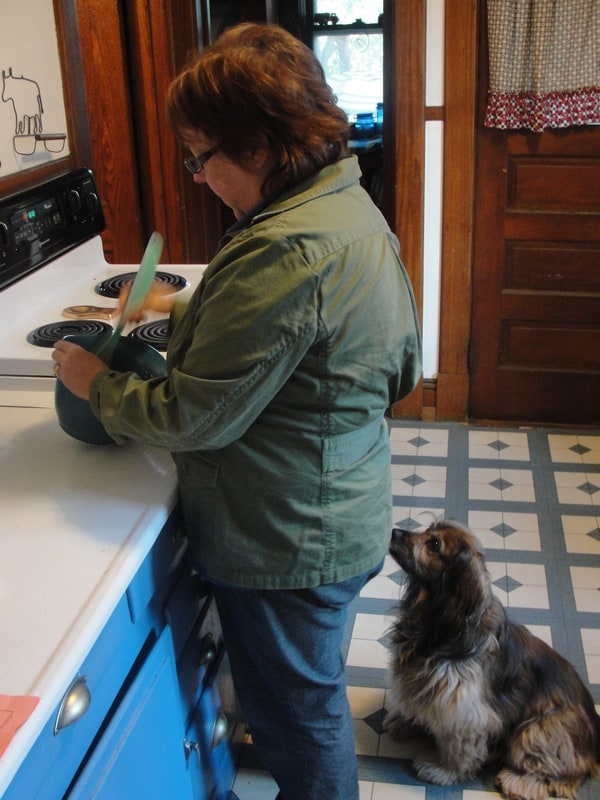 I'm not much of a cook, but I tried a recipe. Here we are mixing up PB and Applesauce Dog Biscuits. I like that the recipe called for ingredients I had around the house. The biscuits were super easy to make, and Kelly and Brooks absolutely loved them. This definitely encourages me to try more recipes soon.
I know Kelly and Brooks will thank me.
THE CONTEST!!
Would you like to win a copy of the book for yourself? Just leave a comment below to enter. Make sure you leave a way for me to contact you if you win. (****Note: A second book is being given away to a lucky subscriber of Pawsitively Pets newsletter. Just leave a second comment, saying you are a subscriber. It's perfectly okay to subscribe right now and then leave a comment!)
Winners drawn at random. Contest ends February 4th. Good Luck!

If you don't win, find out more on Dog Tipper or check out My Dog Says I'm a Great Cook! on Amazon.
*full disclosure: We were given a copy of My Dog Says I'm a Great Cook! for review and two for giveaways, but this in no way influenced my review. The opinions here are 100% my own.