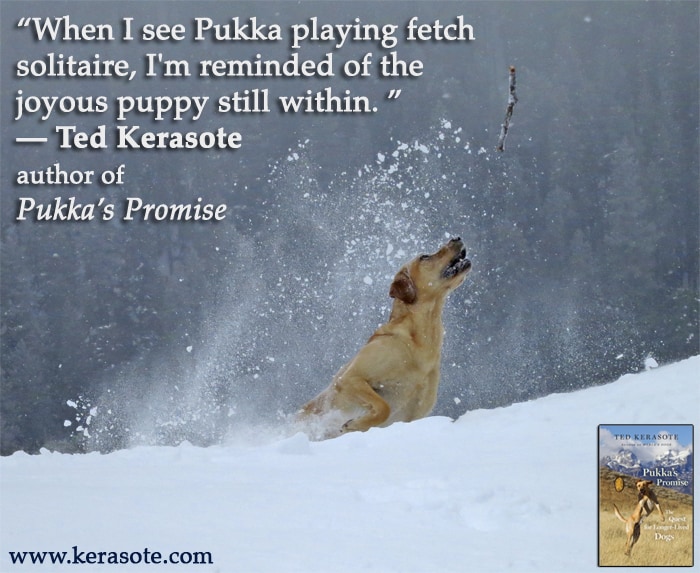 Brooks here: A while back Mom reviewed the beautiful book, Pukka, the Pup After Merle. Many of you may be familiar with Merle's Door, the inspiring bestselling book by Ted Kerasote. At the time, Pukka had a lot to teach us about being a puppy.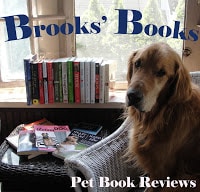 Now, he's all grown up (and a very handsome yellow lab, at that.) Pukka's Promise contains important information for keeping us–your best friends–as healthy and happy as possible. This book is the perfect for both our Valentine's week posts about love, and Responsible Pet Owner's Month. Here's Mom with the rest of the review:
Peggy: When Ted Kerasote's beloved dog Merle died too soon, he knew he'd want to give his new puppy the longest life possible. What followed was questioning, researching, interviewing, observing, and gathering the must accurate, respected and responsible data to define real-life tactics we can all take to help give our dogs what they need. Using the latest research, he helps us rethink the everyday choices we make for our dogs:
* How many vaccines are too many?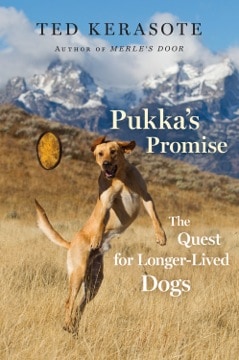 *Can a purebred be as healthy as a mixed breed?
*Is raw food healthier than kibble?
*Should we feed our dogs bones?
*Should we rethink spaying and neutering?
I especially enjoyed the sections on vaccinations, because I've heard of several dogs suffering negative reactions. And what to feed your dog is always an important, and difficult, topic.
Because Kerastoe masterfully weaves in stories of himself and Pukka, and presents the information in a friendly manner, it is never dry or difficult to grasp. I came away from the book feeling like I'd just had a conversation with someone who loves animals and wants all animals to be healthy and happy. Pukka's Promise gives me cause to rethink some of my previous opinions, and feel supported in other decisions. An intelligent and heartwarming read.
Amazon: Pukka's Promise
Watch this video A Day in the Life of Pukka. I love how he runs through the snow! Now that's a fit and healthy dog. Do you think he can resist chasing the moose?

Want more great pet news, fun content and special bonuses? Subscribe to my free newsletter. Brooks, Kelly and I hope to see you there!