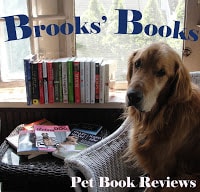 Brooks Books– Pet Book Reviews
I Will See You in Heaven by Friar Jack Wintz (c) 2010 Paraclete Press ISBN 978-1-55725-732-1
Heaven Bound, (c) 2012 Paraclete Press ISBN 978-1-61261-244-7
I Will See You in Heaven begins, "We have a deep desire to know if we will see our pets again, and all the lovely creatures alongside whom we now inhabit this planet. What will become of them after they die?"
I imagine heaven as a place full of love and happiness, and since I know that pets are part of what brings love and happiness, I picture the pets that have passed as being there in heaven. This book offers many reasons why creatures other than humans will find a place in heaven. Friar Wintz discusses the stories of Noah and the Ark, and Jonah and the Whale, and particularly the life of St. Francis to illustrate his points.
An excerpt of a letter written by Mother Teresa states, "(Animals) too are created by the same hand of God which created us….it is our duty to protect them and to promote their well-being. We also owe it to them, as they serve us with such docility and loyalty."
I Will See You in Heaven shares why we love and care about our pets, and offers hope of seeing them again in heaven.
A companion book, Heaven Bound, includes everything you need to create a special memorial service for your pet. It offers eulogies, prayers, readings and Bible verses offering comfort in a time of mourning. It includes the words to the popular verse, The Rainbow Bridge, and blank pages to record your own memories.
I recommend these beautiful books for anyone who has loved and lost a pet, or would like to offer words of comfort to friends and family who have lost a beloved pet.
You can enter to win a copy of I Will See You in Heaven on my newsletter, Pawsitively Pets. If you aren't already signed up, you can sign up now.
* I was provided with a copy of these books for review, but that in no way influenced my review. All opinions expressed here are 100% my own.
Want more positive pet tips, good news, and special offers? Fetch my free newsletter, Pawsitively Pets!