Do Kelly and Ike like having their teeth brushed?
In a word–no.
When we go to the vet, she usually mentions dental care–after all, she's not only the dogs' doctor, but also their dentist. In his home before we adopted him, Ike ate through a door in order to get to a dog in heat and broke off most of his teeth. And Kelly is 13 years old and and has some tartar buildup. But still, I'm not great at keeping their teeth brushed. When I come at them with a toothbrush, they run the other way. Try prying their mouths open and scrubbing those teeth. No woofin' way. So I was excited to be asked to check out the new #MilkBone® Brushing Chews.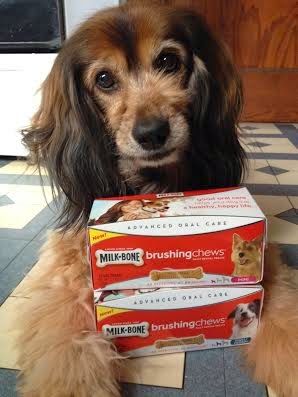 Milk-Bone® Brushing Chews TM are bone-shaped chews, covered with nubs and ridges that are designed to clean like bristles on a toothbrush. The bone has a unique 75 degree twist design that helps dogs maneuver the chew to clean down to the gum line, including hard-to-reach back teeth.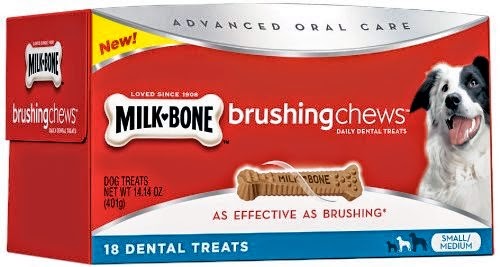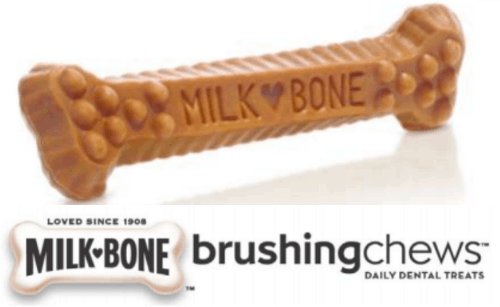 Kelly was my taste-tester for this product.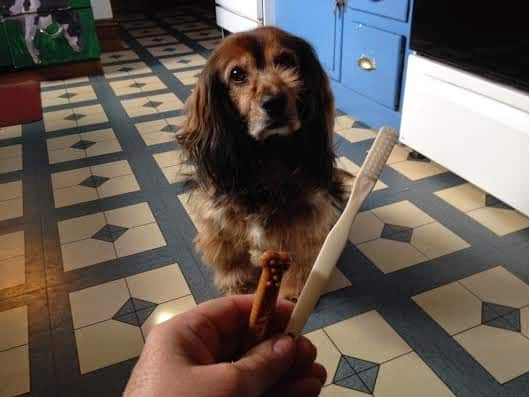 Kelly, which would you rather have, a toothbrush or Milk-Bone Brushing Chews?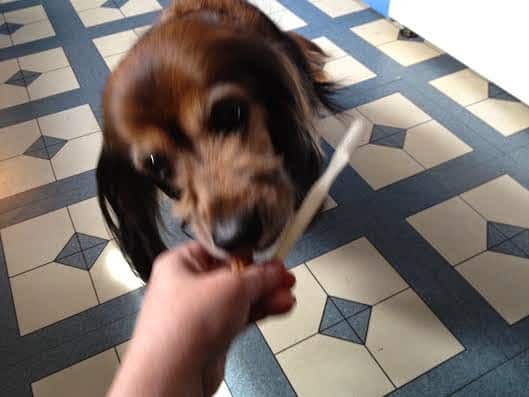 Yes! The Brushing Chews!
She excitedly accepted the treat and immediately went to work brushing—uh, chewing. I was surprised at how long the treat kept her busy, too. Much longer than most other chewy biscuits. Knowing that she enjoys the taste and chewing experience (much more than the struggle with the toothbrush), and that it is also helping to keep her teeth healthy, I can feel good about offering her this treat.
Milk-Bone® Brushing Chews (TM) are clinically proven to reduce: tartar build-up. They come in mini, small/medium, and large. Kelly sampled the small/medium size.
If you want to try them for yourself, they're easy to find–available wherever Milk-Bone® products are sold. And the suggested retail price is between $4 and $5 per box.
For more information:
Facebook
Milk-Bone® Website
Instagram- milkbone#
twitter-@MilkBone
Milk-Bone® wants to offer a Milk-Bone® Brushing Chew (TM) Dental Pack to 15 different winners! The Giveaway will be open through 11:59pm Eastern Time April 30th. All you need to do to enter is fill out the rafflecopter and make sure you do the mandatory entry of leaving a comment on my Blog Post. One winner per household.
Full Disclosure: This post is sponsored by Milk-Bone®. I am being compensated for helping spread the word about Milk-Bone® but Peggy's Pet Place only shares information we feel is relevant to our readers. Milk-Bone® is not responsible for the content of this article.
Want
more positive pet tips, good news, and special offers? Fetch
my free newsletter, Pawsitively Pets. Kelly and Ike
hope to see you there!