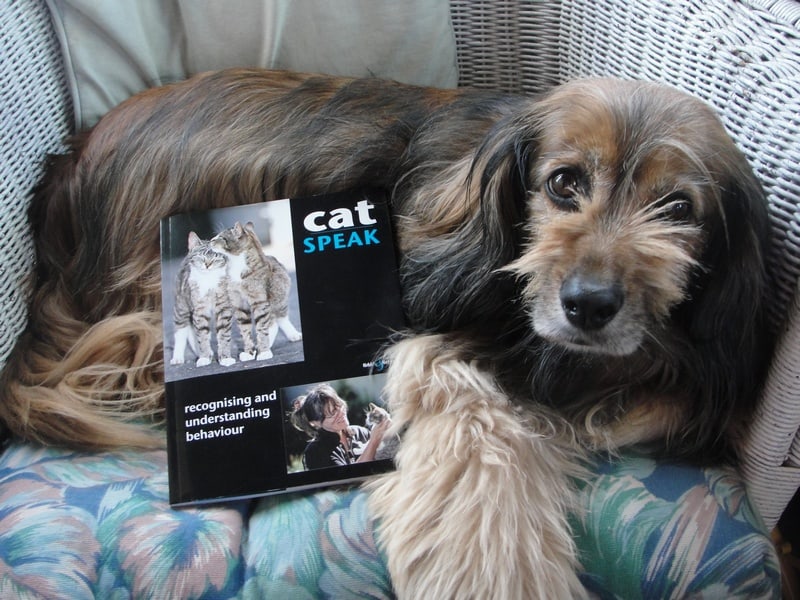 Cats? Really?
Do you know what your cat is saying to you? How does he perceives his surroundings?
What does it mean when her ears are flat against her head?
Cat Speak, Recognising and Understanding Behaviour by Brigitte Rauth-Widmann (ISBN 978-1-845843-85-4, $19.95 US/9.99 UK, published by Hubble & Hattie), answers all these questions and more. This book helps us to understand the meanings of different cat vocalizations and body language. With clear descriptions and more than 130 color photographs, it's a must-read for cat lovers. ***Read on to learn how to WIN your own copy of this great book!***
Rauth-Widmann is author of numerous books about animals, hundreds of articles in The German Dog and Cats Extra magazines (Germany). She lives in Westerwald Germany with her family and 20 rabbits, 9 free-to-roam cats and 4 dogs (Labrador and Vizslas).
I could really use this book because I'd love to understand cats better. They can be an enigma. I must admit I don't understand my daughter's cat Cinnamon. Why is she so aloof? Why does she sometimes bite my daughter for seemingly no reason? And why does she hiss at me? (Trust me, she's a sweet cat, even if she bites and hisses!)
I have one copy of Cat Speak to give away!! To enter, just leave a comment below telling why you'd like to win this book. For an extra entry, "like" my Facebook page and leave a comment telling me that you did. Thanks!
The contest is open only in the U.S., except where prohibited. Good luck!
**Want to learn what your dog is saying? Check out my review of Dog Speak, by Christiane Blenski, too.