During our recent visit to Walt Disney World, we didn't travel with Kelly and Ike…but we kept wondering if there was a way to take a Disney vacation and bring along your dog. After all, of all the places to vacation, Disneyworld is crowded, busy, hot, noisy—not to mention, it doesn't even allow dogs (except service dogs). The good news: your dog can have a Disney vacation of his own! We were lucky enough to be treated to a fantastic tour of Best Friends Pet Care Center at Walt Disney World, to find out for ourselves how Disney dogs are treated.
Sign out front, just across from Port Orleans Resort.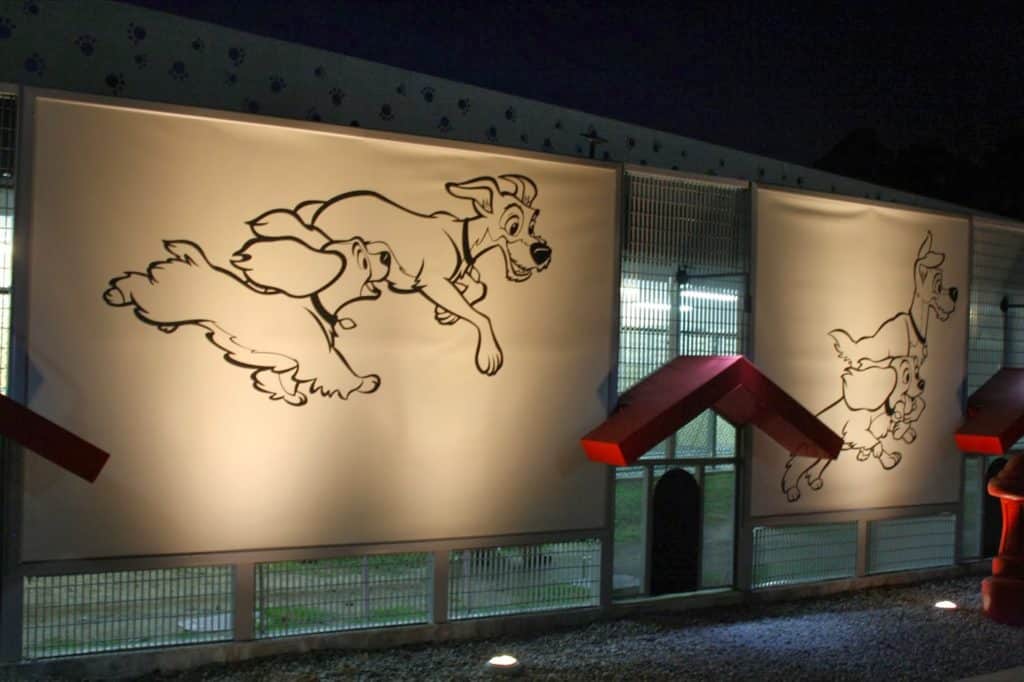 Behind this fence is one of the potty walk areas.
Best Friends Pet Care offers accommodations for cats, dogs, and rabbits, bunnies, birds, hamsters, reptiles and more, both day and night. If you are staying on site in a Disney hotel, you are not allowed to have a pet in your room, unless it is a service dog. If you are staying off site, there are likely some pet friendly hotels where your dog could spend the night with you, but you will want to bring your dog to Best Friends while you are having fun in the parks.
Why? Because most dogs are going to be a lot more comfortable in a facility specially designed for their needs than walking around in the hot Florida sun and standing in long lines in noisy crowds (that is, if they were allowed). Best Friends Pet Care is located conveniently right across the street from Disney's Port Orleans Resort, where we were staying. If you plan to bring your dog and stay on site, book your stay at Port Orleans if you can. It will make trips to visit your pets much easier, since you can take a bus to Port Orleans from any park, and literally walk across the street from the hotel. (It's a busy street, but we didn't have any problems crossing.)
The first thing I noticed when we entered Best Friends was that everything was clean and there was no pet odors to be found. There were dogs coming and going and being walked, and people interacting with pets. We were met at the front desk by Maria, who was full of smiles and happy energy. Maria first took us to Kitty City, which is located near the front of the building and separate from the dog areas. It was very quiet and bright, with different levels of cat condos available. The cats are let out and played with by the care givers, so they don't spend their whole time in a cage. Not that you would call the cozy condos "cages."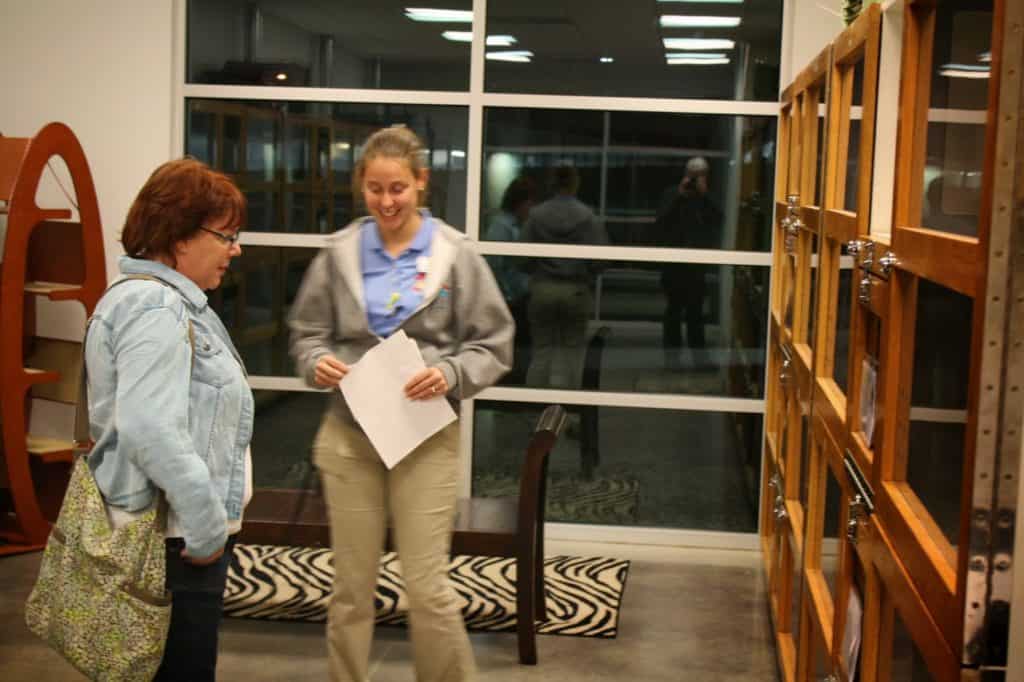 Maria gives a tour of the Kitty City.
A happy camper.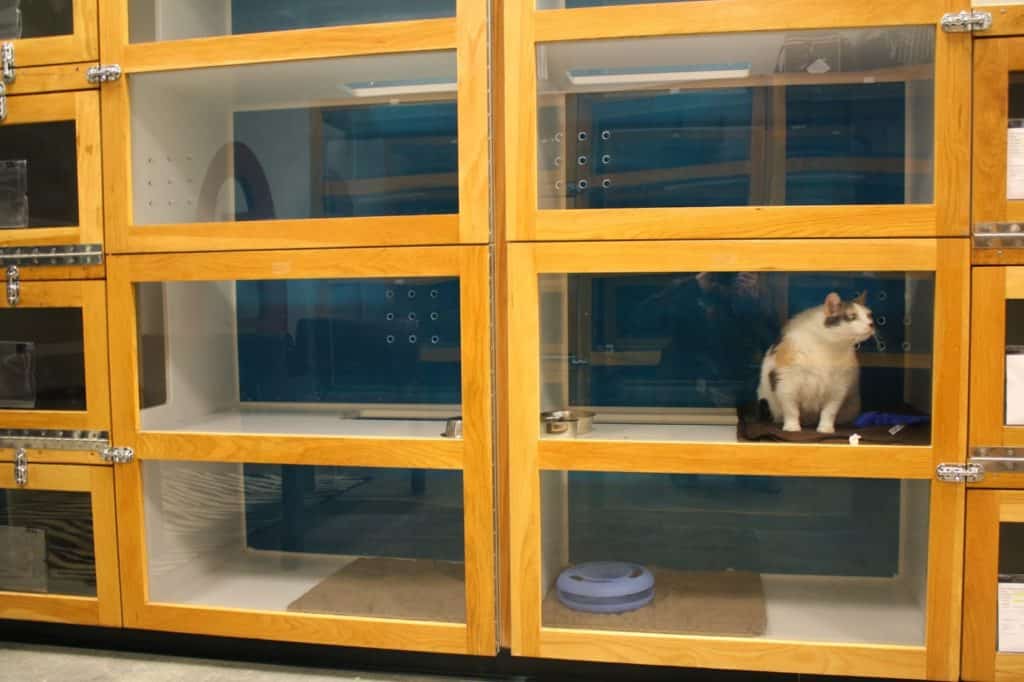 The cat condos have two or three floors for kitties to navigate.
Next we stopped in the Pocket Pet room where any variety of small pets are housed. Attendants follow your directions on the care, and medical attention if needed, to which your pet is accustomed.
The rest of the building is devoted to dogs. Each dog area is quiet, calm, and clean. The amount of space and type of accommodations vary, with rates starting at $41/night for the Indoor Suites. Accommodations come with one or two potty walks a day, and you can add on services such as additional walks, play groups, grooming, cuddle time and an ice cream treat! An attendant is always on duty and you can visit your pet any time you want, day
or night. There is a special enclosed outdoor area where you can exercise your
dog, and nature trails where you can walk together. Even though a Disney
vacation can be busy and exhausting, most dogs will be happy if you plan to take some time out
of your schedule to visit your dog and spend time together.

Types of rooms available:
Indoor Suites– Climate controlled room with indoor patio area.
Indoor/Outdoor Suites– Climate controlled room and outdoor patio, protected from the elements. The dogs have unlimited access to outside most of the time, but during peak summer hours the doors are opened four times a day to protect the dogs from extreme Florida heat.
Vacation Villas– Climate controlled large bedroom with a raised platform bed and large, doggy-eye-level flat panel TV, and a private outdoor "relief patio." Includes potty walk, playgroup session, and nighttime "turndown service" for a little extra TLC. These rooms were so adorable, and I felt like the dogs looked quite content. In many cases dog siblings resided in the villas together. There was plenty of room for the dogs to move around and feel comfortable.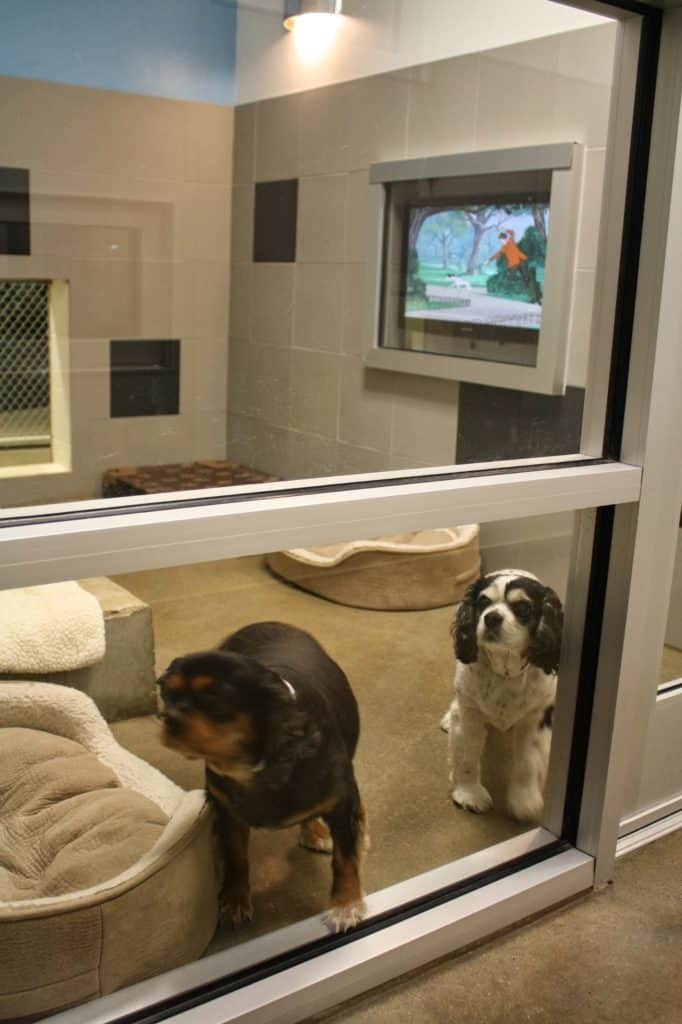 101 Dalmatians plays on the TV.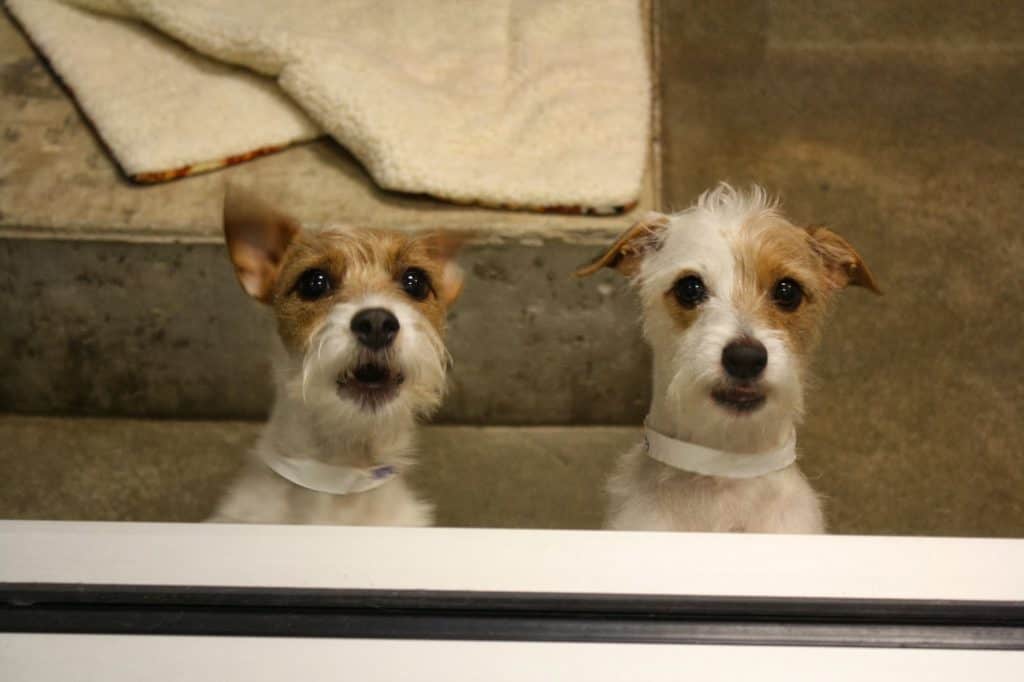 Two friends take a moment to greet us as we walk by.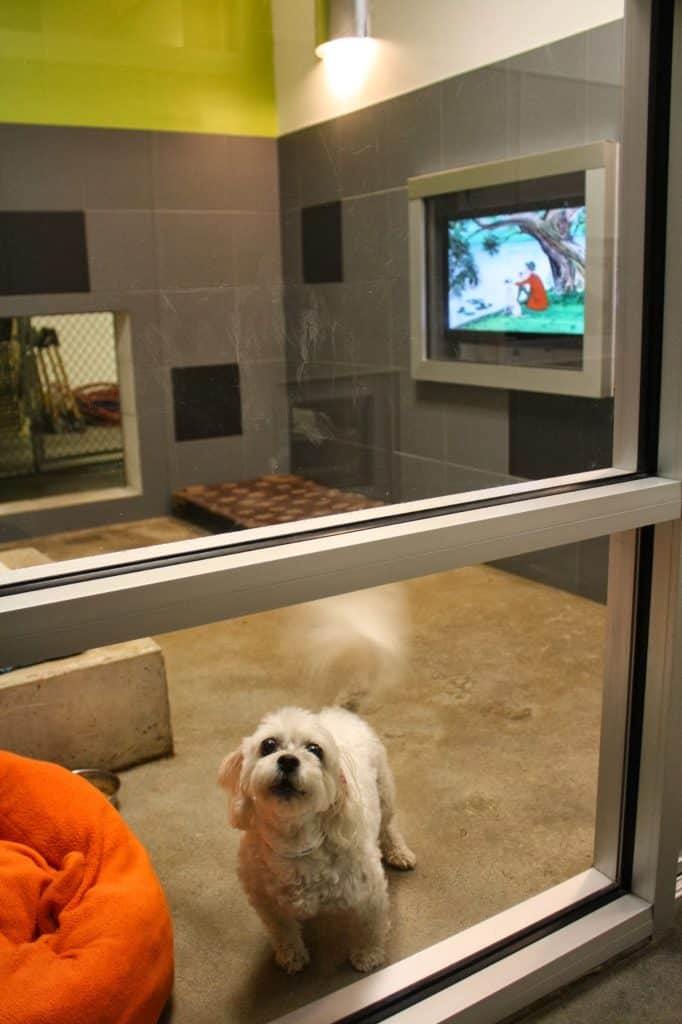 Pretty plush accommodations.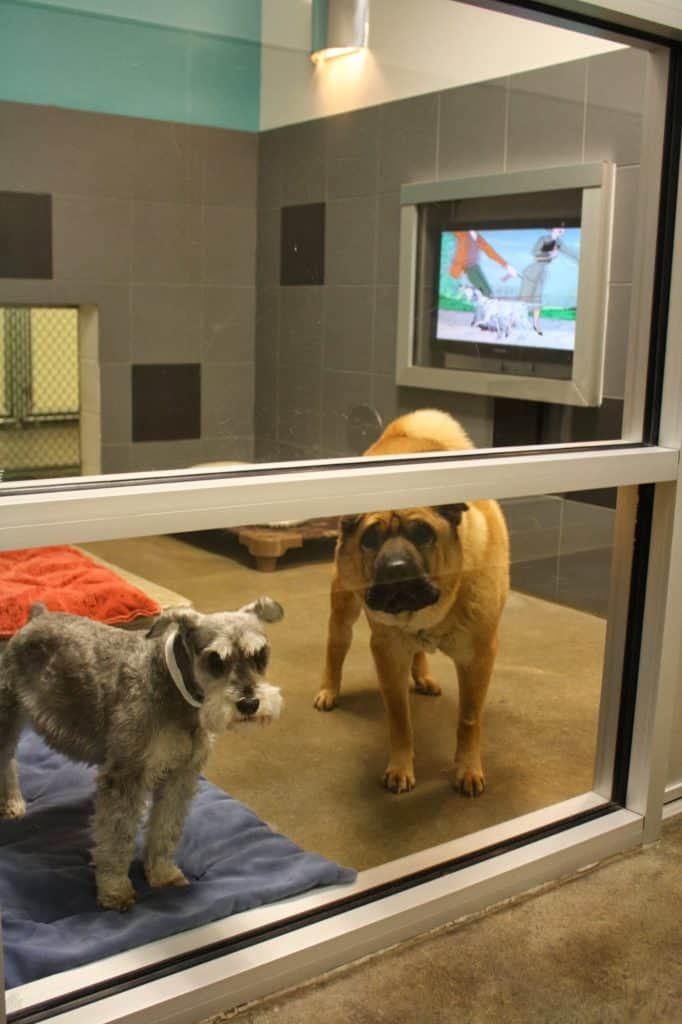 Canine "siblings" can room together.
If you want nothing but the very best, there is the VIP Luxury Suites. They are even larger than the Villas, and include a personal pet concierge who works exclusively with your pet to provide for their every need. The concierge provides your dog with 2 potty walks, 2 playgroup sessions, and a bedtime story/cuddle every night. VIP Suites run $89/night, with a discount for Disney hotel guests. Apparently many people are willing to pay for this VIP service, because they were full when we visited, and Maria said they were booked up almost a year in advance!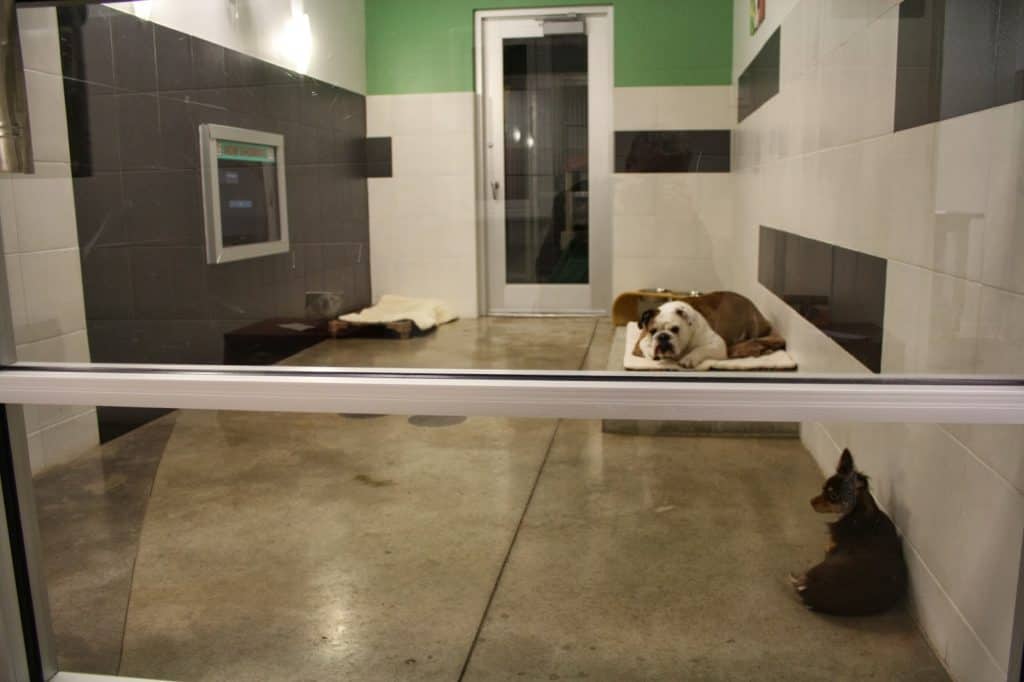 Plenty of room in one of the VIP Suites.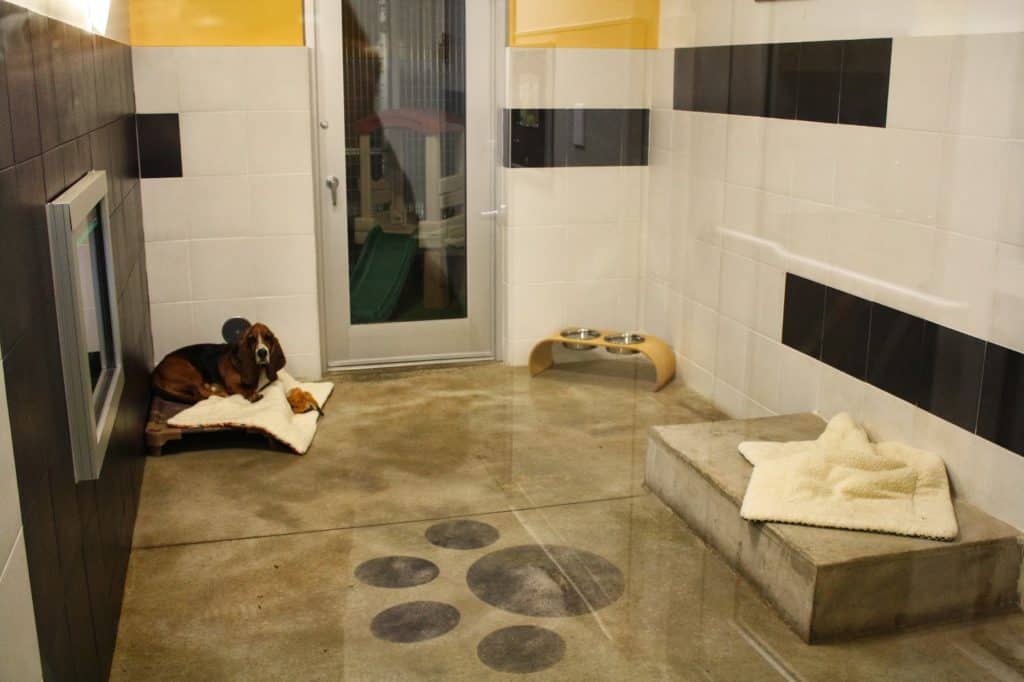 This dog is awaiting his personal concierge for a bedtime story.
We had a great tour of Best Friends Pet Care. If you are planning a trip to Walt Disney World, it's good to know that your pet is in good hands while you enjoy the parks. And with all that Best Friends Pet Care has to offer, your dog can have it's own Disney World vacation!