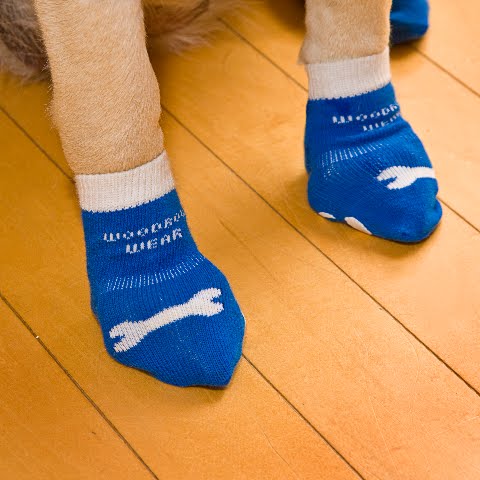 Last week I wrote a post about Power Paws, canine socks by Woodrow Wear, offering to give away a set to some dog who might find them useful.
I received this email from Rachel, in Nebraska:
"I just read the little article about the dog sox and am so glad to have learned about them. They are just the thing I need for my Spaniel/Retriever, Missy.
She has lost a great deal of muscle tone and control in her hind quarters. Most of my house is carpeted, but two areas aren't and this would solve the problem. Also, it would allow her to walk with dignity from the waiting room to the treatment room at the vet's. (I'll bet Dr. O will be glad to learn about them, too.) I felt awful last time I took Miss out there – she's 55 pounds so too heavy for me to carry and had to kind of drag herself/scoot across the floor. I felt terrible about it.
She might try to take them off, but I'm sure I can teach her to leave them on with lots of reassurance and praise. Thanks so much for this info. It will make a world of difference for my girl."
I'm happy that Rachel wrote to me. Hang on Missy, your Power Paws are on the way!