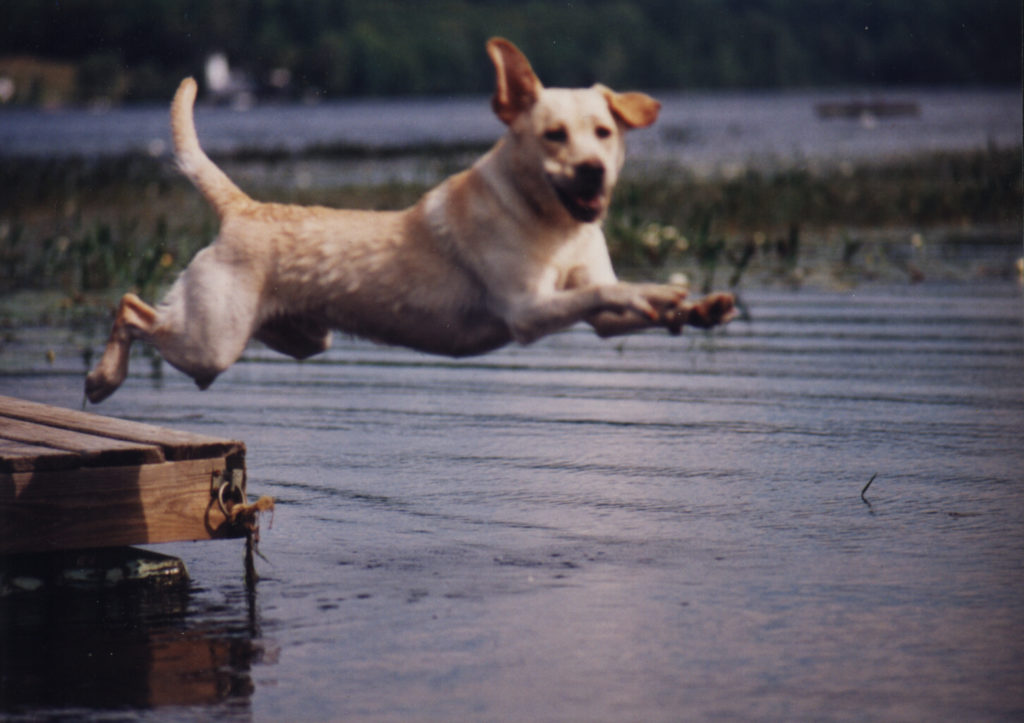 This is my dog Hudson (crossed over the bridge many years ago) doing his own version of dock diving! He loved the water.
What's fun, splashy, and a unique activity to do with your dog? Dock jumping, also known as dock diving! While this sport is not really a fitness activity for yourself too (as we are focusing on ways to get fit with your dog in K9Kamp), I guess you could always take a few laps in the pool yourself afterwards, okay?
Dock diving is a dog sport in which dogs compete in jumping for distance or height from a dock into a lake or pool of water. The dock is usually 35 to 40 feet long. The pool is about 40 feet long and the water must be at least 4 feet deep.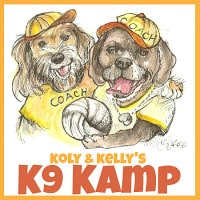 Two techniques are used:
1. Place and Send— The toy is thrown into the water while the dog is held back at the starting point. After the toy is thrown, the dog is released to make the jump.
2. Chase– The dog is placed on a stay at the starting point. The handler throws the toy and calls the dog, thus allowing the dog to chase the toy into the water.
Jump Distance
is measured, in most organizations, from the midpoint at the end of the dock to the point at which the dog's tail hits the water. The 2011 record is held by Baxter, who jumped 29 feet 7 inches!
Want to learn more? Check out Dock Dogs and Splash Dogs.
Here's another great dog sport–Check out Kol's notes, where Kol shares information about treibball.
Don't forget, we've got fantastic k9kamp prizes like leashes, dog toys, dog books, leather collars, and lots lots more! Enter now to win great prizes!