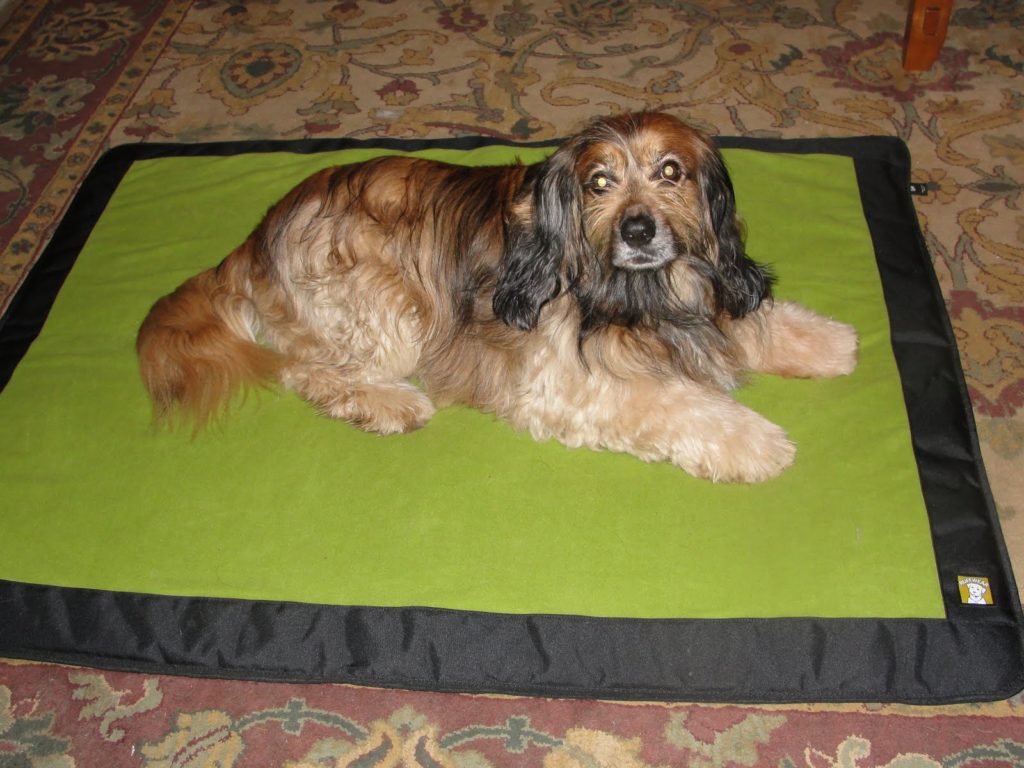 Whenever we reach for the car keys, Kelly bolts to the front door, tangles around our feet, grabs her leash in her mouth…anything to get our attention. She sure as heck doesn't want to get left behind. Kelly loves to travel.
Fortunately, she's a good passenger. The only problem is the mess left behind…muddy footprints and dog hair on the seat. That means the next person who sits back there gets furry jeans. We usually throw a blanket over the seat, but it often ends up bunched up or fallen to the floor. So we were looking at various car seat covers. Some seemed nice, while others seemed a bit too time consuming to install. Then csn stores sent us an awesome dog mat to review.
This mat is called the Mt. Bachelor Pad, home away from home, by Ruff Wear. It comes in chocolate brown with a darker brown border, and green with a black border. Kelly is about 35 pounds, and we chose the Large size. She could have got away with the medium, but the large covers up most of the back seat of the SUV.
Review:
Ordering:
csnstores.com was extremely efficient. Their website is clear, although it does take some time to navigate. They have more than 200 stores and everything from housewares to office goods to baby furniture to …of course, pet supplies. If you're looking for dog crates, pet furniture, cat carriers, bird cages or aquariums, you're sure to find it here! The service was easy and quick, and the product arrived at my door in less than 2 weeks.
Kelly Testing:
When the box arrived, Kelly knew it was for her. After sniffing the mat thoroughly, Kelly proceeded to roll all over it. She returned to it often during the day, which I could only take to mean it was comfy. She gives it a four paws up rating!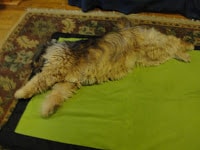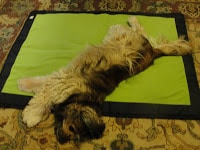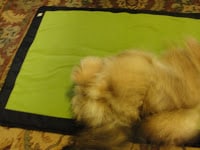 Product Quality:The Bachelor Pad is durable and well-made. The bottom is a thick, waterproof material. The top is soft fleece. The mat is not as thick as a dog bed, but it's thicker than a blanket.
In the Car:
The large mat fit nicely across the seat and up the back of the seat in the SUV.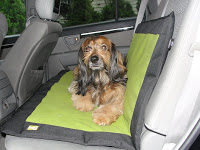 For Travel:
This mat rolls up and secures with velcro. Much like a sleeping bag, it needs to be rolled tightly to get the velcro straps to fit. When properly rolled, the mat is a compact dog bed to take with you on a trip. It even has a convenient, built in handle.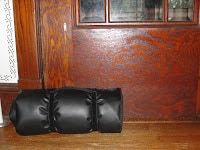 Overall Uses: This mat is great for a dog bed on the floor, but that's not all! It would protect your sofa, or car seats. It makes a convenient travel bed. And, it would be great for camping, due to the durable waterproof bottom.