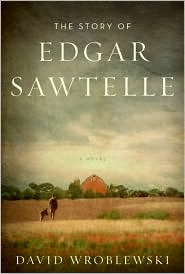 Today's entry is not so much about a specific dog, but a fascinating new dog book. As a writer, I'm always on the lookout for a new dog book. My favorites are still the classic James Herriot books. I just finished Three Dog Life. And now, in the fiction genre, there's The Story of Edgar Sawtelle, by David Wroblewski. Edgar's family breeds unique mixed breed dogs with the desirable traits of intelligence and sense of humor. Edgar is a mute boy who uses a self-taught form of sign language. Edgar's amazing ability to communicate with the dogs is part of what makes this book sing.
A review by Stephen King reads "I flat-out loved The Story of Edgar Sawtelle. In the end, this isn't a novel about dogs or heartland America, it's a novel about the human heart and the mysteries that live there, understood but impossible to articulate…"
Check it out and take this book along on your vacation this summer. You'll be glad you did.