You may take your dog to school. For some children, those words have a profound impact.
Earlier this fall I read about Carter, a 5-year old autistic boy in Illinois who has responded well to his shaggy gray ther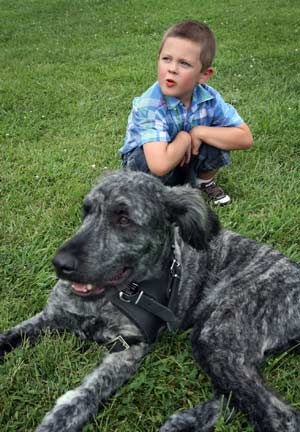 apy dog. When the time came to enter Kindergarten, however, the dog, who had become so vital to Carter, was denied. Lawsuits soon resulted, with the parents aiming to get the dog recognized as a "service dog" and therefor allowed in school.
Nancy Freedman-Smith, a certified pet dog trainer, comments in her blog A Dog's Life,
You may have seen the news stories from around the country where Autism Assist dogs are being denied access to schools and many lawsuits are resulting. At the core of this controversy is the definition of what an Autism Assist dog does or doesn't do.
Freedman-Smith, who has trained a dog to work with a middle school boy, recently announced on her blog that the dog has been approved to accompany the boy to school.
Before the dog enters the school, we have a lot of work to do. On my part, I have been working with the dog to polish her skills and be sure that she is prepared for her new job. I will be meeting with the school to help set everyone up for success and we will most likely make a short movie or two to show to staff and kids as well an inservice about the dog. The boy and dog have two aids that also need to train with me. The aids will be the dog's primary handlers. She will have a crate in the room for chill time if needed and to get to school, she will be taking the bus!
This is wonderful news. As for young Carter in Illinois, although his family won their case, all has not been smooth. Even in the face of the court order, the school declined to allow the dog. The boy–and his dog–are now attending a special school 30 miles from their home.