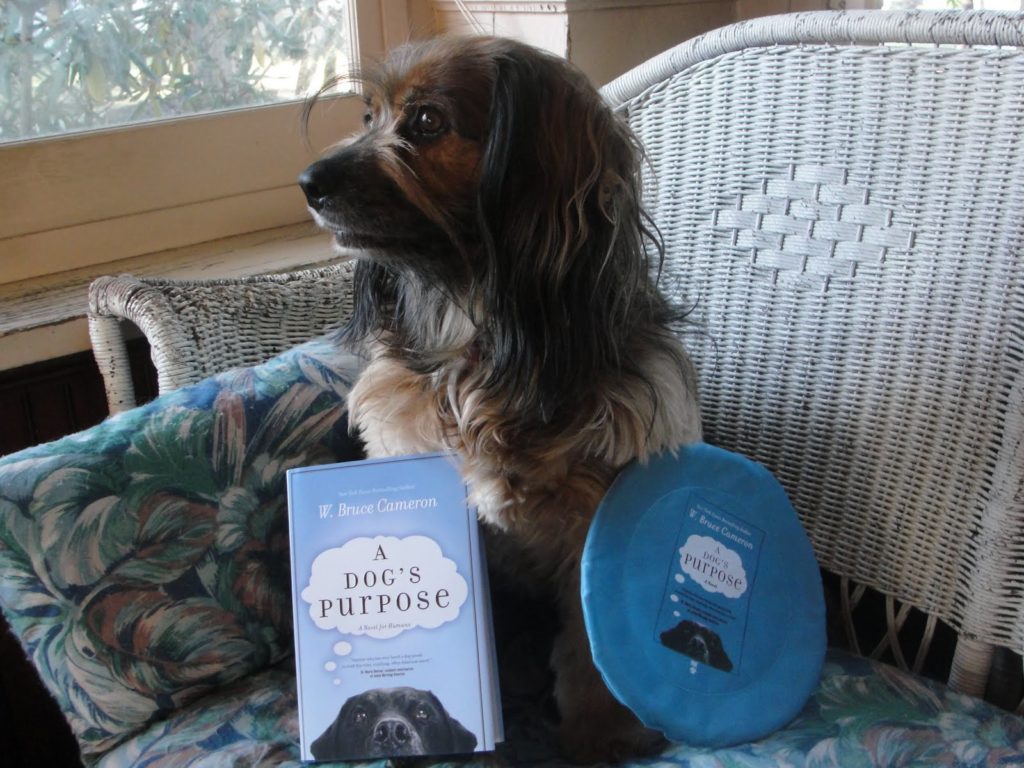 Here's what I hear about the new bestseller, A Dog's Purpose by W. Bruce Cameron:
1. The book is a heartwarming dog's-eye view of the world.
2. What's really cool is that the author helps spread the word about critical issues in animal rescue (more about this later.)
3. What's really really cool is that you can win a copy of A Dog's Purpose right here on this blog. (keep reading!)
But the main thing I keep hearing about A Dog's Purpose is that the novel–about a dog's search for his purpose over the course of several lives–will make me cry. Wait! Don't stop reading here…there are plenty of laugh out loud moments in the book, too.
After all, Bruce Cameron is a seasoned bestselling humor author (8 Simple Rules for Dating My Teenage Daughter, one of the absolute funniest books I've ever read!) But back to the crying. If you've read any review, it's no secret that the canine protagonist dies three times in the course of the book. Then, (sort of like in the movie Groundhog Day) the dog receives the miracle of life again and again, remembers the lessons of previous lives, and ponders his purpose.
This book is sweet, sincere and charming. The dog's inner voice really works–he thinks exactly the way I would expect a dog in his situations to be thinking. And yes, it's sad. Not that I necessarily like to cry, but sometimes a good cry is a prerequisite to experiencing deeper, happier emotions.


And now for the contest! The publishers kindly provided me with a copy of the book (and Frisbees!) to review, and one to give away! One lucky reader will receive a copy of A Dog's Purpose by W. Bruce Cameron.
Second place winner will receive a pet friendly Frisbee.
How to enter:
1. I'd be happy if you'd follow me on this blog. Thank you! (optional!)
2. Leave a comment that completes the sentence: "A dog's purpose is…"
3. The contest is open now until Sunday 9/12/10 at 5pm.
How to win:
Winners will be chosen by random number generator
Winners will be announced on this blog on Monday 9/13/10.
If you're selected, I will ask you to provide me with your mailing address so I can send you your prize!
** Here is the cool part I promised you earlier. The author is a true animal lover, spreading the word about spaying and neutering, puppy mills, and adopting rescue dogs. He wrote the book in part because he was inspired by his daughter's dog rescue work with Nikeno's Second Chances in Denver. You can even go to his website and nominate a dog of the week and receive a donation to a pet shelter or charity of your choice.
Don't forget, leave a comment here to be entered to win a free book or Frisbee! And please spread the word to your pet loving friends so they can have a chance to win too. (All you doggies out there, enter for a chance to win the book for your momma or poppa!)