What is so cool about the new, exciting game Tail Spin?
1. Adorable trained dogs spinning a giant wheel
2. Display of positive training techniques
3. Awareness for rescue animals
4. Chances for you to win great prizes
5. (p.s. We also have a a chance for you to win a BumperPet dog breed tshirt of your choice at the end of this post!)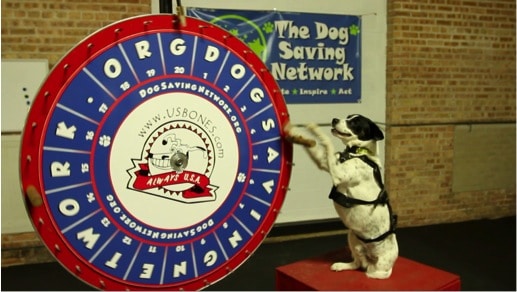 Tail Spin is a project by The Dog Saving Network, a group with the goal of improving the lives of dogs through positive reinforcement training, and BumperPet, a designer and manufacturer of products for pet lovers like you and me. Niki Crowe CEO of Bumperpet, says that the company works closely with nonprofits and pledge a portion of every sale to animal rescues. "Tail Spin is just another way we can help raise awareness about a cause we strongly believe in. Plus, it's totally adorable."
Each week, you can go to Bumperpet.com and pick three numbers. (No purchase is necessary.) Then, check back on Friday to see one of the adorable trained rescue dogs spin the wheel to pick the winning numbers! Look at Freddy pick last week's winning numbers!!
If you like the work they do and you want to help, you'll have the opportunity to donate to The Dog Saving Network. If you can't donate, you can always share the Tail Spin link and help spread the word about the good work they do. And don't forget to play every week for 7 more weeks and visit the Tail Spin Facebook page,
Here's the rest of the fun! I'm excited because BumperPet gave us a cool t-shirt to review and they're offering one t-shirt to each of two lucky readers of this blog!! These t-shirts are one of the nicest I've seen. The fabric is super soft cotton, and the design is a dashing silhouette of a dog with words specific to that breed. For instance, pug contains such words as "Sturdy," "Charming," and "Playful." I chose a golden retriever, with words such as "Loyal," "Friendly" and "Active." There's also a generic dog, cat, bunny and horse.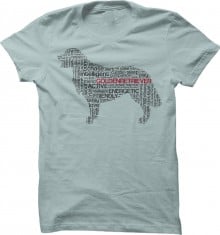 Enter here to win your choice of one BumperPet graphic breed design t-shirt! (Two winners)
*Full Disclosure: We were provided with one t-shirt to review and 2 t-shirts for giveaway. This in no way influenced my review. The opinions expressed here are 100% my own.
About Bumperpet
Bumperpet is an Chicago, IL based designer and manufacturer of products for pet lovers, including breed and pet specific Tshirts, sweatshirts, decals, magnets, pillows and prints, all 100% sourced and made in the U.S.A. Since being founded 2011, Bumperpet has proudly donated a portion of every sale to animal rescue causes. For more information, visit www.Bumperpet.com.
About The Dog Saving Network
The Dog Saving Network (DSN) is a positive reinforcement based training organization committed to raising awareness and finding solutions to the problems faced daily by unwanted dogs in our country. For more information, visit www.dogsavingnetwork.org.
Want more, pawsitive pet tips, good news, and special bonuses? Content not already on the blog? Subscribe to my free newsletter. Kelly and I can't wait to see you there!