We love summer vacations and getaways….especially when we can bring along our goldens, Ernest and Petey. After many trips where we've developed a list of items to help us all have a successful trip. Along with extra long leads, collapsible travel bowls, and their own comfy beds, one thing we always remember to pack is some toys, including a Kong.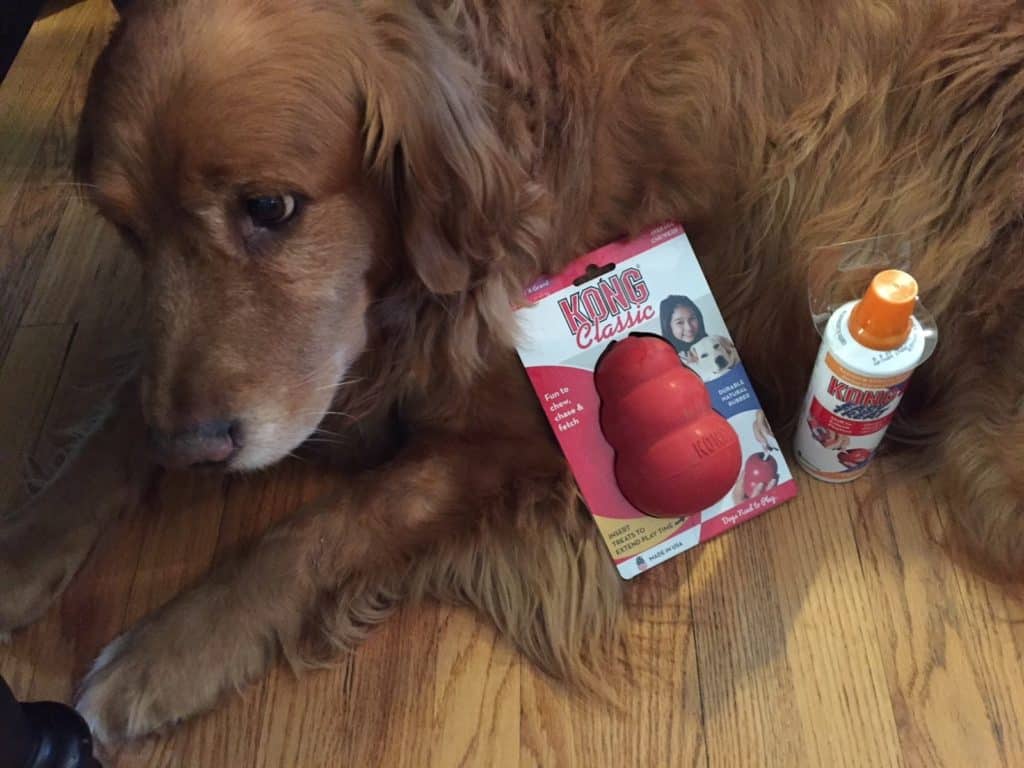 Ernest with the new loot. He doesn't look that into posing today.
Recently we all went on a weekend trip to visit family. As a #ChewyInfluencer, I was lucky enough to be provided with one Kong and one tube of Kong Easy Treat to review. We brought that, along with another Kong, on our trip. Petey and Ernest loved playing with the Kongs while we were busy visiting, and when we we went out and left them in a strange new room. It gave them something fun to do while we were out.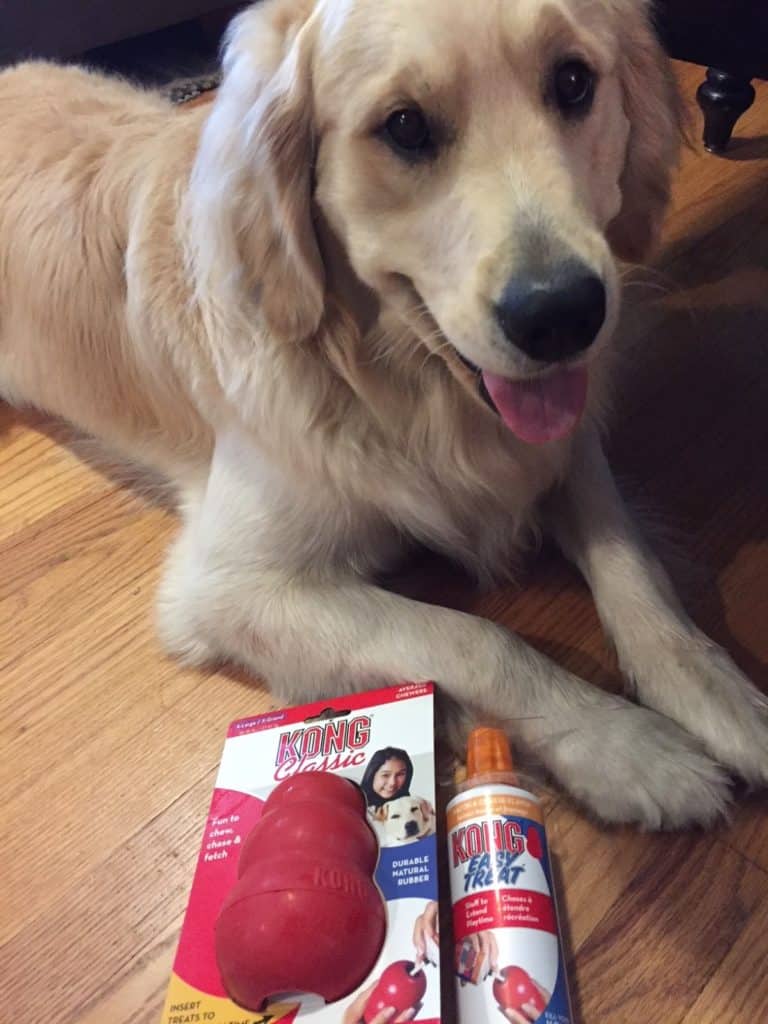 Petey always has a smile for the camera. Especially when there are treats involved.
Here are some ways a Kong can help you and your dog when you travel:
1. In the hotel: Give your dog a stuffed KONG right before you leave them in the hotel room. This will keep them occupied and help eliminate the stress of your exit.
2. On the road: Long car rides can be stressful for your pup. Fill a KONG with their favorite kibble and Easy Treat™ to keep them busy and make them feel more at home.
3. Out and about: Bring a KONG, kibble and Easy Treat™ as a reward to keep them occupied and happy while you have down time in crowded places.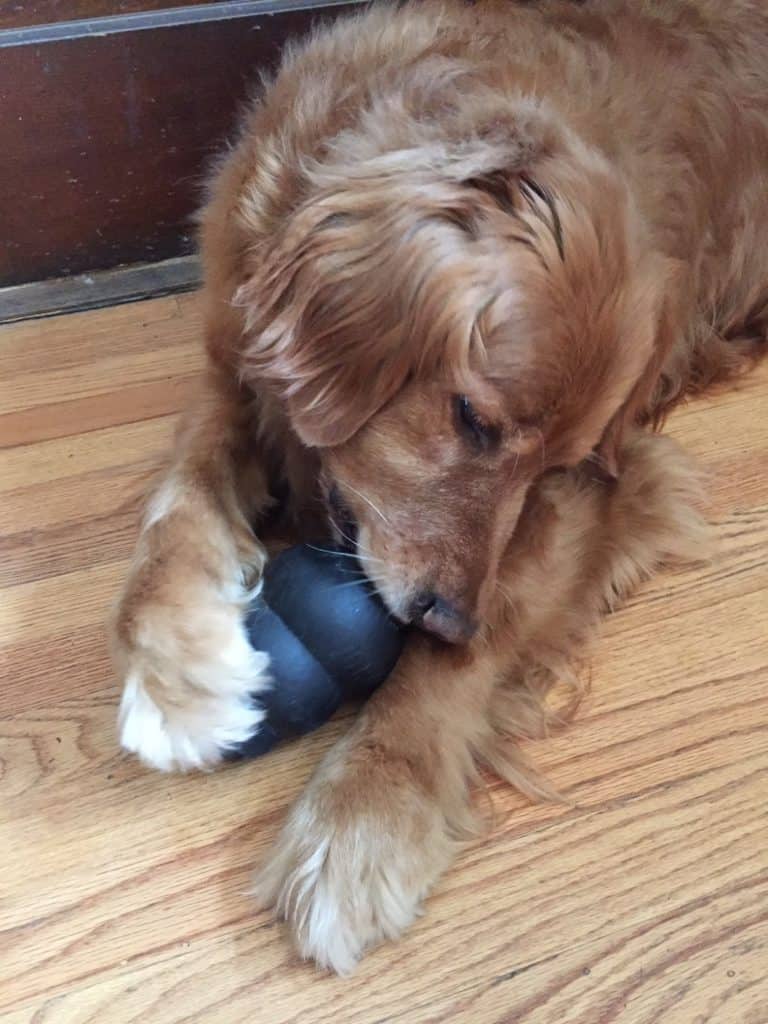 Don't you love how Ernest holds the Kong with his paw?
What to stuff your Kong with?
peanut butter
canned pumpkin
mashed banana
canned dog food
Kong Easy Treat
You can also mix in some dog kibble and treats, fruits and veggies.
Another fun idea is to freeze the stuffed Kong before giving to your dog!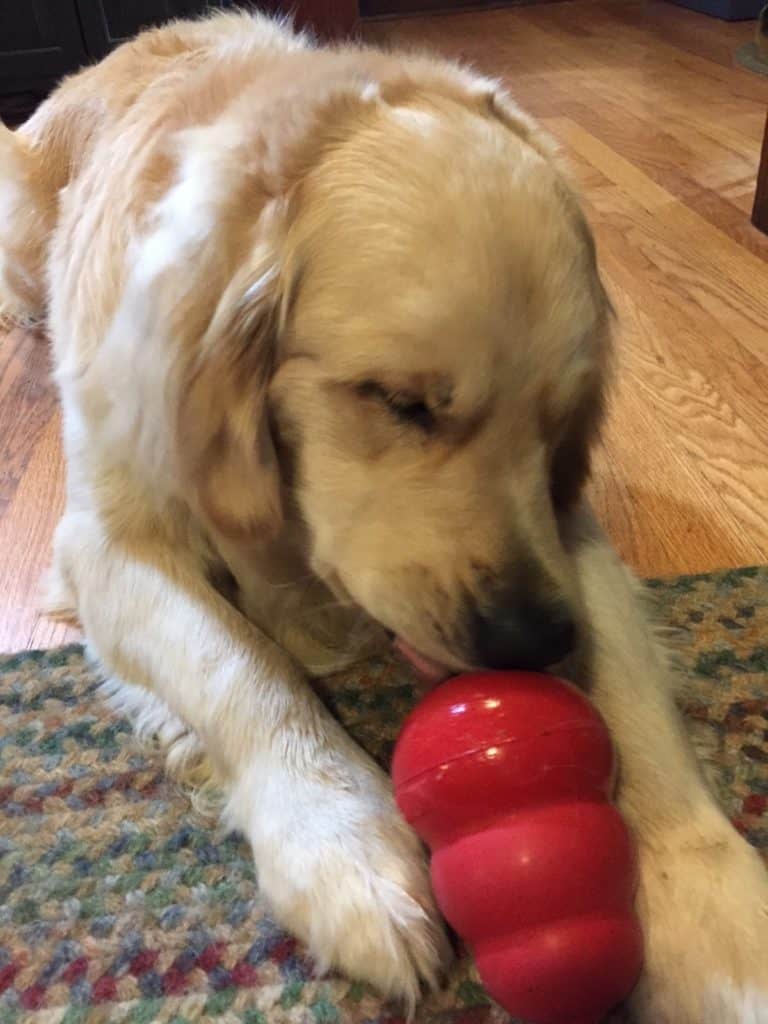 Pete has his own technique for proper treat removal.
When done, be sure to soak Kong and use a bottle brush or toothbrush to clean the crevices inside. (Or wash on top rack of dishwasher.)
Check out Ernest and Petey enjoying their treats!
Next trip, be sure to pack a Kong and some Easy Treat in your dog's travel bag! (You can find a selection of Kong sizes and shapes, along with treats and Easy Treat for stuffing at Chewy.com.)
Full Disclosure: We were provided with one Kong and one Easy Treat in exchange for our honest review. Opinions here are 100% my own.