One night last week we walked our golden retrievers past two kids riding their bikes on the other side of the street. A man stood on his porch watching over them. The little girl saw us and ran up to her dad and asked if she could pat the dogs.
"You have to ask their owners," he replied.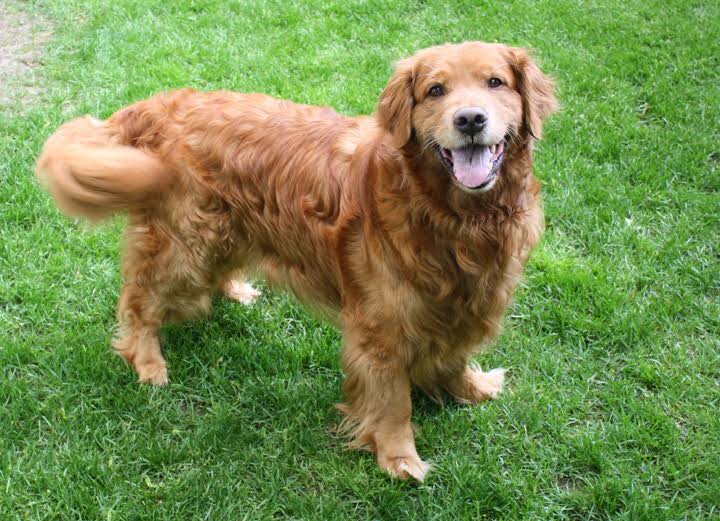 We don't know very many people in our neighborhood. It's a small city,
and people tend to stick to themselves. Everyone is busy and has their
own problems, it seems. The most time we get to interact with the
neighbors is when we are walking the dogs. We've gotten to know other
dog lovers, and we also have learned who is afraid of dogs so we try to
respectfully keep the dogs in close when we pass by.
The girl just looked, so I stopped. "Would you like to meet Petey and Ernest?" I asked. She nodded. My husband and I crossed over. The girl's brother stopped riding and came over too. They were a little hesitant, but soon they were happily patting the dogs and giggling as Petey wiggled and kissed them.
The man stayed on his porch for a while. Then something seemed to draw him over. At the same time something drew Ernest to him. Ernest is a therapy dog, and I've often noticed him sense when someone needs him. The man came right for him. Ernest sat still while the man patted his head, then his neck. The man told us how he had sole custody of the kids and I thought how difficult that must be, as the man was a bit older. He started telling us how much he missed his German Shepherd, Silver, named after the Lone Ranger's horse. The more he patted Ernest, the more he opened up. Ernest leaned into the man gently, and the man sunk to the ground, and tears began to flow. Whatever emotions he was holding inside him came out as Ernest poured out his love. At last the man struggled back up to his feet and gave Ernest one last hug. "God bless you," he said.
We all left feeling a bit better. Ernest is always on the job and always ready to offer his unconditional love.