It's a new school year, and that means a new group of first graders for Ernest to meet, love, and do therapy dog work with.
We adopted Ernest 2 1/2 years ago, when he was eight years old. We could tell that he had the makings of a great therapy dog–he is gentle, calm, and loves attention. What's more, he seems to have a heart for helping people. So we took therapy dog training–even while receiving a cancer diagnosis in the middle of his training, having surgery, recovering–he went on to pass his test!
One of Ernest's favorite activities is volunteering as a reading buddy with a first grade class. First Ernest met each child. Then he got comfortable on his blanket, while the kids came up to read to him, two at a time. Some of the kids were a little anxious to get close to him at first. Most of them gave him a big hug.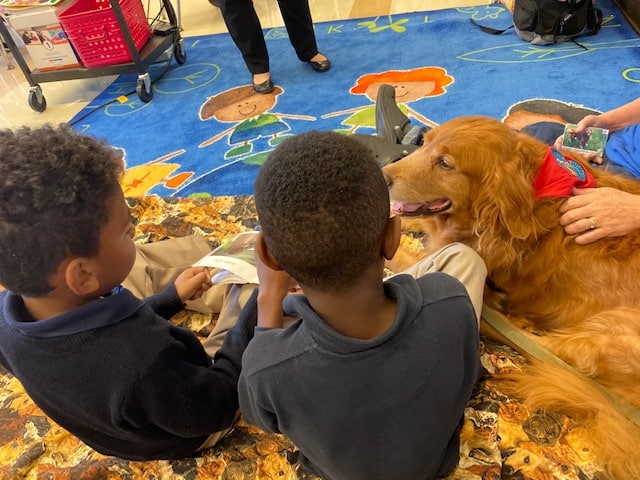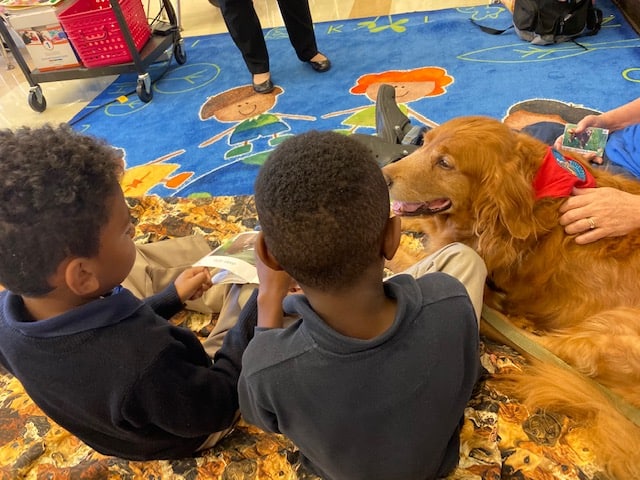 We like the book buddy program because it helps kids feel comfortable about reading. It also teaches them how to treat dogs, and helps kids who are a little shy or unfamiliar with dogs grow comfortable with them. Over the course of the year the kids and Ernest will become best buds.