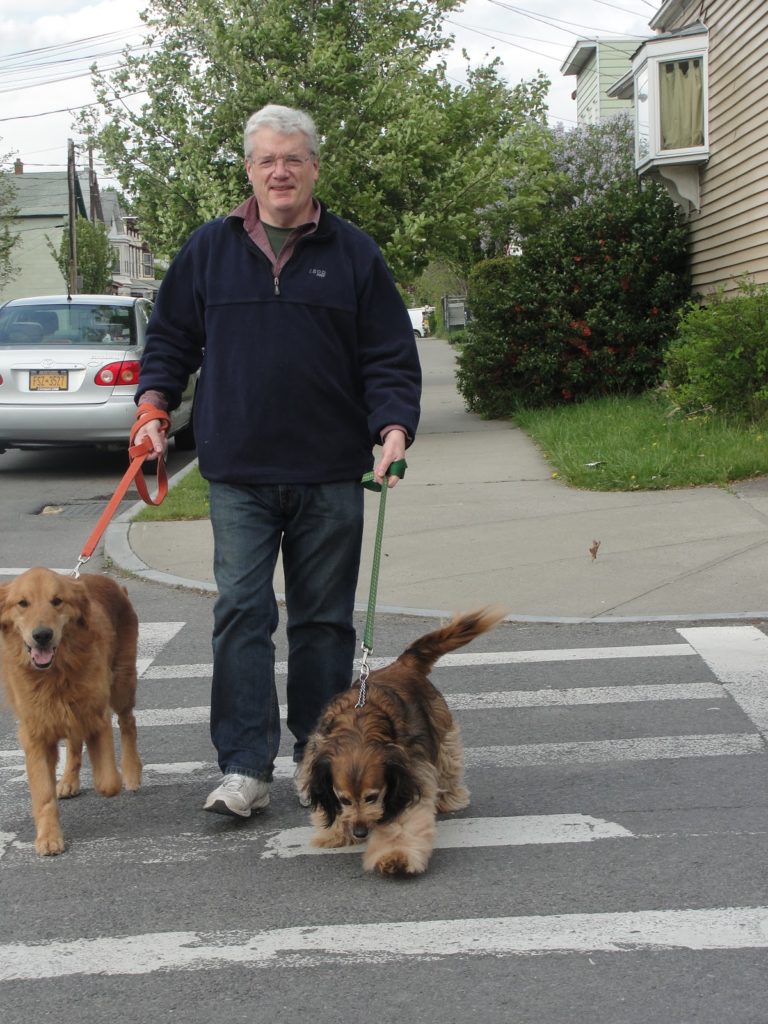 Dad's helping with the dog walking. (Notice Kelly, nose down!)
Have you been k9kamping with us? If not, it's never too late! You can join in at any time. Just look for our next challenge, tomorrow, and then complete the exercise on your own time over the course of the week.
How did Kelly, Brooks and I do this week?
Great! We love Walking on Sunshine! Despite some rainy weather, we were able to get out and walk between the raindrops. At our best, we walked 3 times a day: in the morning with Dad before he went to work, the 3 of us mid day, and with Dad again after work. At the worst we got in one rushed walk around the block in the rain ("Hurry up guys, I'm getting wet!") but hey, it was at least a walk.
The dogs love walking together.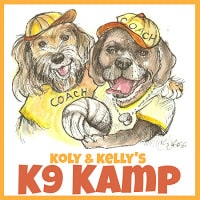 When I walk the dogs alone, sometimes I get a little tangled. But mostly they are good walkers. Brooks walks well on the leash, steady pace, head up, straight line. Kelly skitters here and there, sniffing everything, wrapping around a pole or my feet. Her nose is always on the ground. I could insist she heels nicely but, as long as she's not bothering anyone else on the sidewalk (and she reels in nicely when I ask her to) I think she deserves the chance to explore and sniff. She obviously loves it! We spiced things up by interspersing a little jogging here and there. We also changed up our route every other day.
How did our Kampers do? The results are in! Check out how Coach Koly and his mama did this week!
And, click on the links and see how our Featured Bloggers did on Week 1.
And, if you were joining in at home too, link up and tell us about your experience. We want to hear!
Don't forget, we've got fantastic dog and fitness prizes too! It's super easy. Just follow the link to enter to win great k9kamp prizes!
Join the blog hop!