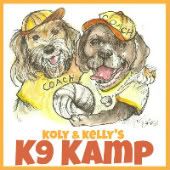 If you lead a sedentary lifestyle, chances are your dog does too. I know that can be true for me and Kelly. Occasionally I neglect to make exercise a part of our regular routine.
Walking is great, but it helps to add a little variety to your workout. So, with that in mind, here is the second in a series of fitness challenges, designed to make getting fit with your dog fun!
Even if you aren't able to participate in all 6 weeks of Koly and Kelly K9Kamp you can still do this healthy activity with your pooch whenever you want! Check out Kol's Notes, too. And, don't forget–everyone is eligible to enter to win this week's awesome prizes, below!
Okay, get ready for some FETCH!

Experts suggest that the body needs at least 20 minutes of vigorous cardio, 3 times a week–and you need even more than that if your goal is weight loss. So are you ready?
How to Play Fetch it Yourself
Your Challenge (should you choose to accept it) is to play Fetch for 60 minutes this week.
Sound too easy? IT IS. There's just one small catch, Fido wants YOU to Fetch It Yourself!
1. Start with a brisk walk to warm yourself up a bit.
2. Grab your dog's favorite fetching toy and throw!
3. Now here's the twist. Instead of standing around (how many calories does that burn?) waiting for your dog to bring the ball back, race them to it! Once you get there, ask your dog to sit and drop it. Retrieve the ball and throw it again!
4. After a rousing game of fetch, I recommend another walk to help you both cool down!
For an added challenge: Humans can wear ankle weights and use a ball launcher (like ChuckIt) to increase the distance.
TIPS for Fetch-reluctant dogs
Is your dog not a great "fetcher"? Try a different kind of ball! If a tennis ball isn't a favourite, try a squeaky vinyl ball – or you can try cutting a small slit in the ball and shoving a chicken chewy in there. Make sure you stab the ball with a BBQ skewer a few times to let the smell leak out.
Okay and Now the Contest! Enter below for a fantastic prize package of:
e-subscription to FIDO Friendly magazine
Marley and Me the Puppy Years DVD
custom tag from Silver Paw
Fortune Flyer toy from Purrfectplay
collar from Muttmania
RafflecopterSettings = {
raffleID: 'YzAyNTU3NDIwNGYyZmUwN2U0ZmI4ZjgwZDFjMzk0OjE4'
};
<a href="http://rafl.es/enable-js">You need javascript enabled to see this giveaway</a>.