I wasn't looking for new dog bowls, but when I entered the pet store to purchase a bag of dog food, something caught my eye. Bright colored, interactive feeders on display right as I walked through the door. Well, I guess I fell for the product placement, because I picked one up for Ike. Ike is the gulper, so he needs something to slow him down. But as I stood at the counter, I thought, why not get one for Kelly too? She enjoys a puzzle challenge, and if she takes longer to finish her dinner, she won't run over and try to eat Ike's dinner as well. So I bought two.
The Kyjen Slo-Bowl slow feeders come in different designs. I bought the Hills and Drop designs. After one test run it was easy to see:
1. the dogs enjoy the challenge of these feeders, and
2. the feeders really do work in significantly slowing down the time it takes the dogs to eat!
One caveat: when trying them out, I quickly discovered that Hills design is difficult to fill, with the food flying all over the floor.
Perhaps if I took the time to slow down and fill the bowl more carefully, that wouldn't happen. But instead, I returned it for a different design. This time I got the flower design. All went well with this style.
And here is the Drop design.
I was impressed that the feeders significantly slowed both Kelly and Ike's dinner time. In this video, Ike demonstrates the different lengths of time it took him to eat an equal amount of food out of his original bowl, his slow-feeder bowl with the hump in the middle, and his new interactive feeder. (Ike may have received a bit extra food in the process, but he worked it off later!)
Here, Kelly also shows how she enjoys the interactive feeder, as it slows her meal time.
The bowls help slow down gulpers, which can help prevent bloat, regurgitation, and canine obesity. The bowls are made of plastic that is BPA, PVC and phtalate free.
Note: I purchased these products and did this review on my own accord. I did not receive any free products of compensation for my review. The opinions expressed here are 100% my own.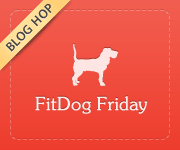 Oh, and we have a big treat in store for you! FitDog Friday is celebrating our 1 year anniversary! To celebrate, we'll be offering a great prize package worth more than $200! Be sure to come back and visit on Friday, April 4th to enter to win!
FitDog Friday is co-hosted by Peggy's Pet Place, Slimdoggy, and To Dog with Love. Join our hop!
Want
more positive pet tips, good news, and special offers? Fetch
my free newsletter, Pawsitively Pets. Kelly and Ike
hope to see you there!