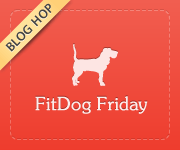 Today is FitDog Friday, sponsored by Peggy's Pet Place, SlimDoggy and To Dog With Love. Join in every Friday by linking up or visiting the blogs in the hop, and be sure to comment and you'll be entered into a giveaway for great FitDog prizes.
Today please welcom Patti Lawson, the author of a fantastic book, The Dog Diet. How much do I love this book! Patti's experiences are different from mine in Dieting with my Dog, yet our conclusions are the same: dogs make great weight loss buddies!
I had the opportunity to ask Patti about getting fit with her dog:
1. How do you keep your dog fit and healthy?
PL: As with people, there are two parts to dog fitness. 1. Diet 2. Exercise
DIET
Sadie eats a grain free except for quinoa and brown rice organic diet. Sometimes I cook for her and other times I use two human grade foods made in the United States. Lucky Dog Cuisine and Honest Kitchen. She gets natural jerky treats…mainly salmon. Sadie has several food allergies so we take that into consideration when choosing her food.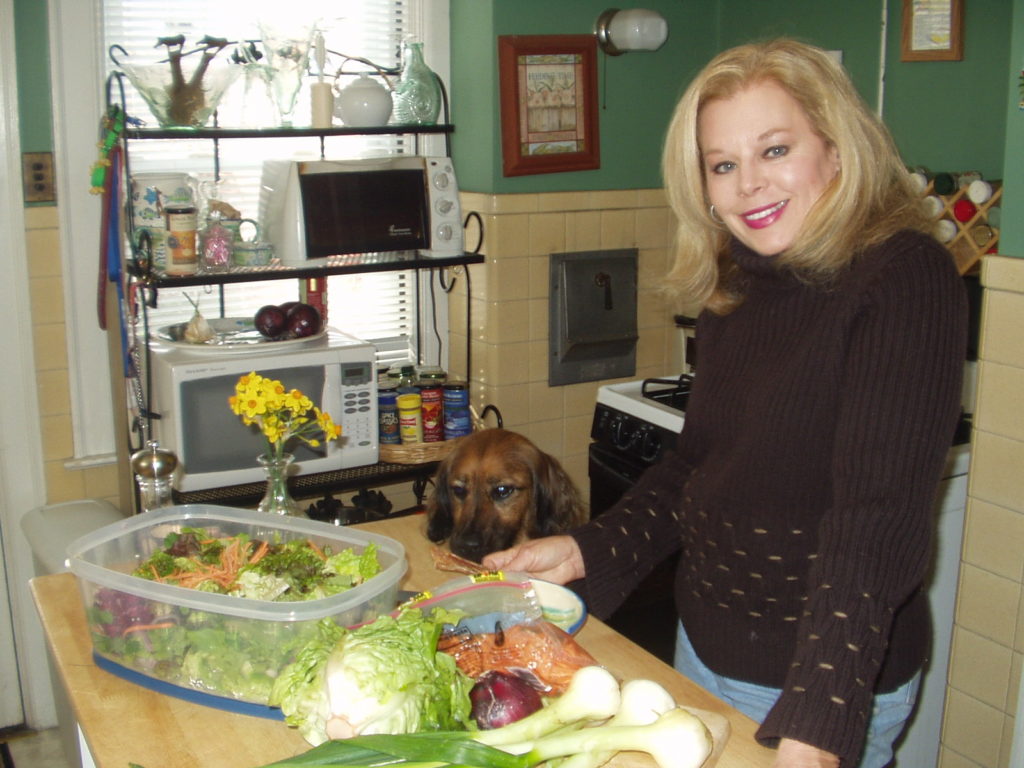 Sadie and Patt

i

preparing the SALAD BOX…a staple of the DOG DIET.
EXERCISE–We DOGERCISE…walking and incorporating play time with exercise. Sadie likes tug of war and running after her many stuffed animals. She is a sprinter…sprints off the deck chasing squirrels in our yard. We live in the woods so we have plenty of squirrels for her to chase. Our subdivision is very hilly…we live in WV so it's no surprise…and we walk it every day possible and on weekends twice a day. I believe part of exercise is also mental. I challenge Sadie with little games…I read to her…she has a puzzle ball from Planet Dog I recommend for all dogs. You place small treats in it and then your dog has to figure out how to get them out. Very mentally challenging. Maybe I wouldn't eat so much chocolate if I had to get it out of the puzzle ball! Sadie also goes to daycare because she doesn't like to stay alone and I am convinced this is good for her. She is active with the staff and other dogs all day instead of sleeping and waiting for me to come home.
2. How does your dog help you get fit and healthy?
PL: I know that Sadie's health depends on me so I challenge myself to do the best I can for her. In doing so, I am eating better and exercising. Yes…we have the occasional McDonald's treat and squirt of whipped cream. I want Sadie to be with me as long as possible and I want to be here for her as long as possible so she is my inspiration. If I don't feel like walking, I know she NEEDS to walk and so we go out the door and just do it. It always turns into a great time.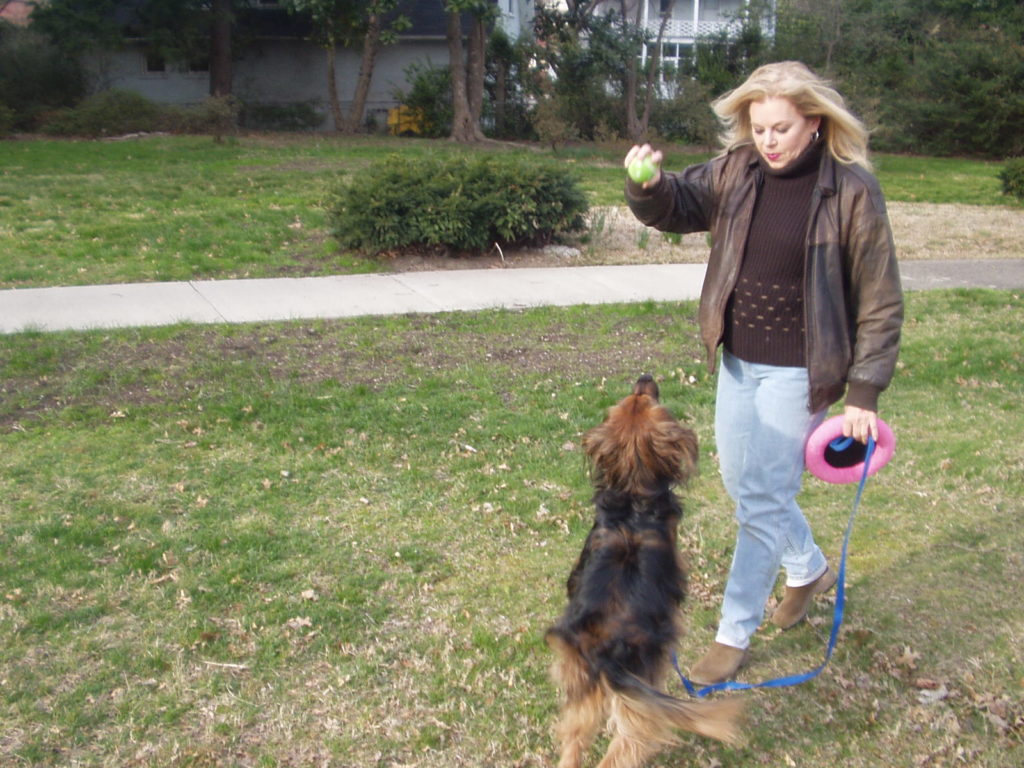 Sadie is practicing for beach trips with a
tennis ball and a water frisbe

e

!
3. What is Sadie's favorite activity?
PL: At risk of sounding narcissist I believe her favorite activity is being with me. No matter what we do…she enjoys it. She also loves to travel, likes sniffing out leftovers on room service trays in hotels and riding in the big convertible her "Dad" owns.
4. What is one unhealthy food Sadie would eat all day if you let her?
PL: Hamburgers….hands down. She LOVES hamburgers…sniffs them all the way home in the bag!
What is Sadie's favorite healthy food?
PL: Sadie loves salmon which is very good for her.
BIO: Sadie Lawson was born in Putnam County, West Virginia to a Cocker Spaniel Mom and a German Shepherd Dad. After one appearance at PetSmart in Charleston, WV she decided to give Patti a chance at being her Mom and after a few rough patches, they became inseparable. She has traveled to over 30 cities on the Dog Diet book tour. She was an integral partner in Family Law/Divorce Mediations Patti conducted. , Kiawah Island is her favorite vacation spot, but she loves all beaches. Sadie enjoys chasing squirrels, long walks, naps on her king-sized feather beds, and convertible rides. She has one sister, AbiGal, a rescued Cockatiel.
Patti Lawson is an award winning author, blogger, and attorney. She lives in the West Virginia woods
with her beloved canine companion, Sadie; has a day job as a Special Prosecutor, and anticipates the release of her new book: What Happens to Rover When the Marriage is Over? And Other Doggone Legal Dilemmas!
Connect with Patti at:
Want more, pawsitive pet tips, good news, and special bonuses? Content not already on the blog? Subscribe to my free newsletter. Kelly and I can't wait to see you there!