FitDog Friday and K9Kamp are joining together for some serious fun and fitness!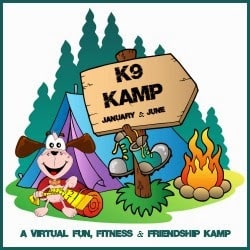 Have you been playing Doggie Hide and Seek? If not, check out the rules for our first K9Kamp challenge. And don't forget to take some pictures and link up for our K9Kamp Around the Kampfire on February 21st!
We're also giving away a great big prize package full of nine fun toys, treats and other dog products in our K9Kamp Rafflecopter–open for everyone to enter! I got the chance to test a few of the fun products we're giving away.
One product to help make meal time healthier, and lead to more fit pups, is an interactive feeder. We'll be giving away one for dogs, but I got the chance to review one for dogs, and one for cats too!
Aïkiou Pet Products (pronounced IQ) created some of the first interactive feeders. Interactive feeders help slow down mealtimes, which helps dogs avoid gas, bloat, and other digestive issues. They also make mealtime fun and help cure boredom. Cats also get the benefit of 'hunting'for their food. The Aïkiou interactive feeder was chosen as his "Best in Show" at Global Pet Expo 2012 by celebrity veterinarian Dr. Marty Becker.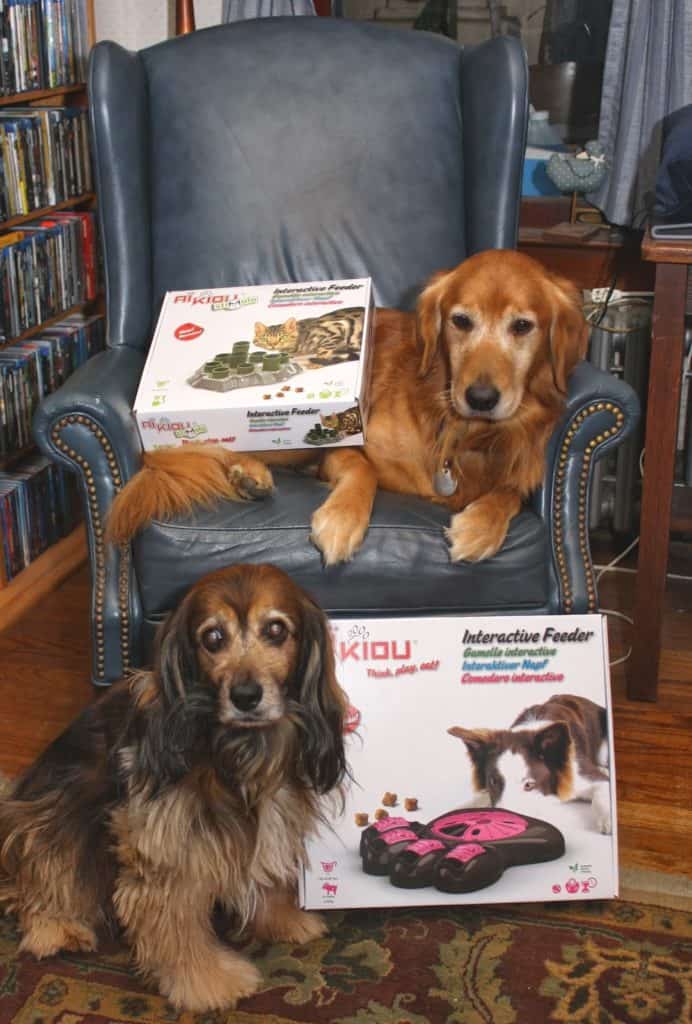 "Let's get these out of the boxes and get testing!"
Aikiou Dog
Ike and Kelly both tried out the Aikiou interactive feeder. Ike sniffed around and then pushed around with his nose. He was able to get the food, although he needed a little encouragement to figure out the smaller sections–which is good, as he had to think a little. Ike is a gulper and this feeder definitely slowed him down more than the one we currently use with the hump in the middle–with which he gulps the majority of the food and then it slows him down only for the last few bites that are more difficult to reach.
Kelly, on the other hand, immediately used hew paws to swat at the circular cover in the middle, and push the smaller covers on the side. She used more skill to get at the food. This seemed to be a fun challenge for her that she would enjoy doing often. There are ways to tighten some of the doors to make it more challenging.
Now for the cat feeder. Here's the Aikiou Stimulo interactive feeder for cats:
(guest review by Kate, mom of Cinnamon)
Cinnamon has never eaten out of anything other than a regular cat food bowl before, so I wasn't sure what she would think of this interactive feeder. She also has never used anything interactive like this…and I often tease her for having a "peanut brain." But she can be smart when she wants to!
I put down the feeder, with a few of the tubes already in, but most of them without tubes. She doesn't immediately run to food like a dog would, but when she was hungry she came over to it and started exploring. She very quickly grasped that she couldn't reach in with her mouth, so she batted the food out with her paw. It was funny to watch her move the food from one hole to the next, until it usually fell onto the floor, and then she'd eat it. The only downside I have seen so far is that it causes a little bit of a mess on the floor around the bowl!
This definitely requires more effort for her, and presumably more thought. She has continued to use it over a few days. I took out all the tubes after our original test, and will give her a few more days to get used to it before giving her the next challenge. Here's a movie of Cinnamon's first try.
Dogs and cats agree, the Aikiou interactive feeders are a fun challenge with a food reward!
Other fit pet activities often involve getting outside in all kinds of weather. After your pup has been outside running around and having fun, what do you do about those muddy feet? One solution is the Paw Plunger®. Invented by actress Brianne Leary, Paw Plunger® safely and gently cleans dogs' paws without chemicals or soap.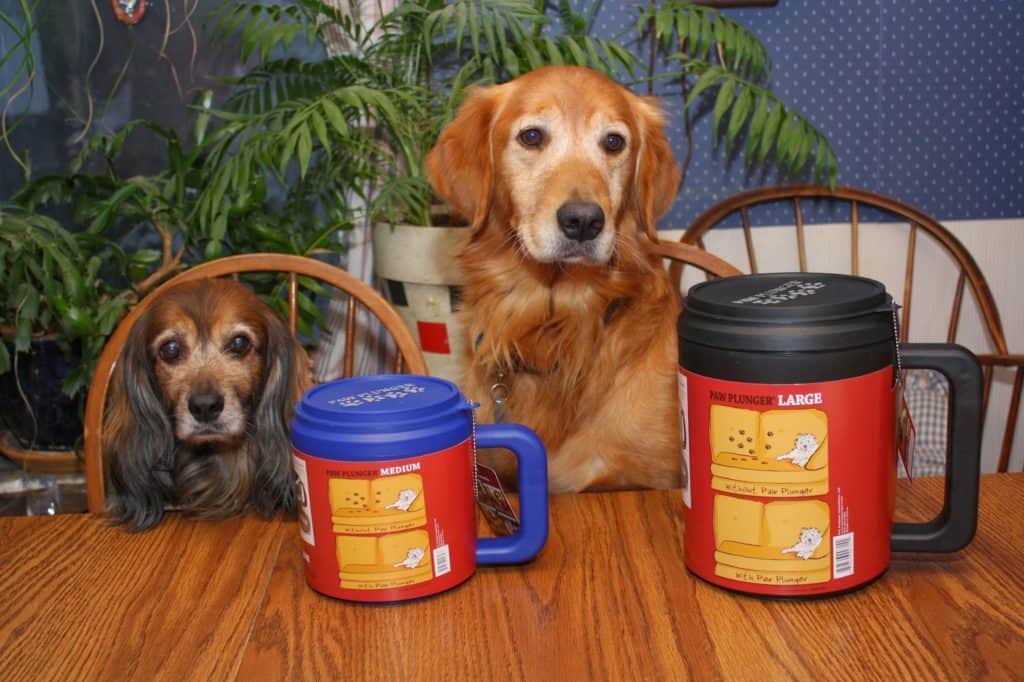 "What do you mean, it's not Cup-a-Soup?"
The huge mugs have soft bristles inside, and a rubber opening which helps wring wet paws as they're removed. Looking at that, I figured there was no way my dogs would tolerate such a contraption. Was I wrong! After a good romp in the yard, I introduced both dogs to the Paw Plunger. They were skeptical at first, after realizing this was not something they could eat. I gently pushed Kelly's paw into the Medium size Paw Plunger. She didn't mind the feel of the bristles at all. I pushed her paw up and down a few times and then removed it, feeling the resistance of the rubber opening as it helped push the water off and back into the mug. Then I dried her paw on a towel.
Next Ike. He wasn't as keen on me lifting his paw, and got all excited. He has to sit to be at the right height to manipulate his paw, and he kept lying down, which made it a bit more difficult. But once I got him sitting, I got his paw in the Paw Plunger and he, too, didn't mind at all.
Is this easier than simply wiping paws? The answer is no, not really. But, it does get your dog's paws a million times cleaner than simply wiping them with a towel. And I'm sure once you make it a routine, your dog will cooperate more, as well. And when you've got really muddy paws and a nice clean kitchen floor, I think the Paw Plunger is definitely worth the effort!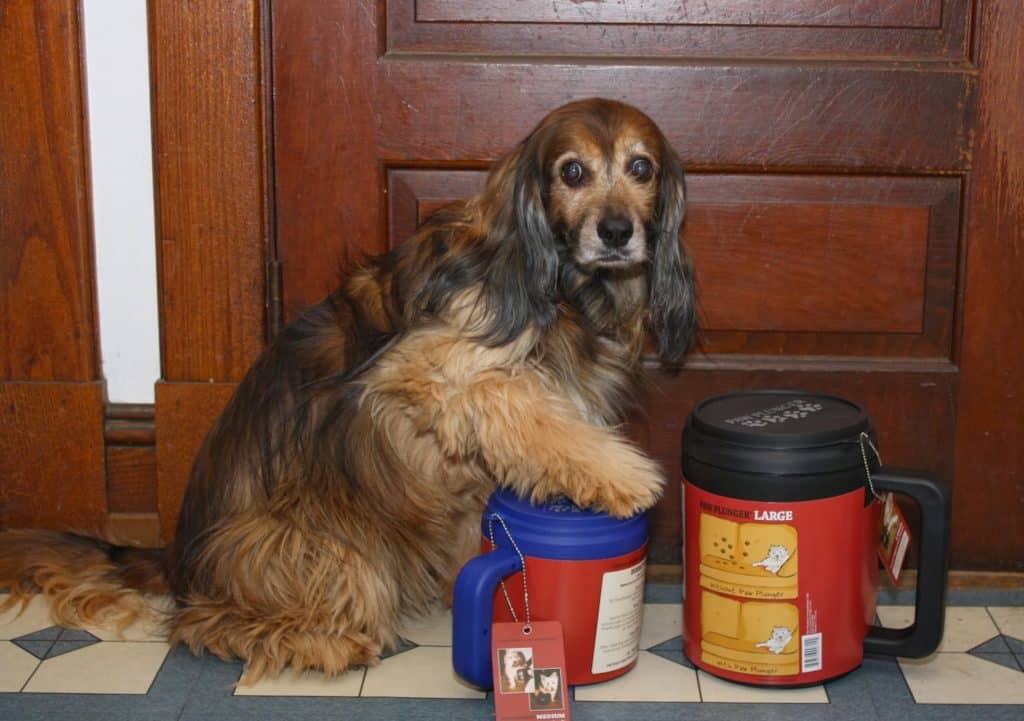 Here's Kelly doing her best Barker's Beauties modeling with the Paw Plunger!
Enter our K9Kamp Rafflecopter for your chance to win a medium Paw Plunger AND an Aikiou interactive feeder for dogs…along with 7 other great toys and treats for your dog, valued at more than $100!
FitDog Friday is co-hosted by Peggy's Pet Place, Slimdoggy, and To Dog with Love. Join our hop!



Full Disclosure: I was provided with two Aikiou interactive feeders and two Paw Plungers to review, plus one Aikiou interactive feeder and one medium Paw Plunger to give away, in exchange for my honest review. This in no way influenced my review. Opinions expressed
here are 100% my own.
Want
more positive pet tips, good news, and special offers? Fetch
my free newsletter, Pawsitively Pets. Kelly and Ike
hope to see you there!