FitDog Friday- cohosted by Peggy's Pet Place, Slimdoggy and To Dog with Love, is a great way to highlight positive activities you're doing with your dog.
So, are you ready for K9Kamp this year? It's an exciting online blogging event co-hosted by Peggy's Pet Place and Kol's Notes to promote fitness and bonding with your dog. Here are ways you can participate: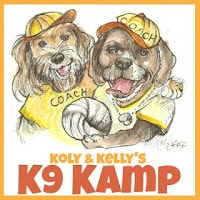 1. Read our challenge next Friday 11/31 and leave a comment saying you accept the challenge! Then participate at home on your own time.
2. Enter our Rafflecopter (coming soon) to win great prizes
3. Link up to the K9Kamp Blog Hop on 6/28 to share your results.
4. If you can't participate at this time, check out the others participating on our blog hop, and cheer them on!
5. Check out our Featured Bloggers (we've got 12 great ones you'll love) and our new K9Kamp Official Trainers K9Fit Club!
Is it time for you and your dog to think about getting in swimsuit shape for the summer? Check out these dogs who dared to step onto the scale for my video book trailer!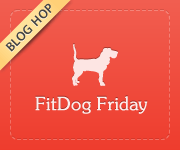 Please join us today and every Friday for FitDog Friday! Also, everyone who joins the hop or leaves a comment on one of the host blogs is entered into a drawing for great prizes. This week we have a SlimDoggy t-shirt, Dieting with my Dog bookmark, engraved pawprint collar tag from A Pet's Life (U.S. only), and waste bags, dispenser and bandana from Pruven by 3M.
Want more, pawsitive pet tips, good news, and special bonuses? Content not already on the blog? Subscribe to my free newsletter. Kelly and I can't wait to see you there!