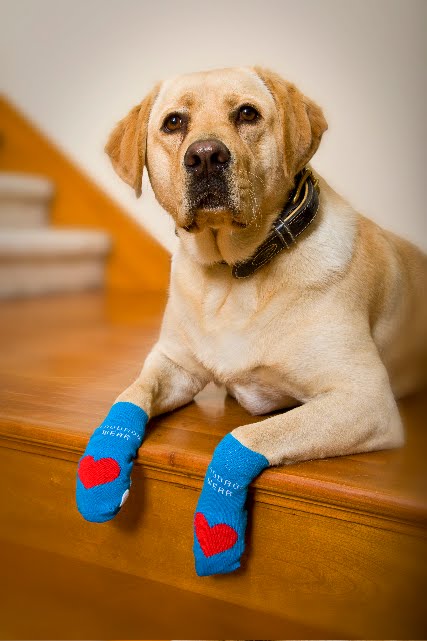 Socks for dogs? Really?
Well, before you scoff, there are some practical reasons a pet parent might want to purchase canine socks for their pet. The kind folks at Woodrow Wear even provided Kelly a pair (well, two pairs!) of Power Paws™ to "test drive." Her review is below. But first, here's some info from Power Paws:
* Originally developed for dogs with hip dysplasia in mind, Power Paws™ have become the answer to everything from doggie allergies to injured paws.
* According to the company's press release, as dogs age, their movement may become restricted by aching bones. A pair of Power Paws on your dog's back paws may be enough to gain traction and confidence he needs to walk on slippery floors.
* Power Paws give dogs with hip dysplasia and arthritis the power to stand, the power to go and the power to stop.
* Going outdoors? Protect your pup in "rocky" situations. Worn outside, Power Paws are just as effective as indoors. Hot pavements, salty sidewalks and rough terrain are a walk in the park with Power Paws.
* Power Paws function as an allergen blocker, keeping pollen off your puppy's paws and preventing him from bringing the outdoors in.
* In some cases, veterinarians use Power Paws as an alternative to large, bulky e-collars. When wearing Power Paws, most dogs will leave their injured paws alone, helpful for a speedy recovery.
*Power Paws are the creation of Lorraine Walston, an avid animal lover and parent of Woodrow, an affectionate Rottweiler who developed hip dysplasia at age 14. Lorraine was initially inspired to stitch together a pair of socks after she despaired of finding more comfortable options than canine "army boots" to provide mobility and traction for Woodrow indoors. In honor of her beloved pet, she named the company Woodrow Wear. Socks are available in eight sizes to assure a proper fit for all dogs from 6-pound Chihuahuas to 240-pound St. Bernards. For more information or to find a retailer near you, visit http://Woodrowwear.com.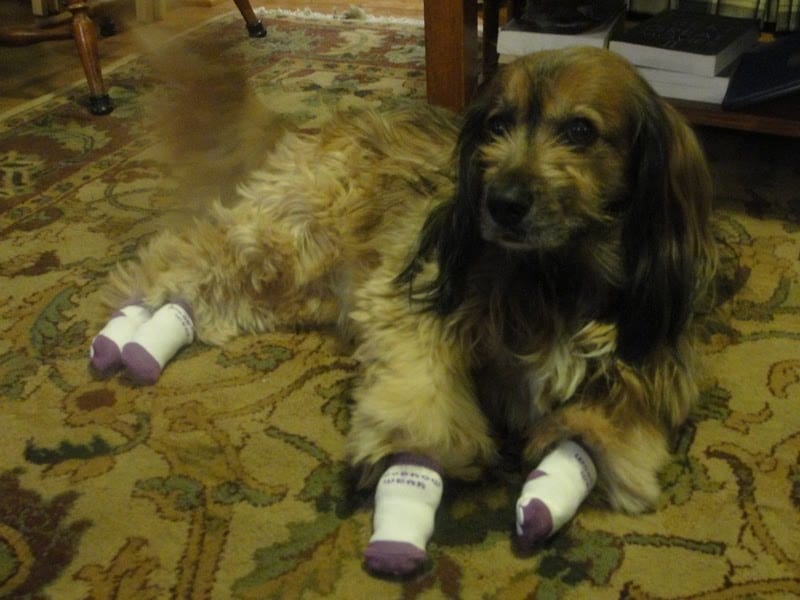 ** Now, what about Kelly? When the socks arrived, they looked very well-made. The packaging also explained the many uses. When I pulled the socks over Kelly's paws, however, she looked a bit worried. But the funny part was when she stood up to walk on them–she lifted each paw high off the ground and walked as if she had just stepped in something sticky! I guess it would take some dogs a little time to get used to feeling something on their paws. But Kelly wasn't going to give it much time. She promptly laid down and tugged each sock off her paws. So, while I think that Power Paws is a cool idea, and great for the right dog, Kelly wasn't convinced.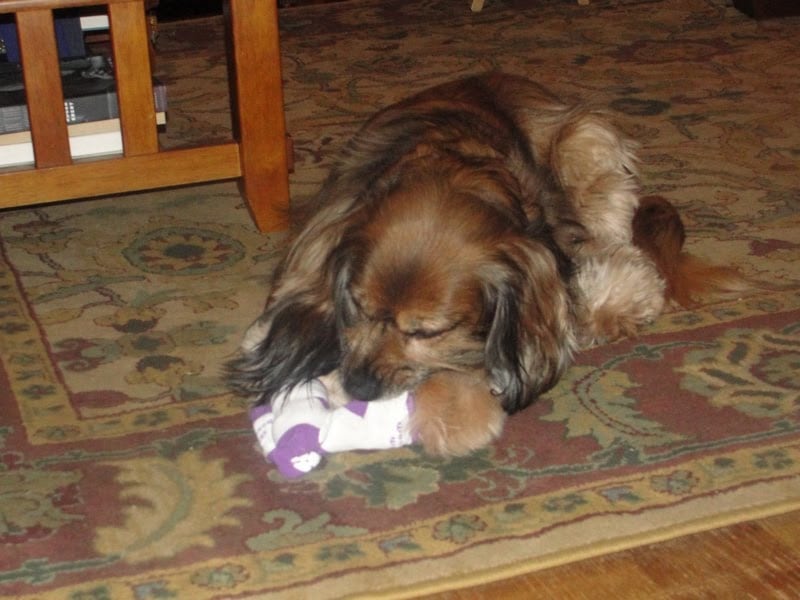 ***Since Kelly wouldn't keep these socks on her feet, I'm giving them away to someone who thinks their dog might benefit. Maybe you have a senior dog with traction problems, or a dog with hip dysplasia who could really enjoy Power Paws. Please leave me a comment if you are interested, and I will mail to the first person who responds with their contact information. These are size Medium (45-75 lb dog).
If you have a dog who might benefit from these socks, please leave a comment.
What do you think–in what instances would your dog wear Power Paws? Does he have trouble with slippery floors? Would she wear them outside? Has your dog tried them before?