*Welcome to a Blogville Novel! This chapter is part of a collaborative story about a very special dog we're honoring today, Frankie from Frankly and Earnestly Speaking. (We love you Frankie!)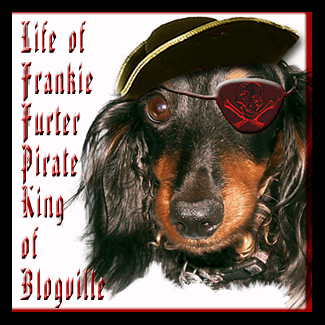 You don't have to have read the other chapters in the story to know what's going on here, but if you want some fun, check them out!
Frankie Furter, Pirate King of Blogville
continued…
Frankie had already experienced many adventures, when he met Will Terrier on the docks in the Caribbean islands.
"Look! There goes the Bark Pearl, sailing away!" Frankie nodded out to sea, where an eerie figure of a ship loomed.
"The Bark Pearl?" Will Terrier asked, "Weren't you the Captain of the Bark Pearl?"
"I was once," Frankie said, waving his sword. "A long time ago. And now I've come to get it back. And you're going to help."
"We're going to steal a ship?"
"Commandeer. We're going to commandeer that ship." He winked. "Nautical term."
"No Frankie, you're mad!"
Frankie looked up and wagged his tail. "I'm not mad. I'm the Pirate King of Blogsville. Now unsheath your sword and let's have a sword fight."
"Why?"

"Because that's what pirates do. I think."
Frankie and Will Terrier battled crossing swords, up and down the docks. Frankie displayed his deft footwork and skilful parries and feints.
"Okay I'm tired of sword fighting now." Frankie set down his weapon. "How about a swim to that island?"
"I suppose," Will said. "But it looks deserted. Are you sure it isn't haunted?"
"Nah. Just follow me." The two jumped into the sea and doggy paddled to the island.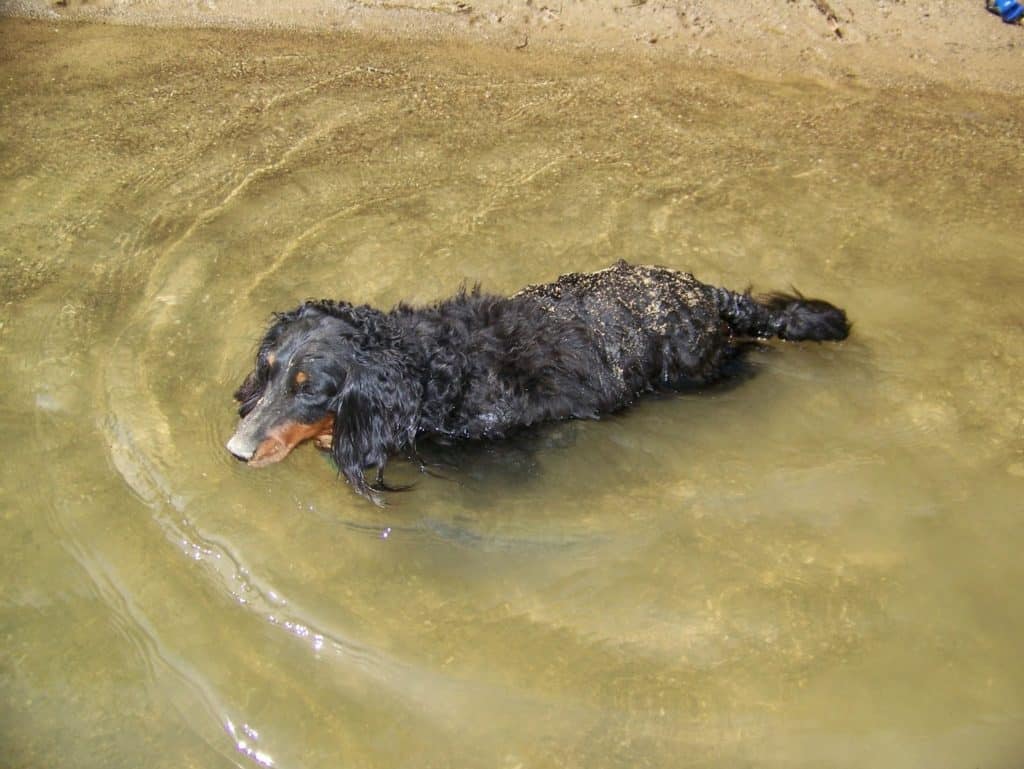 (photo courtesy of Frankly and Earnestly Speaking)
They climbed ashore and shook vigorously. Frankie sniffed around anxiously. For a while he got distracted by the trail of a bunny. Then he remembered what he was searching for. Disappointed, he sat under a tree. "Why are the bacon and Cheez Doodles gone?"
"Because they are junk food and fattening and not good for you," Will answered. "I think we should leave this island now. The Bark Pearl is out there somewhere waiting. And there are bad guys to fight with our swords. There are lots of adventures waiting for you."
Frankie agreed reluctantly. He splashed back into the water, looked over his shoulder and sighed. "But why are the bacon and Cheez Doodles gone?"
Check out the Next Chapter!


www.winesomewinston.blogspot.com


http://jansfunnyfarm.blogspot.com/


Twofrenchbulldogs.com


gospelofgoose.blogspot.com


http://peggyfrezon.blogspot.com/2014/06/frankie-furter-pirate-king-and-bark.html


http://www.molliesdogtreats.co.uk/


bichonpawz



http://downhomeinnc.blogspot.com


http://justustexasdachsies.blogspot.com/



http://susieandsidebite.blogspot.com/2014/07/frankie-pirate.html



http://ro-uj-iz.blogspot.co.uk/

http://myminipetpig.com



www.lovablelily.blogspot.com


http://ranger-scottie.blogspot.com/



http://whitleywestie.blogspot.com/


murphyandstanley.blogspot.com




http://cowspotdog.blogspot.com/



http://savetheboxers.blogspot.com/



http://catflapcavalier.blogspot.com/


http://kten-haileychronicles.blogspot.com/


http://whitedogblog.blogspot.com/


http://www.speedyhousebunny.com/


http://birdbrainsanddogtales.wordpress.com/2014/06/30/honoring-frankie-furter/


http://atcad.blogspot.com/


http://pughysgingerfurball.BlogSpot.com


http://ranger-scottie.blogspot.com/


http://amber-daweenie.blogspot.com/



http://friendsfurevercatblog.blogspot.com/


http://sargespeaksout.blogspot.com/


http://birdbrainsanddogtales.wordpress.com/2014/07/01/honoring-frankie-furter/