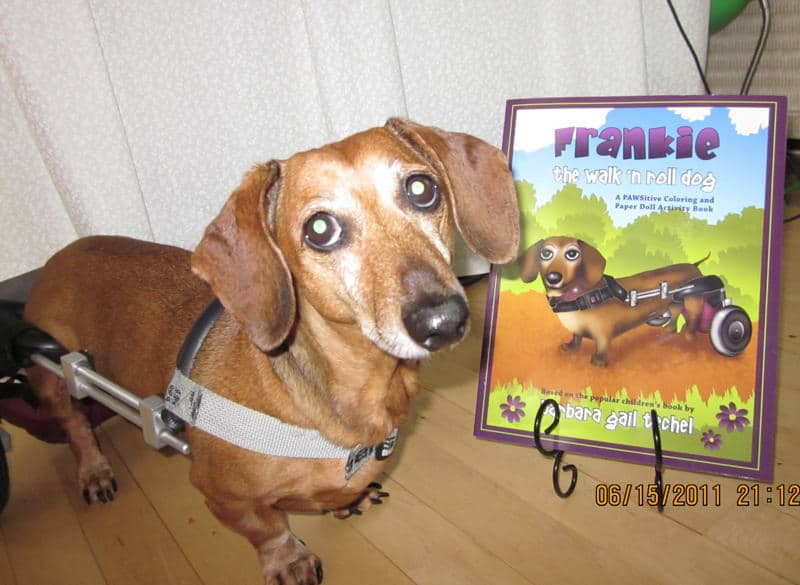 I've been in love with Frankie the walk 'n roll dog ever since I met the adorable dachshund on her blog. She's the epitome of the little dog who can! Frankie suffered from a spinal injury and was custom-fitted for a special wheelchair. Her mom, Barbara Techel, has a passion for bringing a positive face and voice to animals with disabilities.
Barbara is author of four books: Frankie the walk 'n roll dog; Frankie the walk 'n roll dog Activity Book Frankie the walk 'n roll therapy dog Visits Libby's House; and her newest release, Frankie the walk 'n roll dog Coloring and Paper Doll Activity Book.
This new coloring book is full of big beautiful, bold illustrations to color, along with the story of Frankie and her PAWsitive attitude. Some of the pages contain photographs of Frankie, with frames and backgrounds to color. In addition, there is an adorable Frankie paper doll–uh, paper dog, with sweaters, hats and bandanas!
This book is a perfect gift for any child. While they are coloring and playing, they will be learning a valuable lesson about CAPabilities, lessons that they can apply to both animals and people. If you have a special child in your life, I hope you'll rush right out (or just click away) and give them a copy of this wonderful book.
Book Synopsis:
Frankie the walk '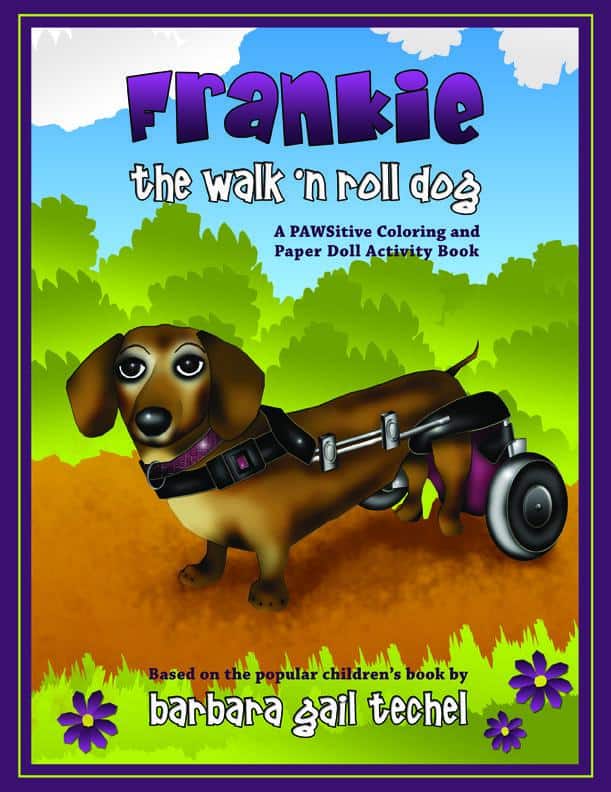 n roll dog
A PAWSitive Coloring and Paper Doll Activity Book
Three Books In One!
It's a story book based on my award-winning book, Frankie the Walk 'N Roll Dog (shorter, condensed version- perfect for younger children), pages to color along to the story, plus real photos of Frankie, and to top it off, a Frankie Paper Doll (dog) complete with her wheelchair to cut out, along with many of her favorite outfits you can dress her in. 52 pages of fun and inspiration!
*This week, a portion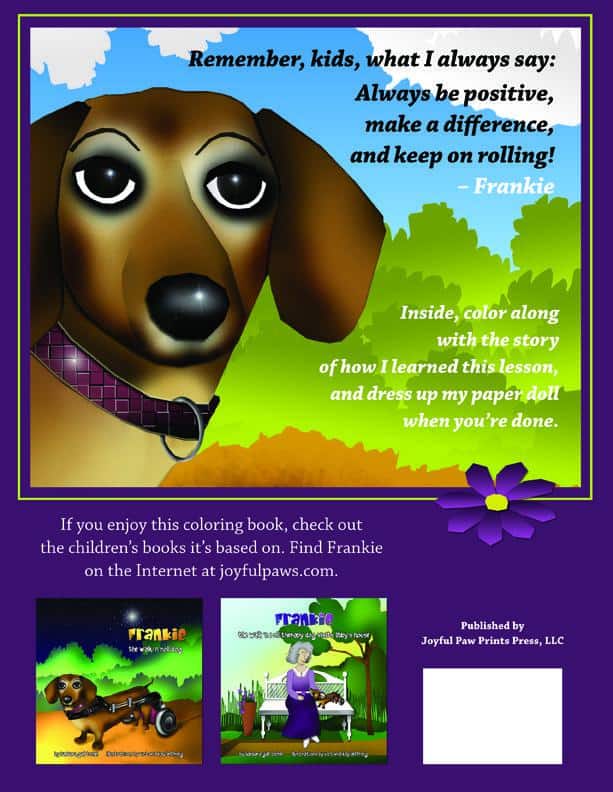 of proceeds of sales will go to Dodgerslist, an organization that helps pet parents whose pets have been diagnosed with IVDD (like Frankie has).
You can also buy Frankie the walk 'n roll dog coloring and paper doll activity book on Amazon!
Barbara's Frankie the walk 'n roll dog books have received National Best Book for children's picturebook, Merial Human-Animal Bond award, Editor's Choice from Allbooks Review, Indie Excellence finalist and Indie Excellence winner.
Be sure to visit Barbara and Frankie's website Joyful Paws.