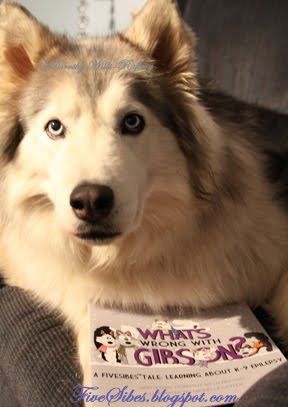 Pawing through the Alphabet
Do you know Gibson? He's one of the beautiful Siberian Huskies over at Five Sibes blog. And Gibson has a very special message. Gibson has a children's book, written by his mom, Dorothy Wills-Raferty. And it's all about him and a serious condition affecting some dogs. And we're excited to be joining in with the Five Sibes Book Release Blog Tour!
Here's a description of the book:
A FiveSibes Tale– What's Wrong With Gibson? Learning About K-9 Epilepsy
by Dorothy Wills-Raferty
Welcome to the world of the FiveSibes! They are five energetic Siberian Huskies who spend all their days playing and learning together. In What's Wrong With Gibson?, one day while playing, Gibson has a seizure. It is a beautifully illustrated short story of the pups learning about what Canine Epilepsy is and how they can help their big brother. The FiveSibe Tales are stories that children and adults of all ages will enjoy.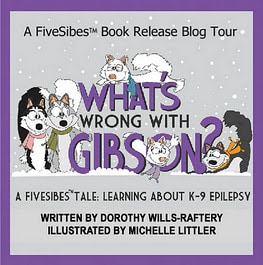 Today Dorothy joins us to answer some questions about Gibson, k9 epilepsy, and writing the book.
1. When did you first know that Gibson had k9 epilepsy?
It was three years ago, shortly after Gibson's third birthday.

2. How many dogs are affected by k9 epilepsy? What are some of the symptoms?
That's a really good question…large numbers of dogs worldwide experience seizures or are diagnosed as Epileptic Dogs or Epi-Dogs everyday. While there is no actual tracked number of dogs with Canine Epilepsy that I know of, there are quite a few valuable resources with information available to Epi-Dog parents worldwide. Canine Epilepsy Resources (www.Canine-Epilepsy.com), who is the non-profit center that a percentage of proceeds of "What's Wrong With Gibson" will benefit, is a center that not only has information, but also is home of the Epil-K list, a place where Epi-Dog parents can connect. There are other great resources listed on my blog and in this posting from National Epilepsy Awareness Month that may be of interest to Epi-Dog parents (http://www.canineepilepsy.co.uk/default.htm).
3. Why did you decide to write this book?
Ever since Gibson had his first seizure, which scared me more than anything I've ever experienced with my dogs, I carry his experiences around with me. As an Epi-Dog parent, you always are listening, watching, waiting, and hoping another seizure will never come. It keeps you on alert. It was very hard for me to talk about it at first and I just concentrated on learning everything I could to help Gibson live the best and healthiest life he could. I am a photojournalist by trade, so when Gibson first seized, I turned to social networking and met a fabulous lady from Texas who walked me through it all in the early days as one of her dogs is an epileptic also. I then shared my journal entries of Gibson's seizures online in hopes of helping others. To pay it forward, if you will. I've worked in the educational field for 19 years and knew I wanted to write about it in the format of a children's book. There are children out there who have epilepsy themselves, or have a family member, friend, or pet who has it. It was my hope that by writing this book, children could have something they could relate to, help them understand, and…if one child remembers to get "a bag of frozen peas" to put on their pet during a seizure, then they've helped! Canine Epilepsy is very scary, and through this illustrated story, I hope to remove some of the fear for children and let people know that it's OK for a pet to have epilepsy and, with a regiment of medicine, vitamins, diet, and exercise – still be able to live a happy and healthy life. A reader told me the only course of action for her Epi-Dog 20 years ago was euthanasia – that is not, thankfully, the case today.
4. What does the book tell us about how we can help dogs with epilepsy?
There are hints throughout the tale, such as getting a first aid kit (very important – all Epi-Dog household should have one); getting an ice pack or bag of frozen peas (to bring down the dog's body temperature) – when Gibson seized, I did not have ice packs in my freezer, so I actually used a bag of frozen peas and a loaf of frozen Italian bread! I also have the pups get a hose for water, as a dog needs a drink post-seizure. They see Harley jot notes in a journal (which is key for parents of epileptic pets to mark down details of seizure). They also have ice cream at the end, which is what you can give the dog post-seizure to help raise the sugar levels back up. There are all little helpful, true tips throughout the book.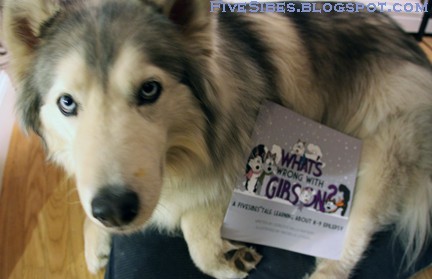 5. How is Gibson doing now?
Gibson is doing well! As any Epi-Dog parent can tell you, when things are going good, you don't even like to say it! He is on a good regiment that is has been successful for him for the past three years. I pray it continues. The one thing about Canine Epilepsy is that even if your dog is successfully medicated, there is no guarantee that a seizure won't happen again. We just do the best we can. Gibson has some mild effects from the meds – lethargy, voracious appetite, and occasional stomach upset. I have his blood levels tested every six months to check on his liver as one of the medicines can affect it long range. I do give him a vitamin supplement – Milk Thistle – to help cleanse the liver. I was extremely overprotective of him for the first couple years. I still keep a very close eye on him and always will, but finally I let him pretty much do what he feels like, i.e. running, playing, etc. My vet gave me the best advice ever. She said, "Let him live his life." And now, I do.

If anyone would like to order a copy, they may do so through the ArcticHouse Publishing website,(www.ArcticHousePublishing.com).
I think this book would be a wonderful to share with any child, to give them a better understanding of our canine friends and a disease that can affect people, as well as our pets. Plus, a percentage of the proceeds are donated to Canine Epilepsy Resources.
Thank you Dorothy for joining us today, and here's a big hug for Gibson, and all the Sibes!