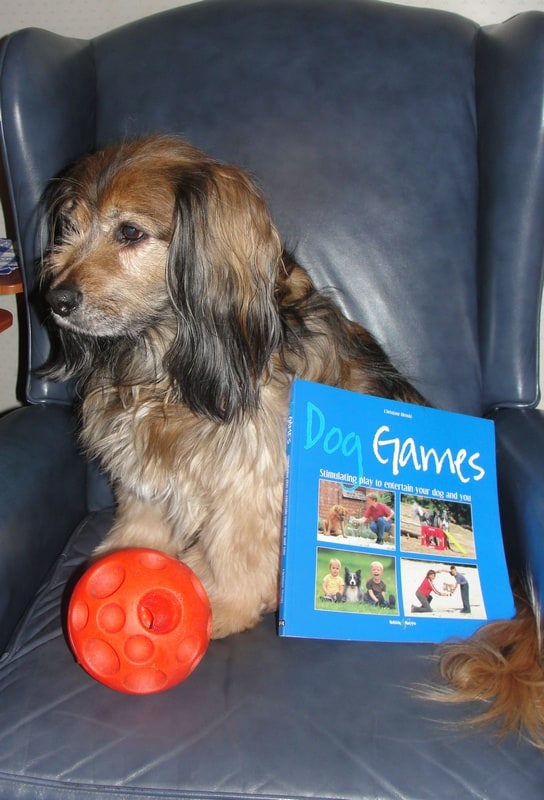 Sometimes Kelly lies on the back of the couch, staring out the window, and looks so bored. We go out and take a walk, which she loves, but there must be something more. I've often thought, wouldn't it be nice to have some other pastime to share with my dog?
That's what I've discovered by reading Dog Games, by Christiane Blenski. published by Veloce Publishing Ltd. Blenski's own dog is an Australian Shepherd named Jaden.
Subtitled "Stimulating play to entertain your dog and you," Dog Games is the perfect solution for the boring routine of plopping down the dog food, sweeping up dog hair, and taking your furry friend on a daily walk. "Goodbye boring routine, Hello playtime!" the book states!
Discover a whole new world of fresh ideas for entertaining games for you and your dog, Using simple equipment that you can often find around the house, you can re-awaken your dog's enthusiasm for playing games.From ball fun to hula hooping, which games will be your favorites?
Dog Games details 50 different games including:
Hide a Treat
Obstacle Course
Weaving between Poles
Climbing
Jump roping
The games in the book will help develop teamwork, occupy your dog's mind, improve your dog's health, and strengthen your bond. If you're looking for some great games to play with your dog, check out this book. After all, you and your dog make a great team.

You're even invited to share photos of yourself and your dog enjoying the games in the book. Send to the author at christiane@blenski_dogs.com.
Paperback • 25x25cm • 128 pages • 245 color pictures
HH4332 • ISBN: 978-1-845843-32-8 • UPC: 6-36847-04332-2
$32.95
Got a cat? Check back Friday for my review of the book Fun and Games for Cats!
*Hubble and Hattie provided me with a copy of the book to review. All opinions expressed are my honest opinions, and 100% my own.