Remember the Dr. Seuss book, Go, Dog. Go? That was always one of my favorites–and my kid's favorites when they were little.
Well a fit dog is always on the go, and Kelly is no exception. She likes to join us on outings and vacations whenever she can. Recently I purchased two items that I thought would be helpful for fit dog active outings. One deserves a PAWS UP and one gets a PAWS DOWN.
PAWS UP:
To Go Bowl
We have several different kinds of water bottles and travel bowls for Kelly, and they work great when we're outside and put the bowl on the ground. Not so well when we're in the car and want to give her a drink. Then I found the To Go Bowl. It fits in your car's cup holder. It's really handy for short rides or longer trips.
Positives:
No more worries about the bowl tipping over and spilling
Fits easily in cup holders of all sizes
Includes a splash guard and cover
Easy and convenient!
Negatives:
There are a lot of pieces to this. While each piece is useful and increases the functionality of the bowl, it does make it difficult to keep all the pieces together and to store the pieces that you don't need. It would be nice if the pieces somehow stowed within each other or were adaptable without coming completely detached. For instance, it's easy to misplace the cover in your car!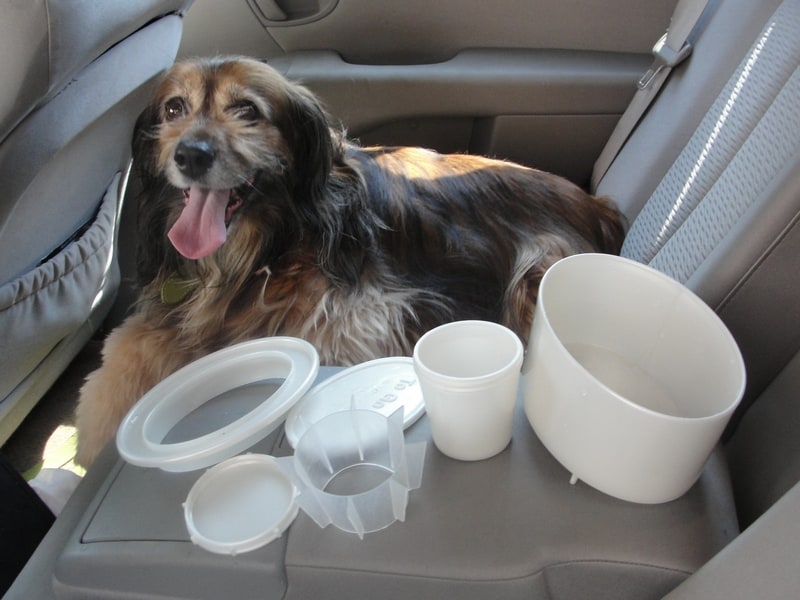 Overall, I would not let the negatives deter you from considering the To Go Bowl. It's a handy little product and we use ours often.


PAWS DOWN:
Winnipet seat belt
I wanted to try a seatbelt for Kelly, and saw this one for a good deal on a pet product site that offers monthly specials. Unfortunately, I can't remember where I got it and I can't even find a website for the product. The seatbelt arrived with a hang tag that simply said "Winnipet, all love for it" (whatever that means) and offered no other identifying information including address, phone, website, bar code, etc. And no instructions on how to use the seatbelt.
Positives: none
Negatives: To put it bluntly, it didn't work. You'd think, as simple as this seatbelt looks, that all you'd have to do is clip one end to your dog's harness, and slide the other end into the belt, and buckle! Well, when I put the slot into the seatbelt, it wouldn't latch. The design of the seatbelt doesn't allow for the buckle to fit properly into the other end. I tried the seatbelt in several different cars, but the result was the same. What a disappointment. I'd like to return it for a refund, but have no idea where to return it!
If you have recommendations of a seatbelt that actually works, I'd love to hear them!
FitDog Friday is co-hosted by Peggy's Pet Place, Slimdoggy, and To Dog with Love. Join the FitDog Friday blog hop!
Want Pawsitive pet tips, good news, and special offers? Content not already in the blog? Fetch our free newsletter, Pawsitively Pets!