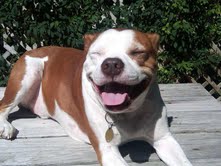 This is my friend Nikki's dog, Sonny. Don't you just love that smile? I think Sonny is the perfect spokesdog for this post about BAD RAP, the cause of the month for The Honest Kitchen.
Q: What is BAD RAP?
A: Bay Area Doglovers Responsible About Pitbulls. This group has been instrumental in the evaluation, rescue and rehabilitation of dogs in the Michael Vick case.
Q: What is The Honest Kitchen?
A: Makers of dehydrated, human grade whole foods for pets. The Honest Kitchen donates a percentage of online store profits to various causes.
Q: What can you do?
A: "Like" The Honest Kitchen's Facebook Page. They will double their donation to BAD RAP if they reach 40,000 Facebook fans this month.
Also, you could help share this link on FB or Twitter.
http://www.barkoutloudweekly.com/news/support-bad-rap
Q: Want to learn more about BAD RAP?
A: You can chat live with BAD RAP's Donna Reynolds and Tim Racer tonight Ma
rch 14 at 9:15 pm EST on Bark Out Loud Weekly. Check out this important podcast "After Vick: What Have We Learned?"
In addition, Be the Change for Animals will kick off a $1000 Facebook ad campaign, drawing additional attention to this terrific cause.
Learn more on Kim Clune's blog, This One Wild Life!