Ho ho Holiday Toys for Pets. Today we have…
THE CARROT!
I've had the pleasure of sampling various toys from PurrfectPlay, and they are consistently my dogs' favorites. Why? I think it's because of the material. It's natural. Organic. And it really seems that the natural fibers provide them excitement that I don't see with plastic toys and stuffies.
The carrot is PurrfectPlay's newest offering.
Great for throwing and retrieving
Squeaky Fun!
Outer tough layer of hemp canvas
Inner layer of hemp canvas contains stuffing & squeaker
Topped with sturdy hemp braid "leaves"
Stuffed with certified organic cotton batting
No synthetic or plastics
All seams are double sewn
Tough and washable
Made in the USA
Purrfectplay sent Kelly and Brooks each a carrot toy to test. They both absolutely loved this toy right away.
These toys are very sturdy, they will hold up to a strong chewer. That being said, Kelly is a terror of a chewer. She did get through her carrot. But the thing I like about these toys are that if your dog does chew through the first layer, the stuffing is contained inside a second layer! And, the stuffing is natural cotton instead of yucky synthetic fiberfill.
Brooks is more of a gentle chewer and he did not get through the carrot toy. He did, however, chew a braids off from the end, so I cut the rest of them off to prevent him from swallowing them. It's funny how the two dogs are so different–Kelly didn't bother with the braids at all.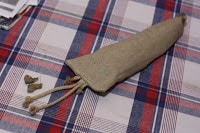 Brooks chewed off the braids.
I highly recommend Purrfectplay Squeaky Hemp Carrot. Your dog will be attracted to the natural fabric and love this toy!
All PurrfectPlay products are:
Dye and toxin free
Natural and organic
Sustainable and fair trade
5% of annual sales shared with rescues
Please visit Purrfectplay and check out their toys for your dog…and while you're there, check out their cat toys too!
*We were given two toys to review. The opinions expressed here are 100% my own.