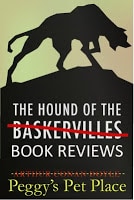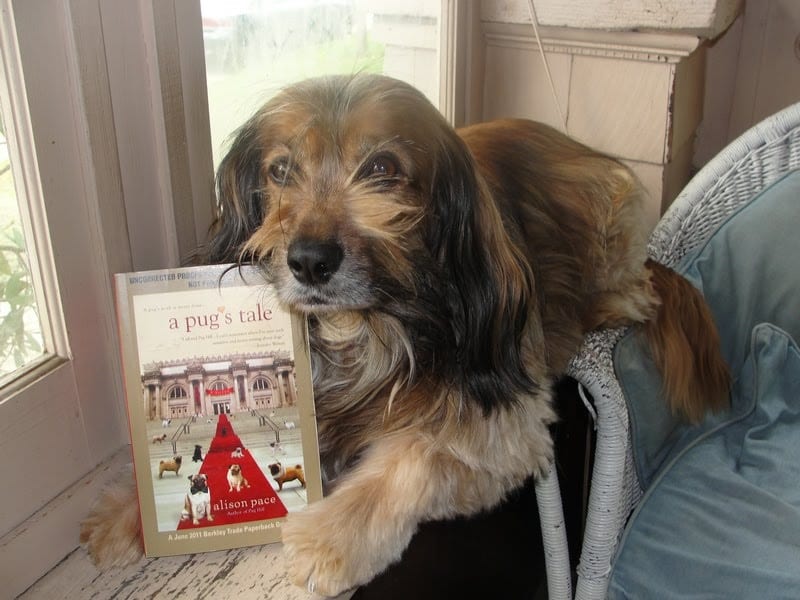 Welcome to today's Hound of the Book Reviews!

A Pug's Tale by Alison Pace (Berkley Trade Paperback (c) 2011)
This charming tale of intrigue and friendship is a sequel to Pace's acclaimed novel, Pug Hill.
I love fiction and I love dogs, so I am constantly searching for smart, clever, and witty "doglit". And I've found it here with A Pug's Tale! How could I resist the opening scene of some fifty pugs running around in the Metropolitan Museum of Art? Elegant ladies, society's finest, trays of champagne, pugs…and a reflecting pool. Need I say more? And then, there's the element of mystery, as a famous Pansies painting disappears from the museum.
The main character, museum worker Hope McNeill, is engaging and funny, faithfully smuggling her canine companion Max in to work every day. (Don't we all wish we could do that?!)
Of course the star
of the book must be the dog, and Max the pug won't disappoint. He's sometimes lazy, sometimes naughty. He creates havoc at the swanky gala. But he is also keenly intuitive. A certain painting captures his interest and he is drawn to it as if "by some powerful pug siren song." This is a dog you'll want to meet.
A Pug's Tale is a fun and friendly combination of intelligent single woman, bring your dog to work day, art museum misadventures, and of course, pugs!
Alison Pace is the author of the novels Pug Hill, If Andy Warhol Had a Girlfriend, Through Thick and Thin and City Dog. She lives in New York City with her extremely cool dog.
You can find A Pug's Tale on amazon or wherever your favorite books are sold.