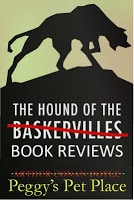 Here we are with another Hou
nd of the Book Reviews, and this time it's an e-book. And, read on to see how you can win a free copy of this e-book too!
Whenever I read a news report about the happy reuniting of a previously missing dog with its family, I always wonder about what had happened to the dog while it was away. Leland Dirks was thinking the same thing when he wrote his novel, Angelo's Journey.
Although this is a novel, there are a few true parts: Leland's beautiful border collie Angelo disappeared one day. And, after 40 days Angelo returned. What happened in the middle, and the contents of this book, are left to Leland's imagination. Each chapter is a different story, written in the first person by each person Angelo encounters along his journey. The second chapter, about the man who kidnapped Angelo, is brutal and made me sad. But the rest of the chapters are stories of all the people Angelo touched on his journey– the truck driver, the cowboy, the waitress, and more. Interspersed are accounts of how Angelo's companion searched for him, missed him, and prayed for him. I truly enjoyed this book and agree that dogs can be angels in people's lives.
About the Author:
Leland lives in the middle of a beautiful nowhere that is Colorado's San Luis Valley. Angelo, the world famous Border Collie, and Maggie, his black Lab philosopher mix, allow him to share their off-grid home. All three tolerate The Cat who does a merely adequate job of rodent control.
Check out Leland Dirk's website.
Angelo's Journey is available on Kindle (can also be read on smartphones, PCs, Macs and ipads.)
* Enter to win a free e-copy of Angelo's Journey. If you don't have an e-reader, never fear! I read my copy of the book with a free downloadable app to my computer, and it worked just fine. Just leave a comment to be entered. For additional entries, follow this blog and leave another comment saying that you are a new follower. And/or post about this contest on twitter and leave a separate comment telling me you posted. Contest ends at midnight 5/5 and winners will be announced on Friday.