With Labor Day weekend approaching, there's still time this summer to enjoy a great getaway or family vacation. And if the family includes a dog (or two or more!), it's easier than ever before to take them along–pet friendly businesses are more and more common. Your getaway just requires planning, flexibility, and quite possibly a sense of humor. Here are a few tips to bark your way.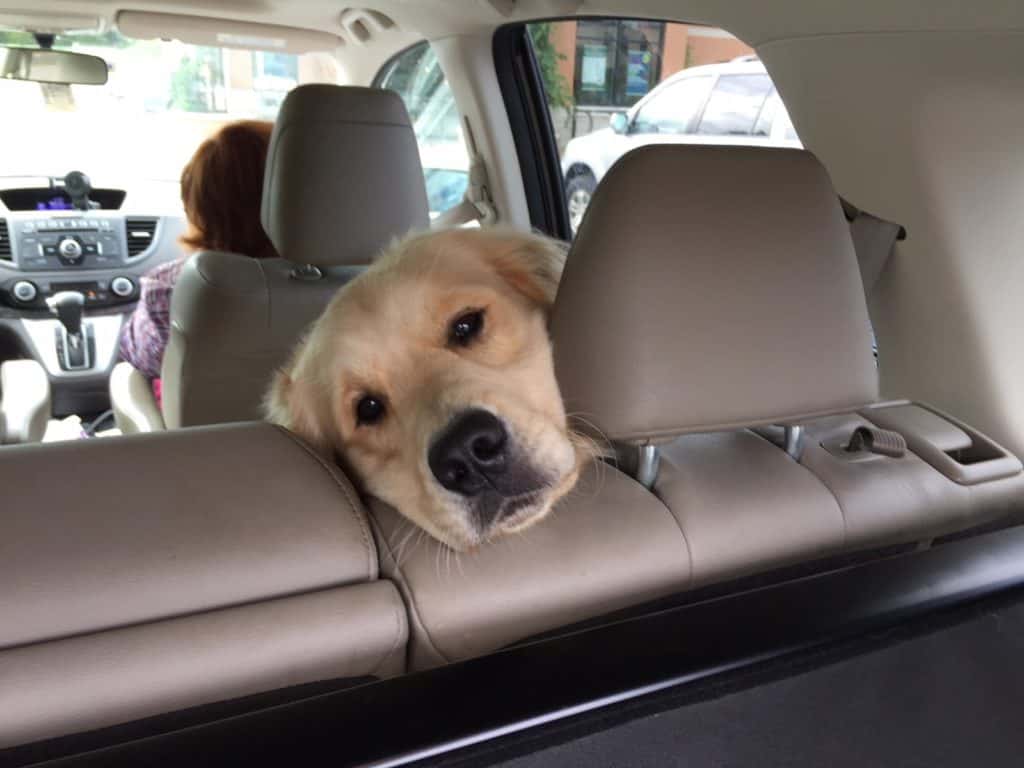 We didn't forget to pack Petey!
Where are we going to stay?
If you plan on camping, or staying with friends or family who love dogs, great! Otherwise you'll need to find a pet-friendly hotel. We recently took our two golden retrievers, Ernest and Petey, along on a getaway to Vermont. The hotel was "pet-friendly" and indeed the staff seemed happy to welcome our dogs. But the pet-friendly rooms were tiny. There was only enough space to walk around the sides of the bed, and no seating area or place for the dogs to stretch out. It made for a very uncomfortable weekend. So when you book, ask about the size of the rooms, especially if you have larger dogs. Also some pet-friendly hotels simply "allow" pets while others really roll out the red carpet by providing doggy beds, bowls, and goodie bags. Some even offer amenities such as gourmet dog meals and dog parks. We love Go Pet Friendly as a great resource to search for hotels (and restaurants, and things to do on vacation too.)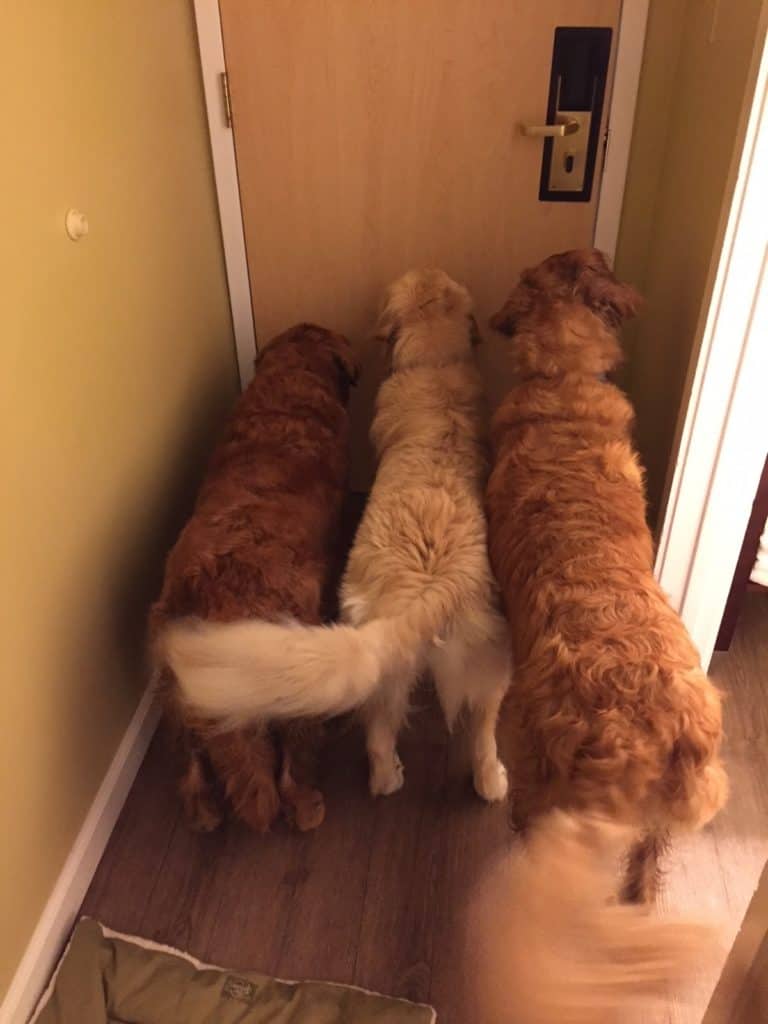 Our room proved a bit small for Ernest, Petey (and a visiting friend!)
Here are some other considerations:
1. Does the hotel have a dog-relief area with poo bags and conveniently-located waste receptacle?
The hotel we stayed at had a fair amount of grounds for walking the dog, but they were full of pricker bushes. Every time we went out, the dogs returned covered in burrs. Other pet-friendly hotels offer only a narrow strip of grass to walk your dog, or are surrounded by busy roads and parking lots. On the other hand, once we visited a hotel with beautiful grounds, plenty of room to exercise, and wooded hiking paths next door. Check reviews and look at photos (try Google Earth to get a great view of the surroundings) to evaluate the outdoor space.
2. Can you leave your dog in the room?
Most hotels we've visited don't allow you to leave your pet unattended in the room.
This is a concern for instances when you want to go out to an event, fancy dinner, shopping, or museum where your dog is not allowed. One option is to take your pet to a doggy day care, or hire a reputable pet sitter to sit in the room with your pets. If the hotel does allow you to leave your pet, be sure to put out the "Do Not Disturb" sign when you leave. If you're worried your dog might bark, here are some techniques that can help:
– Take your dog for a long walk and make sure he is really tired before you leave him.
– Turn on the TV to distract him from barking every time he hears someone open a door or walk down the hall.
– Play the CD "Through a Dog's Ear". You wouldn't believe how many times I recommend this, but I do because I love it. I don't know why, but it works. Our dogs calm down immediately whenever we put it on.
– Give your dog a Kong or new toy to entertain him while you're out.
Also, most hotels don't allow pets on the furniture. I'm pretty sure 90% of the dogs break this rule. Bringing along a large sheet or blanket to cover the bed and other furniture helps protect hotel property.
Where can we eat?
Dining out with pets can be a challenge. Here are some options we've tried:
1. Visit pet-friendly restaurants.
Many cafes and casual dining spots allow pets on their patio. Some even bring out a bowl of water for your dog. We try to choose the most out of the way spot to sit. Usually the dogs nap under the table. They almost always spill the water bowl.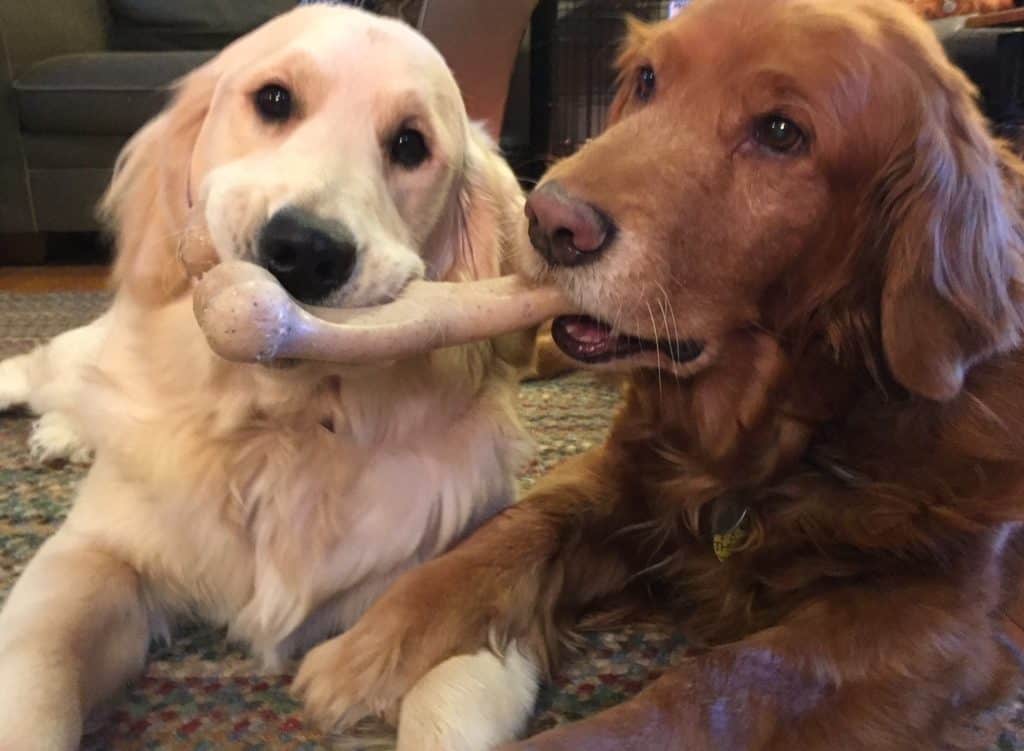 Sharing something to chew on.
2. Take a picnic.
We buy fresh foods at a grocery store or whole foods market, find a nice scenic location, spread out a blanket, and enjoy.
3. Go through the drive-thru.
You will likely be limited to fast food, but in a pinch it works.
4. Order pizza in your room.
Or, stock your room fridge with convenient meals, sandwiches and fruit.
4. Patronize your hotel's restaurant.
Most hotels allow you to leave your pets in the room while you're on premises. On our recent trip, we enjoyed the complimentary breakfast in the lobby each morning, and had dinner in the more upscale restaurant, knowing that our tired, well-exercised dogs were contentedly resting close enough by to intervene if it turned out there should be a problem. (The first couple times we ducked out and listened outside the door to make sure we didn't hear any barking.) Selecting a hotel with a decent restaurant took a lot of stress out of our trip.
What are we going to do?
Your schedule won't be as free as if you were traveling without pets, but hey, you've got your best friends along with you so it's worth it, right?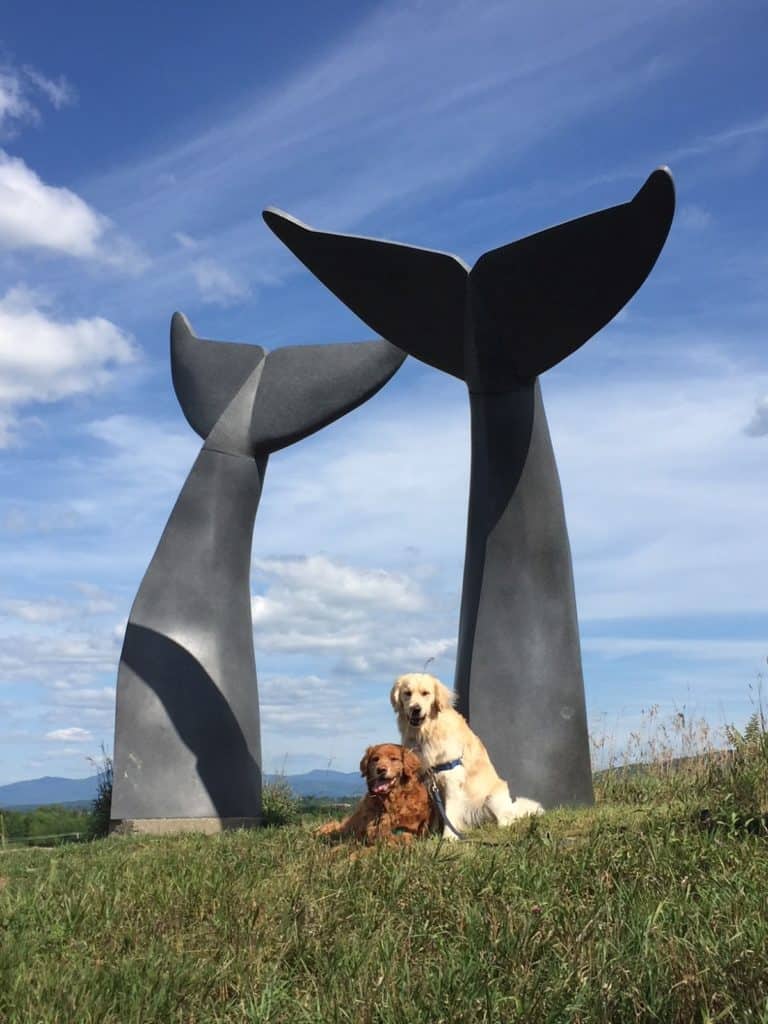 Checking out the Whale Tails in South Burlington, VT.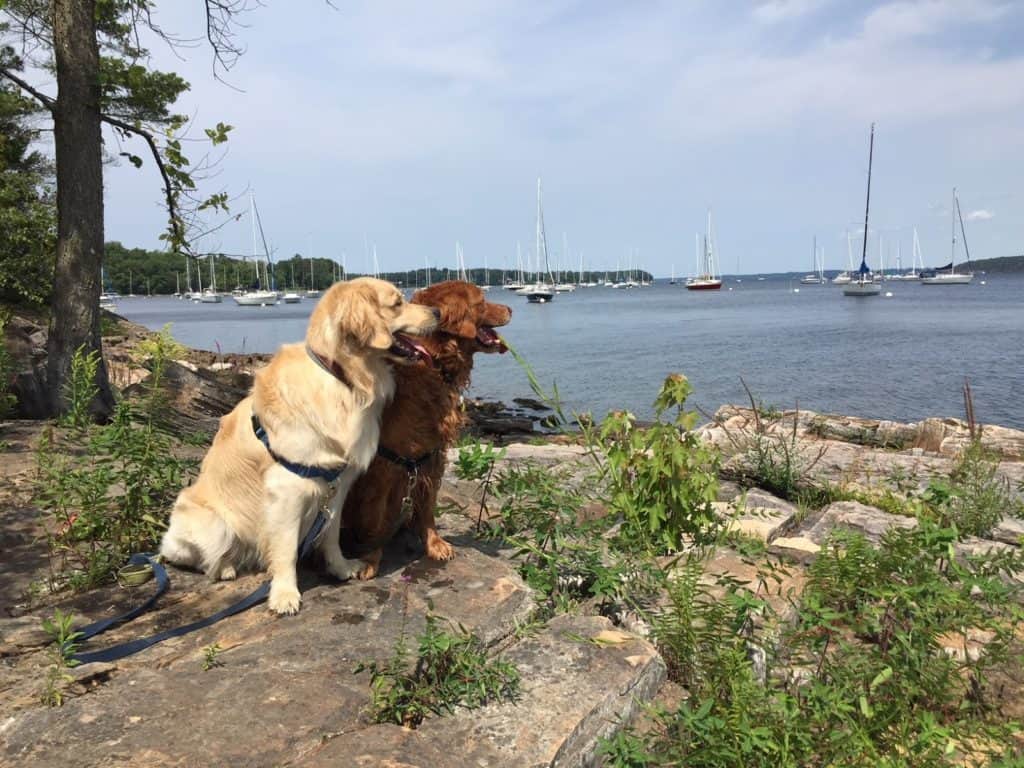 A great hike in Shelburne Bay, VT.
1. Parks, hiking, and swimming-
Outdoor activities are the easiest in which to include your dog. Just be sure you know the rules and restrictions for where you visit. Are dogs allowed? Must they be leashed? Are certain areas restricted?
2. Shopping and Activities-
Some pedestrian malls, such as Church Street Marketplace in Burlington VT, are pet friendly. The Vermont Country Store (in Weston and Rockingham VT) allows dogs inside, with signs reminding shoppers NOT to leave their dogs in the car. If you want to take a tour at Ben and Jerry's factory (Waterbury, VT), you can bring your dog on the premises (but they're not allowed on the actual tour). Wherever you stay, you may be surprised at the businesses that allow dogs.
3. Little known gems.
Ask a local for advice. Helpful residents walking their dogs may offer the best suggestions. We asked an employee at a pet food warehouse for a place to take the dogs in the water and were directed to a little out of the way swimming hole that was just right for our needs.
Have a fun vacation and a happy Labor Day Weekend!