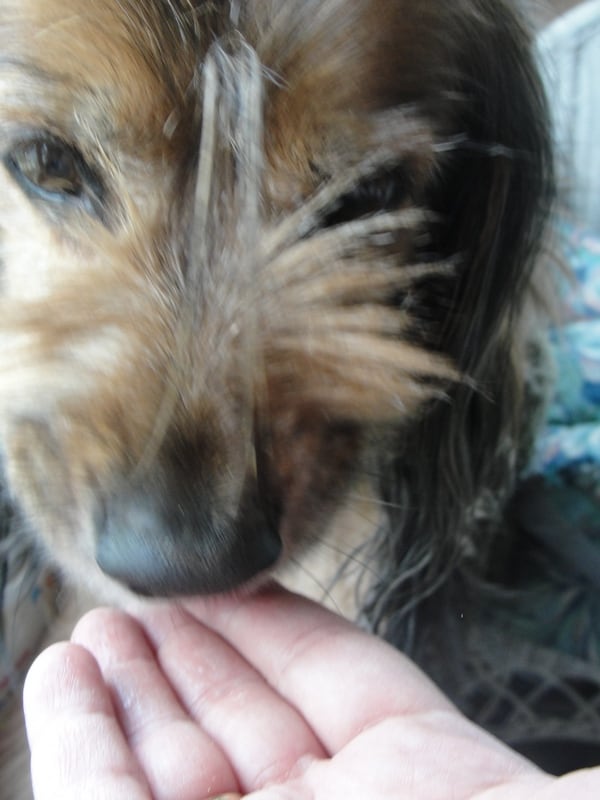 Trying Mom's cooking. hmmmm
I'm not a fantastic cook. Not for people. Not for dogs. But recently I was thrilled to discover that I could bake treats for my dogs that didn't require:
1. buying unusual ingredients
2. a lot of time to make
3. skill
PetCakes for Dogs
PetCakes are wholesome, organic, microwavable pet treats.
PetCakes creator Melinda contacted me and asked if I'd like to review the product. She sent me a great package with PetCakes for Dogs, PetCakes for cats, and special microwave pans. PetCakes are a pre-packaged kit including mix and baking dishes in fun shapes like bones for dogs, and fish for cats.
I used carob flavored for dogs. (Keep reading below for a review of Pet Cakes for Cats.) The ingredients are oat flour, rice flour, wheat germ, flax seed, baking soda, baking powder carob and cinnamon. Good stuff, huh? I found PetCakes easy to make and that's saying a lot for me! I like that they're made of wholesome ingredients. I happily noted that PetCakes don't have an unpleasant aroma, unlike some other cake/cookie recipes and products I've tried.
Just mix with water and peanut butter, applesauce, yogurt, or whatever your dog likes. I used yogurt. Spoon into the special pan provided…
and microwave for just 2 1/2 minutes. The cakes came out moist and spongy. Be sure to cool before serving.
Did Kelly and Brooks like them? You bet! They both were excited to sample and wanted more!
You can even buy frosting and decorate your PetCakes for special occasions. And, for extra fun you can enter the PetCakes video Contest, open now through March 24. Your video of your pet and PetCakes (see complete rules) could win you free PetCakes for an entire year and $500 to your favorite charity!

Now, what about you cat people? Here's a review–
PetCakes for Cats
I gave my daughter the PetCakes for cats to try with her admittedly picky cat Cinnamon.
She reports:
Making PetCakes was easy. Just add water, and then a tbsp of canned tuna. As soon as I opened the tuna, Cinnamon came over and was very interested in what was going on. (Note: Opening a can of tuna to use just one spoonful can be a disadvantage if you don't have a use for the rest of it right away.)
Everything worked well and they cooked properly.
However, once cooked, Cinnamon wasn't as interested. She sniffed briefly at it. She's never eaten anything quite so big, so I'm wondering if she couldn't tell that it was food. I have broken it into pieces and put it in her food bowl. It looks like she's eaten some that way. She is picky about her food and trying new things.
So there you have it! My dogs give it unanimous and enthusiastic approval! Cinnamon the cat thinks it's interesting, but she's not going to give in to temptation quite so soon.

Want more great pet news, fun content and special bonuses? Subscribe to my free newsletter. Brooks and Kelly hope to see you there!
*Disclaimer: I was provided with this product for my review. All opinions are 100% my own.