A recent post by Pamela at Something Wagging This Way Comes suggested that we should prepare our dogs for adventure, such as the sailing trip she's planning on taking with her golden retriever, Honey. Her thoughts can be extrapolated out to include more than just hiking or camping or sailing. When Pamela suggested that even adopting a new dog can be perceived as an adventure to our dogs, it hit a chord. How can I prepare Kelly for the event that a new dog will someday join our family?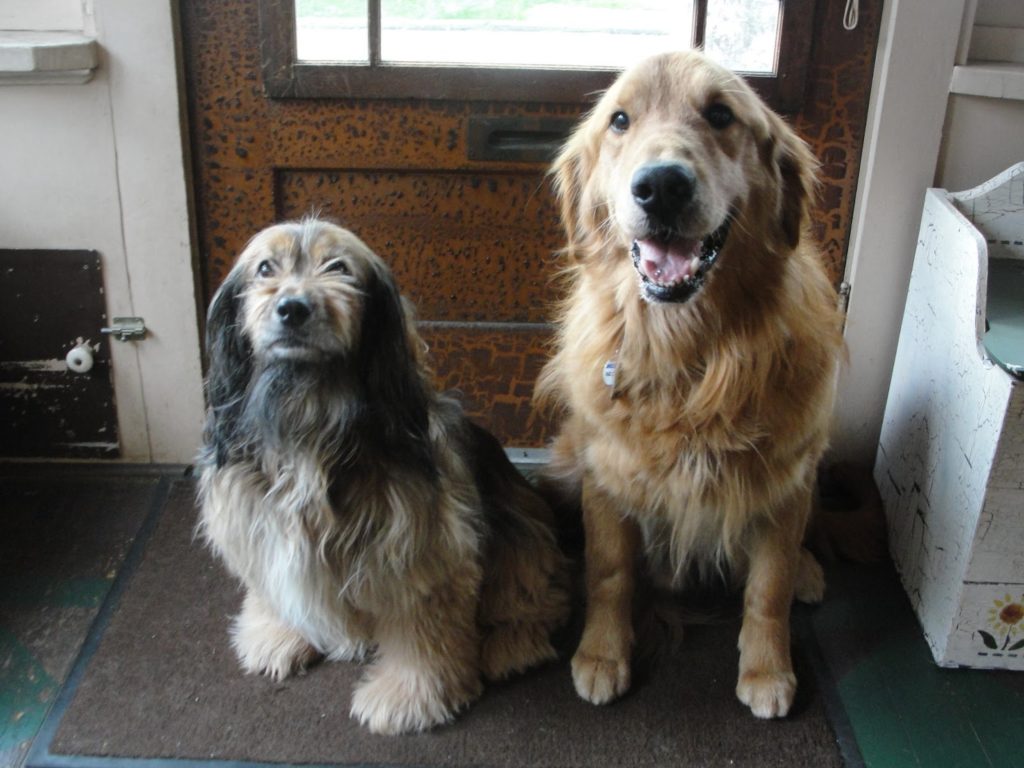 Kelly: "Siblings are all right, as long as they know I'm the boss."
Kelly isn't good at sharing, and is choosey about other dogs, and as I wrote yesterday, she might even enjoy being an only dog. But does that mean that we have to remain a one dog family, if we have room in our hearts for another? My husband, particularly, sees Kelly as "my dog" and is longing for his own special friend again. Kelly has lived with canine siblings at least twice, having joined our family including our yellow lab, Hudson. They didn't exactly play, but they did sometimes cuddle and she liked to groom him. Then she was an only dog for about 7 years until Brooks came along. Kelly made sure that Brooks knew that she was the boss, and Brooks good-naturedly accepted that. But, when a new dog joins our family, we will have to go through the transition time where Kelly will test and teach the newcomer. A certain amount of this is necessary– the doggy rules will have to be established. But what can I do to help Kelly with the transition, to make it easier and less stressful for all?
Here are the areas in which she will have to adapt:
1. Share living space
2. Share toys–she never did get the hang of this with Brooks, whether they were her own toys or special toys just for Brooks, etc…she had to have them all. The only thing she let him have was his precious tennis balls.
3. Allow the other dog to eat and drink– I will always have to separate them at mealtime.
4. Allow the other dog to receive attention–Kelly can get jealous.
5. Walk together nicely–this is one thing she did well, although she got anxious if the other dog was faster and she couldn't be first. She'd rush to try to beat him.
6. Share a sleeping space– this took some adjustment because she saw this space as hers, but eventually she allowed Brooks a corner of the bedroom.
7. Ride in the car together
8. Be affectionate to me instead of shutting me out– When Brooks was around, he asked for attention by constantly crawling up and sitting in my lap, following me around, putting his head in my lap. Kelly used to be more like this when she was an only dog, but when Brooks was here she tended to retreat and give me the cold shoulder when I wanted to snuggle with her.
So what are your thoughts, is there anything I can do now that will help Kelly feel more confident and happy about sharing her home with another? How can I help prepare Kelly for the adventure of adopting a new dog?
Want more, pawsitive pet tips, good news, and special bonuses? Content not already on the blog? Subscribe to my free newsletter. Kelly and I can't wait to see you there!