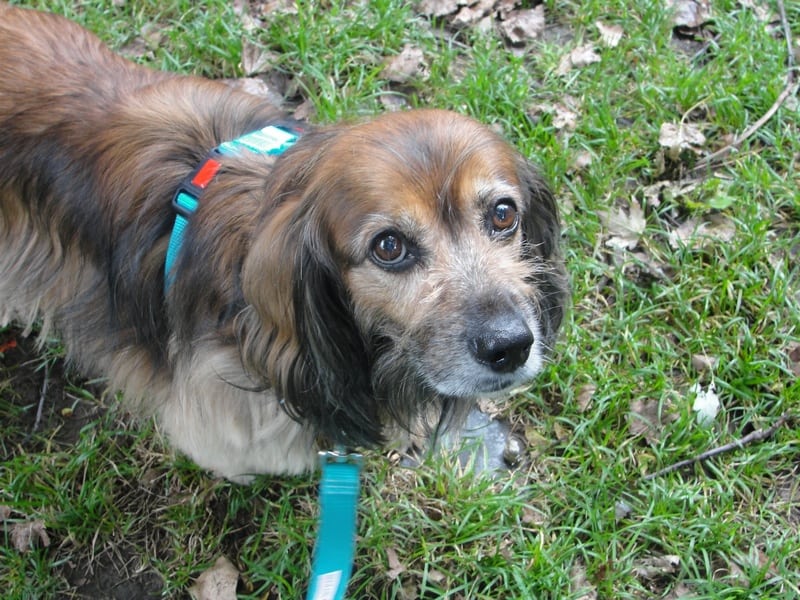 What is this new Walk in Sync system, Mom?
If your dog's a tugger and a puller at the leash, it's not just a nuisance for you. Consider this: her neck is getting pushed and pressed upon, jolted and–if you use a choke collar–pinched and squeezed. That can't be a comfortable way to walk.
That's why I was really interested to learn more about Walk in Sync, the "humane dog walking and training system."
Kelly used to walk beautifully when it was just one. But now that we've added Brooks to the family, she pulls and tugs to get ahead of him, beside him, under him–it doesn't matter. Our nice leisurely strolls are a series of frustrating outings. So when Alecia of Walk In Sync offered us a sample to test out for ourselves, I was excited.
The product arrived in a neat brown pouch. The harness and leash comes in black, brown, red and turquoise. We chose turquoise. I slipped Kelly into the system and off we went to test it out!
*The harness and matching leash are made of top quality materials. I immediately liked the weight and feel of the product. All latches are strong and secure.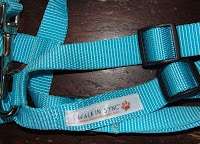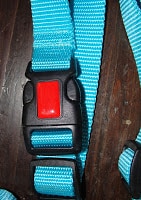 * I was worried about the ease of getting in and out of the harness. Turns out, the harness slides on quite easily. And removes easily too!
* The supporting documents and website provide detailed information and give me confidence in the product. Plenty of pictures and videos to help you with fit and training, anything you need to know!
* While the website gives clear sizing measurement parameters for neck, girth and weight, Kelly's measurements spanned across several sizes, making determining a size confusing. THE GOOD NEWS: Customer service is excellent and helpful, and if you end up with the wrong size, correcting the problem and receiving a different size is simple and speedy.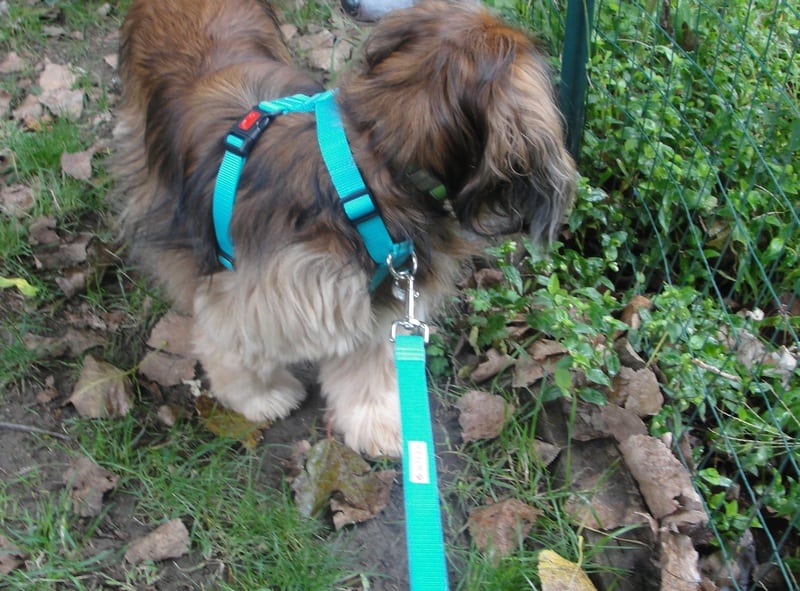 See how the leash clips to the front.
* The method for walking without pulling is simple–just clip the Accu-grip leash to the ring in front of the harness (at the chest). Walk forward. When you feel tension on the leash, simply stop and wait for your dog to take the pressure off the leash on her own. Reward!
* The website has multiple instructions including text, drawings and videos to show you the proper way to fit the harness, attach the leash, and walk your dog. Despite that, I still managed to put it on her upside down! Once I got it on correctly, we set off. Kelly could tell something was different right away. The first few times she felt a tug on the harness she stopped, and then sat and refused to budge. She just looked at me as if to say, "What do you mean, I don't get to run around and have my own way?" Then, after just a little coaxing, she pranced right at my side. She looked up at me in a way I took to mean she was seeking my direction, rather than having her way and leading me on a merry chase. And, the change was almost instantaneous. She really did respond beautifully to Walk in Sync. What a difference!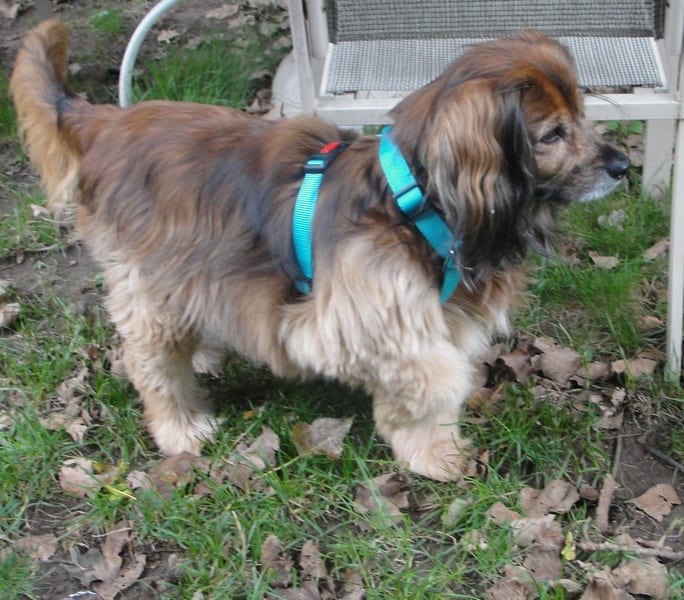 Don't I look cute in my turquoise harness?
From the Walk in Sync Website:
The #1 reason dogs pull is because they have been taught that they can.
The tools that we use in training them have not only failed the dogs,
they have failed to assist their people in giving them proper tools that
are easy to understand and really work.
The Walk In Sync™ Humane Dog Walking and Training System is truly as easy as 1-2-3.
Our training system eliminates pulling, even from the most determined
pullers and assists you in becoming the calm, clear leader your dog has
been begging you to be in minutes.
In Walk In Sync™ 3 Easy Steps it is so easy that even a 6 year old can do it. (Watch our Lexie and Rosie) We will walk you through how to end the pulling habit forever and humanely train your puppy without ever having to choke them.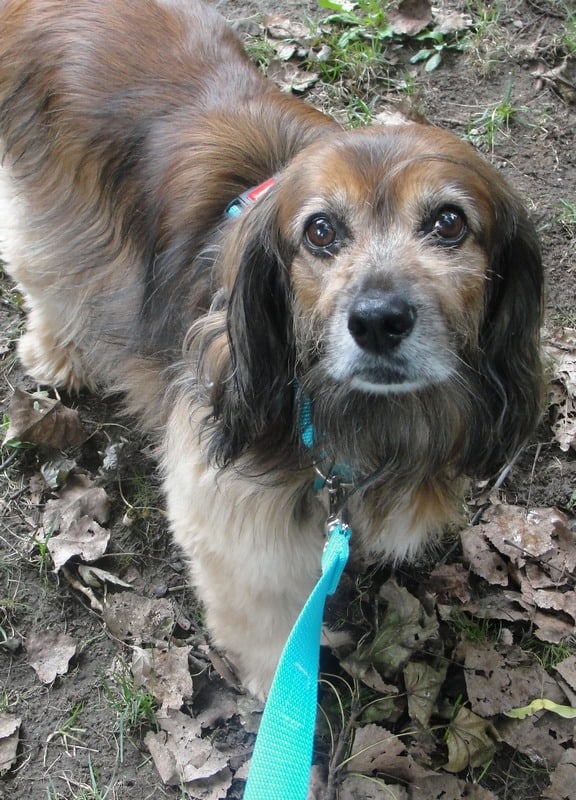 No more choking!
I highly recommend Walk in Sync. Even if your dog isn't a tugger, imagine the benefits of removing the collar from around his neck when you walk, and changing instead to a more comfortable, non-choking alternative. If you do have a dog who tugs at the leash, I feel confident Walk in Sync will work for you. It worked for us! Check out Walk in Sync website and view the many videos of 5 minute manners makeovers!
*I was provided with a Walk in Sync system for my review. The opinions are 100% my own.